Whether you consider yourself an artist or a DIYer, painting can be a great pass time or a fun hobby. There are different types of paints out there. When it comes to crafts and DIY projects, acrylic is easily one of the most popular options.
It is a go-to for both beginners and professional artists because of its versatility. And you can use it on a variety of surfaces, including paper, canvas, wood, metal, and much more.
If you're in the market for the best acrylic spray paint, you might be overwhelmed by the myriad of options available. But not to worry, we are here to make your job easier.
After much research and testing, we've narrowed down the list to the top 8 performing products. The acrylic spray paint brands mentioned here provide the best coverage and pigmentation and are suitable for different skill levels and budgets.
What is Acrylic Spray Paint?
Acrylic spray paint is a type of spray paint that uses acrylic polymer as its binding agent. There are three main ingredients that make up the paint – a pigment, a binder, and a vehicle or carrier.
The pigment consists of tiny ground particles that give the paint its color. These can be from natural or synthetic sources. They are usually suspended in the paint and do not dissolve.
The binder is a blend of acrylic polymer that holds the pigment together once the paint dries. It also forms a protective film on the surface that gives the paint added durability and resistance to weathering.
The vehicle (also known as a carrier) is usually water. It is responsible for transporting the pigment and the binder. When it mixes with the binder, it forms an acrylic emulsion.
The water evaporates as the paint dries, leaving behind a permanent plastic-like film with particles of the colored pigment.
One of the main reasons why acrylic paints are so popular is because they dry very quickly. Depending on how light or thick the application is, it typically takes 10 to 60 minutes to dry.
Because acrylic is water-based, it is easy to clean up and doesn't have a strong odor. You don't require any special solvent; only a little soap and water will wipe up any mess.
The paint is flexible and can contract or expand with temperature changes without cracking or flaking. It tends to be cheaper than enamel paint and can be used on many different materials with little or no preparation.
What is Acrylic Spray Paint Good for?
Acrylic paint is the most popular type for artists, which means it's an excellent choice for DIY art and craft projects.
It's widely adopted because it is water-based and non-toxic. It doesn't emit any dangerous fumes, which makes it safe for everyone to use, including kids.
But beyond the arts and crafts industry, acrylic paint is also used for design and decoration as well as industrial and automotive applications.
Most artists use it on paper or canvas, but it also works on various surfaces, including plastic, wood, glass, paper mache, metal, fabric, and even pottery.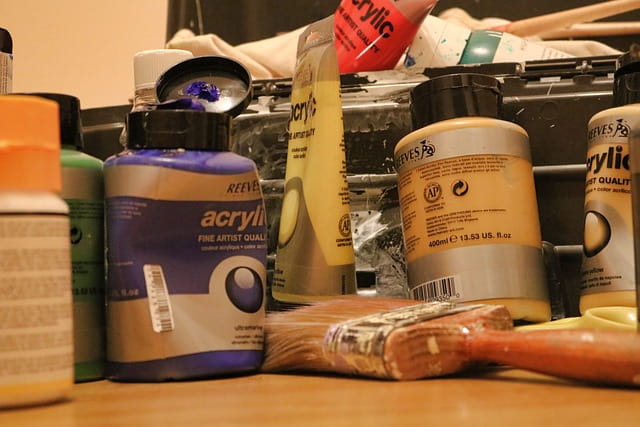 In fact, you can use acrylic to color practically any surface as long as there's no oil on it.
Besides being versatile and flexible, acrylic paint is durable and long-lasting and can resist chipping, peeling, and fading.
How to Choose the Right Type of Acrylic Spray Paint
There are a few things to consider when selecting the right type of acrylic paint.
First, you have to consider the surface or material you want to use the paint for. Ensure the paint is well-suited for the material; otherwise, there's no assurance it will bond. Most manufacturers will indicate the type of surfaces or applications on the label.
Besides adherence, getting the right type of acrylic paint is also important to produce the desired look on a certain material.
Some surfaces may need to be sanded and primed to make the paint stick. Likewise, for exterior surfaces, you need something with UV protection that is less prone to chipping.
There are different types of acrylic paint with varying sheen levels or finish. These include gloss, semi-gloss, high-gloss, matte, flat, satin, and even metallic finishes.
Choose a high-gloss finish if you want something shiny; otherwise, choose between matte, satin, or flat finish. Flat or matte finishes do better at hiding surface flaws than glossy finishes.
Which Acrylic Spray Paint Is the Best?
The Rust-Oleum Automotive Acrylic Enamel Paint is an all-in-one solution that covers twice as much as standard spray paints. It doubles as spray paint and primer, so you don't need to purchase an extra bottle of primer.
The paint goes on smoothly and leaves a beautiful color. It features a comfort tip designed to reduce finger fatigue while painting. The nozzle sprays in any direction, including upside down, making it easy to reach difficult areas and corners.
The design of the nozzle also ensures it covers more with fewer spray passes. In fact, it covers twice as much as most standard spray paints. This allows for faster project completion and less paint usage.
In terms of texture, the paint is adequately thin but not enough to run unless you overcoat it. It dries to touch in 20 minutes but completely dries in 4 hours. The dried product is glossy but very tough and holds its color outdoors.
The nozzle tends to clog a bit sometimes, especially if you don't clean it after each use. To prevent this, turn the can upside down after painting and spray it until nothing is left in the tip. Alternatively, you can detach the nozzle and soak it overnight in a cup of hot water, turpentine, or paint thinner.
Overall, I think this is the most durable acrylic spray paint out there. It outlasts all the other options I've tried. Use it for your craft projects or general painting. Besides canvas, it works on wood, metal, and most plastic.
You may find it a bit expensive if you purchase it from a hardware store.
Each 12 oz can covers up to 12 square feet. Besides the nice cherry red color, which is my favorite, there are other beautiful colors you can choose from.
What We Like 👍
Can resist moisture and scratches
Provides a smooth, glossy coat with little prep work.
Easy to use.
Long-lasting protection.
Suitable for indoor and outdoor use
It comes in many pleasing colors.

Provides a smooth, glossy coat with little prep work
What Could Improve 👎
The Krylon Fusion is an all-in-one spray that delivers excellent adhesion and superior coverage on different surfaces. Although it's commonly used for metals, it also works on other materials, including wood, plastic, tile, and PVC.
As the name suggests, the paint contains paint, primer, and sealant. So, there's no need to purchase different sprays for the same project. This also eliminates the need to prime or sand the workpiece.
Once applied, it leaves a sleek, modern finish suitable for indoor and outdoor applications. I prefer the satin black color, which I highly recommend for a timeless look. However, there are other great colors available such as Pale Sage, Fire Red, Ink Blue, Sea Green, Clamshell, and more.
Each can is about 12 oz. and can cover up to 25 square feet. On the top is an easy push, big spray tip that doesn't clog up easily and sprays in all directions, even upside down. The paint dries to touch in 20 minutes or less, depending on the weather. It is very forgiving and doesn't run or drip like many cheaper bottles.
To get uniform coverage, spray back and forth, overlapping. Use 2/3 light coats and spray in moderate temperatures, between 55 to 80 degrees, and humidity below 80 percent.
Depending on the material you're working on, you may need to use an adhesion promoter. Make sure the surface is clean before applying paint or any other product. Since the paint is oil-based, you will need some solvent (such as lacquer thinner) for cleanup.
Ensure your workspace has good ventilation, and wear a mask to protect your lungs. It's best to stay outside.
What We Like 👍
Available in many colors
Difficult to mess up
Quick drying
Good coverage
Comfortable spray tip for any angle

Difficult to mess up
What Could Improve 👎
The Pintyplus Aqua Spray Paint is perfect for any type of crafts or arts and works on various surfaces. It offers a limited color kit that includes white, black, pink, blue, yellow, green, violet, and orange hues. Use the blue paint to create that beautiful, aquatic look.
The spray is water-based, so it's low-odor and environmentally friendly. This means you can use it around kids and pets.
Because the odor doesn't last long like most oil-based paints, it's relatively safe to use indoors, especially during winter when it might not be possible to paint outside. But make sure there's good ventilation in the room.
The can is easy to use and suitable for hobbyists and artists. It sprays smoothly with no drips or blotchy paint. It uses a low-pressure valve system, which grants more control to the user and reduces overspray.
Altogether there are eight 4.2 oz mini spray cans in the pack. Each one delivers an ultra-matte finish with no bleed-through. And adheres well to different surfaces, including canvas, paper, wood, plastic, and glass.
Drying time is about 1 hour, but you can recoat after 30 minutes. If you need to remove the paint, use soap and water. This should be done while the paint is still wet (usually within 15 minutes after applying it). To prevent splatter or runs, shake the can well before spraying and maintain a proper distance from the surface.
Overall, if you need high-quality paint for crafting, you will not go wrong with this set from Pintyplus. It's an ideal gift for art and crafts enthusiasts, as well as kids. For the price, I can't recommend it enough.
What We Like 👍
Easy to use
Suitable for kids
Opaque, ultra-matte finish (no bleed through)
Low-odor and non-toxic formula
Reduces overspray
Resistant to chipping or peeling

Opaque, ultra-matte finish (no bleed-through)
What Could Improve 👎
I wish the cans were larger
If you're looking for a reliable color primer for your miniatures, get this. The Army Painter Color Primer doubles as a primer and color spray. This eliminates the need for two different sprays, saving you money and time.
You can use it as an acrylic undercoat for any miniature painting project. It is specifically designed for all plastic, resin, and metal miniatures. The greenskin color makes it perfect for painting any scenery, roleplay, Warhammer, board game, and similar hobby projects.
Examples are Salamanders, Dungeons & Dragons, Wood Elves, Orc and Goblin Armies, Space Marine Dark Angels, and more.
The spray provides excellent coverage with just one layer. It leaves a perfect matte finish without any loss of detail or spattering. You have the option to choose from 23 different colors.
The spray can is the standard size – 400m – which gives you a lot of paint to work with.
It dries very quickly, which is expected since it's acrylic-based. The colors are consistent and not too thick, so you can use it as a base color or finish color.
Remember to shake the can before you start spraying. Don't go too close; maintain at least 6 inches from the workpiece.
A few users complained about the nozzle getting clogged during use. I think this happens when you don't clean it properly after each paint job. Detach it from the can, soak in hot water, or turn it upside down and spray until gas comes out with no paint. This will keep the nozzle clear and ensure you don't have issues later.
Having said that, it's not a bad idea if you get a few replacement nozzles. I have heard that Army Painter sends her customers free nozzles to replace bad nozzles.
What We Liked 👍
Doesn't pool up
Covers well without obscuring any detail
Acrylic-based and fast-drying
Good coverage
Comes in many brilliant colors
Saves time and money

Covers well without obscuring any detail
What Could Change 👎
The smell is too strong
A bit pricey
The Montana Gold Premium Spray is a great starter kit for anyone who wants to become a spray paint artist. It's perfect for any type of artwork, whether graffiti, street, or urban art.
As the name suggests, there are 12 spray cans in the set, which provides a wide color selection. Each one comes with a low-pressure valve for easy control and good coverage. You can also purchase the master cap set to create different effects.
Each can is a different color and contains about 400ml of paint, which is plenty to work with. The quality of the paint can be seen in the final coats and the vibrancy of the colors. You can expect the results to last for years to come.
For optimal results, make sure to prep the surface first. Also, you may want to start with a white undercoat.
Some users complained about spitting from the nozzles. This usually happens when there's clogging or buildup of dried paint on the tip. To prevent this, soak the nozzle in warm water at the end of each project. This will help dissolve any dried paint.
In addition, before spraying, shake the can for a minute or two to get the content properly mixed.
To conclude, Montana is a name often associated with quality in the world of artists' paints. This set is no different. Choose this if you want to get a quality finish in your artwork every time.
The huge color palette gives you a lot of options to choose from and is perfect for murals and other fun projects. I won't hesitate to recommend it to anyone.
What We Liked 👍
Great for artworks
Good quality finish
Many exciting colors to work with
Easy to use
Great value for money
Low pressure makes it great for beginners

Good quality finish
What Could Change 👎
Spitting can occur with the nozzle
Liquitex Professional Spray Paint doesn't come with the problems associated with using most spray paints. It is water-based and has a low odor, making it much more pleasant and safe to use. This also means you can use it both inside and outside the house.
The paint comes in a 12oz can and provides a fine opaque finish with a matte sheen. Altogether, there are 12 cans in the set, each with a different shade, allowing you to create brilliant color effects.
Each color is made up of art pigments with excellent color development and archival stability.
You can match the colors with other acrylic paint from the same brand if desired. Just blend the color layers and apply while still wet to create new effects.
The drying time is slightly longer than regular spray paint. You can take advantage of this to work the paint in different ways and get more creative.
Since the paint is water-soluble, you can easily clean it up with soap and water. But this should be done while the paint is still wet. Once it dries, it becomes permanent.
Each 12oz can covers up to 21 square feet.
As earlier indicated, the paint is low-odor, so it's safe to use both indoors and outdoors. However, I still recommend using it outdoors. Wear a mask while using it.
What We Like 👍
The smell is not overwhelming
Resists fading over time
Easy to clean
Perfect for fine
Suitable for delicate materials (e.g., foam board and styrofoam)
Comes in multiple colors

Resists fading over time
What Could change 👎
This advanced formula provides the best protection from rust, making it an ideal choice for metal paint jobs. But it can be used for other materials, including wood, plastic, and concrete.
The paint sprays easily with one-coat coverage devoid of runs and looks like a professional paint job. Of course, the success of your project depends on how well you prep the surface. It features a high-output tip that covers 50 percent faster than a regular spray can.
This allows you to cover more areas quickly, making it ideal for large projects.
If you prep the surface correctly, you should get excellent results. I recommend using two coats and a primer. Be sure to follow the drying instructions.
Under normal conditions, the paint typically dries to touch in 20 but the final dry time can be 48 to 72 hours. The final finish has a nice texture, looks shiny, and doesn't chip. I like the extra-wide comfort nozzle. It helps to reduce finger fatigue and makes it possible to spray from any angle.
Overall, I'm impressed with this set. The excellent coverage, ease of application, and professional result make it stellar. I cannot recommend it enough!
What We Like 👍
Long-lasting color
Excellent coverage with no runs
Great for large projects
Resistance to chipping, peeling, and cracking
Dries to touch in just 20 minutes
Extra wide comfort

Excellent coverage with no runs
What Could Improve 👎
The color doesn't exactly match the cap
How do you use acrylic spray paint (step-by-step guide)
The steps for applying acrylic paint vary depending on the type of material you're painting. However, you can follow the general steps below:
Prepare the surface
Start by setting up the work area. Cover the surroundings with a drop cloth or some old newspapers. Before then, you want to make sure the surface is clean. Otherwise, clean it with warm soapy water.
For tough stains, you can use leather bleach or a special surface cleaner. Degreaser works better for metals and glass surfaces.
After cleaning the surface, you might need to sand it lightly and prime it afterward, depending on the item. This is usually required for wood and plastic. Use fine-grit sandpaper and apply little pressure. Then wipe the sanding dust. Apply one or two coats of spray paint primer, then let it dry.
Paint the surface
It's time to start painting. Now, choose any acrylic paint of your choice for the project.
Apply the paint in light, thin coats, and allow each layer to dry properly. This will ensure you get even coverage which will help you minimize paint drips and smudges on the paint job. For optimal results, wait a little longer than 20 minutes for each coat to dry before adding another one.
Once you apply the final coat, leave it to cure fully. This can take anywhere from a few hours to a few days depending on the brand and weather conditions.
Apply sealer (optional)
This step is optional but highly recommended if you want your acrylic painting to last long. Apply multiple thin coats of sealant as needed. Follow the manufacturer's instructions. After applying the last coat, wait for it to dry thoroughly before using the item.
What projects can be done with acrylic spray paint
There are many kinds of projects that can be accomplished with acrylic paint. From revamping old pieces of furniture to coloring interior walls and canvas, the possibilities are endless. It all lies in your imagination and creativity.
In general, acrylic spray paint is multi-purpose and can be used for both indoor and outdoor projects. It is commonly used in canvas, paper, and wood. But once primer (ideally, with gesso), you can paint it on almost any surface, including clay, fabric, or some old vinyl records.
Others are glass, metal, ceramic, masonry, radiators, ornaments, vases, lamps, doors, and general furniture.
How to Tell if Spray Paint is acrylic
The simplest way to tell if spray paint is acrylic is to check the label. Most manufacturers will normally indicate the type of paint on the label. Look out for words such as "acrylic" or "acrylic enamel" spray paint. The name of the paint can also give it away.
If you don't find any information about the paint type on the label, you can conduct a simple test. Spray a tiny amount on one of your fingers. Then run another finger against the one you sprayed. If you feel it's watery or water-soluble by rubbing the two fingers, then it's likely acrylic.
You can also tell if the paint is acrylic by looking at its consistency. Acrylic paint is usually thinner than other types of paint. So, if the spray paint comes out very thick, chances are that it's not acrylic.
Lastly, you can spray the paint on a small area and see how long it takes to dry. If it takes too long to dry, it's likely, not acrylic. Acrylic paints dry very quickly!
Does acrylic spray paint need primer?
It depends on the type of material you're painting.
For instance, plastic surfaces are too smooth and non-porous, so it would be difficult for acrylic to stick to it ordinarily.
You will need to rough it up a bit and apply primer before spraying it with acrylic. On the other hand, you can get away with painting canvas without priming, although it will soak up a lot of paint.
Generally, using a primer before applying acrylic is recommended, as this helps the paint adhere better and create an even finish. Two coats of primer are usually enough in most cases.
How long does acrylic spray paint last?
Regarding the shell life, a bottle of acrylic spray paint can last for 2 to 6 years or even more, depending on the brand and quality. For instance, high-quality brands like Rust-Oleum and Krylon spray paint can last 4-7 years.
Factors such as storage conditions and exposure to air and moisture will ultimately impact the longevity of the product. Most manufacturers have an official shell life, which you can find on the product label.
With regards to the performance of the paint itself, with proper preparation and the use of a sealant, most acrylic paint jobs can last for several years. It is common for some colors to lose their vibrancy after a few years, but original acrylic is usually lightfast. In some cases, the paint can last up to 20 years.
The good thing about acrylic is that it doesn't yellow with age like oil paints, regardless of the grade.
How do you seal acrylic spray paint?
Most paint jobs involving acrylic paint usually come to an end with the application of a finishing seal. Sealing acrylic is one way to make it permanent and longer-lasting. It protects the surface from dirt, dust, water, and UV rays and helps to prevent peeling and chipping.
Some acrylic spray paint come with a sealant already included in the formula. But if it doesn't, you must apply a separate sealant. This can be done with a brush or spray, depending on the product. Since you're already using spray paint, it makes sense to use a spray-on acrylic sealant.
The exact type of sealant will depend on the material you're painting and the color medium. Common options include acrylic sealer spray or varnish, polyurethane, gesso, shellac, lacquer, mod podge, and even hair spray. Varnish is an excellent choice, especially for items that go outside.
Regardless of the option you choose, the general step for sealing acrylic spray paint is as follows:
It is assumed you're applying the sealant on a newly spray painted surface. In this case, just go ahead and apply the sealant after the paint must have completely dried.
However, if the paint has stayed for a while, first clean the surface to remove all dirt. Wash it thoroughly and allow it to dry. Then apply the sealant based on the instructions on the label.
You may apply several light coats. Ensure each coat dries before adding another. After the final coat, allow the sealant to dry completely. This can take up to 48 hours or more, depending on the weather.
Sealing your acrylic painting is highly recommended, especially if the item will be used outdoors.
FAQS: Best Acrylic Spray Paint
Does acrylic paint need a top coat?
Some acrylic paints have a sealant built-in. For such products, there's no need to apply a top coat. However, if you're not sure the can you're using has a sealant, I highly recommend adding a top coat, especially if the item you're painting will go outdoors or be exposed to moisture.
Is Acrylic Spray Paint Waterproof?
Once dry, acrylic spray paint is usually water-resistant. So, it's not entirely waterproof. To make the paint last longer, you can coat it with a sealant or top coat. This will help protect it from the elements In case you're using it outdoors.
Can I use acrylic spray paint on fabric?
Yes, you can use acrylic on fabric, but make sure your chosen product is specifically formulated for fabric. One way to know is to check the label or the company website. Most times, when using acrylic on fabrics, you will need to mix it with a fabric medium to help the paint adhere better.
What brand is good for acrylic paint?
There are many reputable brands of acrylic paint you can consider. Some popular ones are Liquidex, Pintyplus, Krylon, Montana, and of course, Rust-Oleum. All these brands offer a wide range of colors and finishes, so you can never run out of options.
Is acrylic spray paint durable?
Yes, it is. Once completely dry, acrylic spray paint is water-resistant and will retain its color for a long time, depending on the quality. However, if you're using it outdoors, ensure it's designed for that purpose. Check if it has UV resistance.
Is acrylic spray paint permanent?
Generally, acrylic is just as permanent as oil paint when fully dry, though not as durable. This means that you can't wash it off with water or reactivate it like watercolors. However, when the paint is still wet, it is not permanent and can be removed with soap and water. Having said that, factors such as surface preparation, paint quality, and environmental conditions will affect the permanency of acrylic paint.
What happens if you don't put primer before acrylic?
Not priming the surface before applying acrylic can lead to several issues, such as poor adhesion, which may result in peeling paint and uneven coverage. You may need to apply several coats of paint to achieve the same result with primer, and the paint will not last as long as it should. So, it's important you use a primer, especially when working on a smooth surface such as glass or plastic.
Content Summary – Acrylic Spray Paints
I will draw the curtains here. All the products reviewed here are suitable for both beginners and experienced painters. In selecting each one, I've been careful to focus on brands with a good reputation as well as the overall performance in relation to price. So, I can confidently say these are the best options out there.
Each spray is easy to use and can create stunning results even in the hands of a newbie. Choose the right color and finish to match your preference and project.
To get the best possible outcome, work on your surface preparation and spraying technique. Let me know if you have any more questions about choosing the best acrylic spray paint. Until then, happy spraying!