Painting canvas can be a fun hobby or a great pastime. It offers a better experience than painting on paper or sketchbooks, and the results look more professional.
However, canvas differs from other materials, so not every paint will bond to it. Therefore, it's extremely important you choose the right type of spray paint going into your project.
In this post, we will look at the best spray paints for canvas art currently in the market.
We have focused on factors such as quality, price, coverage, colorfastness, and performance in selecting each product. Lets dive in.
Can you use spray paint on a canvas?
Yes, spray paint gives you a smooth and even finish on canvas than you would typically get with a paintbrush. However, it's essential you follow the right steps.
Depending on the type of canvas you're using, you may need to prepare it with a layer of primer (ideally, gesso).
Some canvases come pre-primed, so you don't need to prime them before painting – Two common primers for canvas are gesso (acrylic product) and oil-based primers. 
Besides priming, it's also important you select the right type of paint. The most commonly used paints for canvas arts are acrylic and oil paints. Acrylic spray paints are known for ease of use and faster drying time, while oil paints have a thicker consistency.
While it's possible to spray paint raw, unprimed canvas directly, the paint can soak in more quickly, which may lead to bleeding. There's also a high chance of the canvas threads degrading more quickly.
Why Should You Use Spray Paint On Canvas?
Spray painting is a great way to create chic, contemporary images, patterns, and designs on canvas without the troubles that come with using a traditional paintbrush. This could be for a craft project, signage, or similar uses.
Besides being more efficient, spray painting is easier for beginners and leads to faster project completion. Not to mention that it produces a cleaner and more uniform finish void of brush marks or strokes.
Like regular paint cans, spray paint is available in various colors and finishes and can be used on different materials.
Be sure to choose one suitable for canvas because not all formulas will produce the desired effect.
As earlier indicated, acrylic and oil spray paints work well on canvas as well as some watercolor paints.
Besides the type of canvas and spray paint you're using, another key factor that can influence the final output is your mode of application.
Don't keep the nozzle too close to the surface to avoid spraying too much paint in one area, as this can cause leaks into the material. This is because canvas is fairly absorbent.
Also, try not to use paints from different brands for the same project, as their color tones might not complement each other.
What are the Best Spray Paints for Canvas?
Rust-Oleum 302591 Chalked Spray Paint
The Rust-Oleum Chalked Spray Paint is an absolute game changer when it comes to painting canvas. It leaves a chalk finish that can be easily distressed to achieve a vintage look.
Being oil-based, it provides excellent hide while maintaining a timeless look.
You can use it on a wide variety of materials, not just canvas. These include wood, metal, and ceramic.
The white spray paint is easy to apply and covers beautifully. It requires little to no prep work.
If you want to distress it, do it while it's wet, usually as soon as you apply the paint. Distressing is more difficult as the paint dries.
The paint dries to touch in just 20 minutes, and each can cover up to 12 square feet. Priming is not required, especially if you're using pre-primed canvas. However, if you're using the paint on bare wood or wood high in tannins, I suggest you prime it.
Before using the aerosol can, shake it for a minute or two, then spray 10 to 12 inches from the canvas at any angle. Spray in a back-and-forth motion, slightly overlapping each stroke.
Apply one or more light coats (three is great) depending on what you're painting. Darker surfaces and certain materials, such as glass and metal, may require additional coats. Avoid using heavier coats to prevent drips.
Once you apply the last coat, wait at least 24 hours before showing off your work.
For extra protection, you can finish off with a top coat. Use the same technique as with the paint application. Apply one or two thin coats a few minutes apart and allow to completely dry before handling the canvas.
What We Liked 👍
Dries to a beautiful ultra-matte, smooth finish
Easy to apply.
Super fast and even application
It comes with any angle spray tip
Excellent adhesion with minimum prep time
Quick drying time
What Could Improve 👎
A bit pricey
Only suitable for indoor use
Aleene's 26412 Acrylic Sealer Gloss Finish Spray
Aleene's Acrylic Sealer is designed to provide an excellent cover for your artwork, making it look its best for years to come. It dries quickly with a durable weatherproof seal suitable for various surfaces.
It is available in many non-yellowing finishes and can be used on exterior and interior surfaces.
The sealer is recommended for surfaces regularly exposed to the elements. This could be canvas, ceramic, wood, glass, metal, or even plaster. You can also use it for cardboard and paper projects.
The bottle sprays easily with zero dripping. It's best to spray several thin coats instead of one heavy coat to prevent pooling. Also, allow each coat to dry (about 20 minutes) before applying the next one.
Usually, the more coats you apply, the more glossy it looks. So, depending on your project requirement, you can get a mist with few coats or a mirror-like shine with more coats. I recommend doing at least three to seal and finish any work.
Once dry, the sealant is "permanent" and doesn't stick to items placed on it.
Each can is about 6 ounces, which makes it lightweight and easy to carry.
The only negative I observed was the strong chemical smell. The smell is quite horrible and can be unbearable, so don't make the mistake of using it inside unless the area is well-ventilated. Be sure to wear a mask.
After spraying, allow the canvas material to dry before moving it indoors.
Overall, if you have canvas or any outdoor décor that needs weatherproofing, you won't go wrong with this product. It has to be the best high-gloss acrylic spray out there.
What We Liked 👍
Provides a weatherproof seal to protect exterior surfaces
Fast application experience (dries in 10-20 minutes)
Perfect for protecting outdoor décor
Very shiny finish
Goes on smoothly and evenly
Extends the lifespan of your creative finish

Fast application experience (dries in 10-20 minutes)
What Could Improve 👎
Apple Brand 13 Garde Repellent Protector Spray
If you want a medium to protect your canvas from moisture or accidental spills, you won't go wrong with this Protector Spray from Apple Brand. Although it's mainly used for leather, it also works well on canvas, suede, and other fabrics.
It forms an invisible protective layer that keeps items free from fluids and stains. This can be useful if you accidentally get caught in the rain or have a painting that lives outside. It ensures the item is not ruined by water.
The good thing about using Garde is that it doesn't affect appearance. It won't alter the color or shade of the material or leave any sticky residues.
Application is super easy, and drying is fast. You only need two coats to get a solid finish.
The spray has a relatively strong fume. So, you should apply it in a well-ventilated area. I suggest using it outdoors, but if you must stay inside, ensure the doors and windows are open.
I also discovered the spray tends to leave small marks when you overspray. To prevent this, keep the can about 8/9 inches from the surface and move it back and forth. Don't "concentrate" on one spot to avoid spraying thick coats.
The price is a bit expensive, but it's worth it since it helps your valuable items last past their average lifespan. I wish the container was a bit bigger so it could last longer.
Overall, the Garde Protector Spray is great for keeping canvas in excellent condition without altering the color. You can use it on all your favorite leather or fabric products, including wallets, boots, handbags, shoes, car interiors, and more. It is made in the USA, which says a lot about its quality.
What We Liked 👍
Super easy to use
Dries quickly
Protects items from moisture and accidental spills.
Doesn't alter the color of the material
Reliable quality

Dries quickly
What Could Change 👎
Krylon K01303007 Acrylic Coating Spray Paint
The Krylon Crystal Clear Paint is another wonderful solution for sealing canvas. It is easy to use and works well on painted items and photos.
As the name suggests, the paint is transparent and doesn't smudge your work. Instead, it leaves a glossy finish that enhances the contrast of your artwork or photo. This makes the color shine, especially when light touches it.
In addition to its transparency, the gloss coating is permanent and doesn't turn yellow with time. It protects from the elements and retains the vibrant color of your painting.
Once applied, it dries to touch in 10 to 15 minutes but can be handled after 2 hours, depending on the weather.
Use multiple thin layers instead of one heavy coat. I recommend two or three light coats. You can apply more to enhance the glossiness.
The paint is a bit pricier than many competitors, but then it works perfectly and doesn't yellow.
I found the smell quite overwhelming, so it's best to use it outside. The good thing is that the smell dissipates quickly (usually in under an hour), but I still advise wearing a mask to protect your nostrils.
Overall, this is easily one of the most suitable paint for canvas. It might be a bit costly, but you get what you pay for. You can use it on different materials, including canvas, plastic, wood, glass, metal, paper, plaster, and more.
What We Like 👍
Improves the contrast of your paintings or photos
Provides a smudge-proof and moisture-resistant coating
Doesn't fade and protects against the elements
Easy to apply
Quick-drying formula
Suitable for different surfaces

Provides a smudge-proof and moisture-resistant coating
What Could Change 👎
A bit pricey
The smell can be pretty offensive
Mod Podge Clear Acrylic Sealer
When it comes to protecting surfaces from moisture and discoloration, Mod Podge is a popular option. But I'm not talking about the jar of Mod Podge everyone is used to; I'm talking about the one that comes in a spray can.
If you don't want to leave visible brushstrokes on your canvas, this Mod Podge Acrylic Sealer will do the trick. Not only does it provide a nice finish, but it only takes about 2/3 coatings in most cases.
While it's perfect for canvases and street art, the sealer also works well on metal, wood, decoupage, rocks, terracotta, and even fancy jewelry. It seals the surface and leaves a glossy finish that makes it look shiny and well-polished.
Since it comes in a spray can, it's much faster than painting with a regular mod podge. And you won't get any tacky residue on your hands or floor. Also, it doesn't peel off paint, which might occur if you were using a regular brush.
Be sure to spray lightly; no need to overdo it. As indicated earlier, you can use two or three coats. You can spray more for more gloss. It usually dries in a few hours but may take up to 72 hours to completely cure.
To get the best look on acrylic painting, let the first coat dry before applying the second.
The sealer provides moisture resistance, so it's okay to use it on water-prone areas such as bathroom walls. It also prevents yellowing over time. On metal, it stops and prevents rust while maintaining the look of the item.
Overall, whether you need to prevent prints from rubbing or keep glitter from falling off your canvas, you won't go wrong with this product.
What We Liked 👍
Barely noticeable
It adds depth and makes the painting look glossy
Dries quickly
Convenient size (12oz bottle)
Easy to clean up
Clear gloss finish

It adds depth and makes the painting look glossy
What Could Change 👎
Grumbacher 541 Final Varnish Spray
If you want something to seal your layers with and wash without removing the painting, you won't go wrong with Grumbacher Final Varnish. It's one of the best spray varnish money can buy and is highly recommended for acrylic and oil paintings.
One of the main highlights is that it's removable, so even if you're not impressed with the results, you can remove it with paint thinner or any other mild solvent. The manufacturer recommends using Grumbacher Pure Gum Spirits or Grumtine.
The varnish offers UV protection and doesn't turn yellow with time.
The aerosol can is the standard size, so it doesn't deplete too quickly unless you paint a lot.
When you press the nozzle, it comes out in a fine mist and covers really well. It gets to every nook and cranny of the paint and leaves a nice crystal-clear finish. It doesn't clog up like some other brands I've come across.
It is worth mentioning that the varnish is not for use in oil paint medium preparation. Instead, apply it on finished works that have dried for some time, specifically, at least five days for acrylic and six months for oil paintings.
It may take several coats to make your spray paint art shiny.
Spray in slow, even strokes from left to right. Allow to dry, turn 90 degrees and then reapply. It cures in a day but may take longer, depending on the climate.
Like most aerosol products, the spray has an odor. But it's not as bad as other sprays that can make you sick when you smell it. Notwithstanding, use the varnish outdoors or in a well-ventilated space. Also, air dry after painting to allow the fumes to dissipate before bringing your canvas or art inside.
Overall, this is by far one of the best varnishes for canvas. It's easy to use and highly recommended for acrylic and oil paintings. The price is slightly on the higher end, but it's definitely worth it.
What We Liked 👍
Perfect for textured artwork

Holds up well to the elements

Quick-drying and non-yellowing formula

Goes in smoothly and provides a consistent finish

Reasonable pricing

Beautiful crystal clear finish
What Could Change 👎
Requires several coats to achieve a gloss finish
Krylon K01309 UV-Resistant Clear Aerosol Coating
The Krylon Aerosol Coating is another non-yellowing sealant that works well on canvas. It can be used on watercolor paintings as well as pastel, charcoal, pencil, and more.
Unlike Grumbacher, it makes your work less shiny but more finished. Specifically, it provides a non-glare matte finish that doesn't affect the overall look of your paintings. This can be extremely useful when painting on large canvases, and you want the sealant to be invisible.
The coating is permanent and helps to retain the rich color of your painting. It is moisture-resistant and protects against harmful UV rays. So, you can expect your artwork to last for years.
I found the aerosol can super easy to use. It sprays on easily and leaves a smooth, even finish. You can also use it on non-flat surfaces.
To make sure you cover all areas, spray in one direction. Let it dry for 15-60 minutes, then spray in the opposite direction. Keep the spray 6 to 10 inches away from the surface. Spraying too close can soak the substrate, which may lead to cracking or discoloration when it dries.
After the last coat, allow the canvas to dry for a day or two before handling it.
I must warn you; the odor is quite strong, so it's best to spray outdoors or in a well-ventilated area. Also, wear a face mask to protect your lungs and keep your pets away. The good thing is that the smell disappears as it dries.
As far as price and quality are concerned, the Krylon KO1309 is easily one of the best sealers for acrylic paintings. It dries fast and delivers a super clear matte finish that doesn't fade too quickly. I highly recommend it.
What We Liked 👍
Goes on smoothly
Provides an even coverage
Dries quickly and evenly without pudding
Doesn't clog up like most standard sprays
Suitable for a wide range of materials
Delivers a super clear matte finish
What Could Change 👎
Liquitex 4450337 Professional Spray Paint
The Liquitex Carbon Black Professional Spray works flawlessly. Unlike regular spray paint, it is low odor and non-flammable, making it much safer.
The water-based formula is made of fine art pigments processed using bead-mill technology with compatible binders. This leads to great color development and fine dispersion of the medium.
As a result, you get true color purity with a stable archival finish.
The paint goes on smoothly and flows consistently without blobs. The coverage is excellent, with high color visibility.
Although it uses water-based technology, the drying time is slightly longer than regular sprays. This gives you more time to work the paint in different ways. You can spray some into the cap and lay it on with a brush. You can also blend with other color layers to create unique effects.
Because it has low solvents, you can use it on more delicate substrates such as styrofoam without worrying about melting the material. It's safe for both interior and exterior use.
The aerosol can is the standard size (400ml) and can cover up to 21 square feet, which is quite impressive. I highly recommend using several light coats instead of a few heavy coats to get the best results. Allow each coat to dry adequately before adding a new one.
While wet, you may notice that the paint looks high gloss; don't panic. As soon as it dries, it transforms into a gorgeous matte finish.
The end product is permanent and doesn't "move." This means you can paint over it to achieve a multi-layered effect without bleeding or smudging. It is also water-resistant when dry.
Like all Liquitex aerosol paints, you can clean it up with soap and water while it's still wet. Once it's dry, it becomes permanent.
Overall, I'm happy with this spray paint. It is low-odor, colorfast, durable, and doesn't scratch easily. The color brilliance makes it an excellent choice for spray paint artists of all levels.
What We Liked 👍
Perfect for beginners and professionals
Suitable for a variety of surfaces
Oil and scratch resistant
Excellent coverage
Easy to clean up
Stays bright and true (no color shifting or fading)

Suitable for a variety of surfaces
What Could Change 👎
Drying time is longer, especially at low temperatures
Montana Cans MXE-GCSILV Glitter Effect Spray
If you want to go beyond traditional painting, a glitter effect spray like this would certainly help. The Montana Glitter Coat lets you create metallic glitter particle effects to add sparkles to your art. Its nitro combination uses high-quality clear glossy lacquer to transform dull surfaces into opulent decors.
There are five glitter shades: cosmos, amethyst, dusty gold, Xmas red, and silver. I personally prefer the silver color because of its transparency but feel free to pick any other option depending on the motif of your project. Each color is lightfast, which makes it suitable for exterior use.
The spray can is medium-pressure, so it's a sweet spot between speed and control. So, you get both (i.e., good control and precision and the ability to cover larger areas faster) as opposed to using a low-pressure or high-pressure spray. The size is 400ml which is the standard size, perfect for both beginners and experienced painters as well as street artists.
Surprisingly, the glitter doesn't clog the nozzle. Instead, it comes out smoothly and covers the surface uniformly with a clear gloss. The Montana black spray paint is a great alternative for all those who prefer a black matte finish.
The paint is not only applicable to canvas. It also bonds to wood, metal, stone, paper, ceramic, and other materials. In general, it will stick to both porous and non-porous surfaces.
When using it for canvas, ensure the surface is well-primed before painting. The only downside is that it takes more coating for the glitter effect to show up strongly, especially when using it on a darker surface. In other words, the more coats you apply, the higher the density and intensity of the glitter effect.
Allow at least up to 24 hours of dry time after you paint the final coat.
What We Liked 👍
Lightfast and durable
Medium-pressure aerosol can
Provides additional protection for canvas
Compatible with other Montana cans
Provides great control, especially for beginners
Mess-free application

Medium-pressure aerosol can
What Could Change 👎
Krylon K05591007 Colormaxx Paint and Primer Spray
The Krylon COLORmaxx might not be a popular option for canvas, but I've found that it works great too. According to the manufacturer, it can be used on a wide variety of surfaces and is suitable for indoor and outdoor use.
Besides adding color to your canvas, it also protects from the weather. As the name suggests, the product doubles as a paint and primer, so you can skip priming your canvas without compromising coverage.
It delivers a smooth matte finish, which makes it perfect for concealing dark surfaces. You can choose from its many color options, but I prefer the sea glass – it looks very beautiful and is neither too light nor dark.
The paint dries to touch within 20 minutes, but it can take up to an hour or more before it's dry enough to handle. Of course, the local weather is a huge factor. It's best to spray on days when temperatures are between 55 to 75 degrees, and humidity is below 60 percent.
Instead of just one heavy coat, apply several light coats to increase its effectiveness.
I like the design of the spray button. It is quite large and sprayed at any angle. The can holds about 12 ounces of paint and can cover up to 25 square feet.
The paint is oil-based, so you will need a lacquer thinner or any other suitable solvent to clean up any mess created in the project.
My only complaint is that it has a strong odor. So, it's best to use it outside. The good thing is that the smell disappears as the paint dries.
What We Liked 👍
Easy to use
Provide rust protection
Suitable for a wide variety of surfaces
Provides good coverage
No need for primer

Provides rust protection
What Could Change 👎
Has a strong odor
The cap may be difficult to remove
Delta Creative CS200306 Clear Acrylic Sealer Spray
There's no better way to ensure your craft last longer than layering it with a protective sealer. That is exactly what this Acrylic Sealer Spray from Delta Creative does. It provides a protective layer that ensures all your paintings stand the test of time. Use it to protect everything from paint and stain to wood.
It delivers a crystal-clear finish that protects your artwork and crafts. Unlike most cheaper sealants, it doesn't run, drip, or yellow. It sprays evenly and dries in about 30 minutes before you can apply a second coat. To prevent any texturing, don't spray too much; instead, use three light coats.
The spray works great on different craft materials, not just canvas. You can use wood, metal, terra cotta, and much more.
Clean-up is easy and should be done at the end of each project to prevent clogging. Soak the nozzle in hot water or turn the can upside down and spray until nothing comes out.
Another thing I like about this sealer is that it doesn't change or smear the color of your artwork. It doesn't matter what medium you use. It maintains the color and ensures there's no yellowing as it ages.
The aerosol is a convenient 12oz size and weighs only 1 pound.
The only downside is the smell. It's so strong and doesn't dissipate quickly. So, you're advised to use it outside or in an open space. Inhaling some of it can make you feel nauseated, so make sure you put on a mask.
What We Liked 👍
Easy-to-use spray
Works on multiple surfaces
Reliable quality
Comes with a clog-free nozzle
Works for arts and crafts materials

Works on multiple surfaces
What Could Change 👎
Grumbacher Picture Gloss Varnish
The Grumbacher Picture Gloss Varnish comes highly recommended for acrylic paintings done on canvas. It gives the painting a beautiful gloss by unifying the colors and making it extra bright.
It also works for oil paintings and leaves a clean, shiny gloss finish each time.
The product comes in an easy-to-use aerosol paint can that smoothly delivers the content through a comfortable nozzle. This results in beautiful coats in all the nooks and crannies of the paint job.
The can is the standard 11 oz. size, so it should last a bit unless you paint a lot.
Once dry, you get a nice and even look, clear of any yellowing and with UV protection. For extra protection and a higher shine, you will need more coats. Thankfully, there's ample varnish in the can to go for at least two standard-sized projects.
It takes a few hours to a full day to dry completely, which is a relief compared to traditional brush-on varnish, which can remain tacky for several days.
Even though the smell is not as terrible as most spray paints, it is still noticeable and can linger for a long time if you stay in a place without good ventilation. So, it's better used outside. Also, after spraying, please keep the item outside for a while before bringing it into the house to help remove the strong smells.
Overall, Grumbacher is easily one of my favorite spray-on varnishes for acrylic paintings on canvas. While the price is slightly on the higher end, I would still choose it over cheaper brands.
What We Liked 👍
Brings out the color of your paintings
Coats beautifully and dries nicely
Easy to use
Keeps acrylic pieces sealer for longer
Dries to a very nice clear gloss
Excellent flow and coverage

Coats beautifully and dries nicely
What Could Change 👎
Not as glossy as I thought
Buying Guide: What To Look For When Buying Spray Paint For Canvas
If you want to know more about choosing the right spray paint for canvas, here are the things to look at:
Usage
The products reviewed are not only actual paints but also sealers, varnishes, and glitter sprays. So, when you walk into the store (whether it's a local store or online), you have to decide what it'll be used for.
Are you buying the product to color your canvas, or do you need it to seal something you've already painted? Whatever you need to spray for, you will always find something designed for that purpose.
Color & Size
Canvas spray paints come in a wide array of colors with different levels of opacity to enable you to create unique effects. You will also find them in various sizes, ranging from pocket-sized 100ml bottles to large 750ml cans. Some products come in a single color, while others come in a set with vivid colors to suit any project.
Whatever bottle size you decide to settle for, you must ensure the color or color selection will suit the project you're purchasing it for. Of course, you can buy different colors and blend them to meet your needs.
In addition to the colors, also consider the sheen. Different paints have different types of sheen or finish. Some are matte, some are gloss, and some are satin.
Drying Time
Spray paint is generally fast-drying. But some products dry faster than others. If a product takes time to dry, it doesn't mean it's inferior. Instead, it says a lot about its composition and the weather condition.
If you're in a hurry or have only the weekend to work on a project, you will want spray paint that dries quickly. Otherwise, I wouldn't take this too seriously. It's better to allow the paint more time to dry to ensure it lasts. I also have a dedicated article on how to make spray paints dry faster you can check to help you speed up the drying time.
Type of Material
Another thing you should pay attention to is the type of material. In this case, we are painting canvas, so buying spray paint designed for canvas makes sense.
This is important because canvas is highly absorbent, and using the wrong paint will deteriorate the material. In addition to checking the label, test spray the product on a scrap canvas to see how it reacts.
Durability
Even though you're painting canvas, you want something that will not wash off at the first water spill. So, if possible, choose a durable spray paint that provides some level of protection against water and impurities.
How do you prepare canvas for spray paint?
If you're starting with raw, stretched canvas, you need to be sure you can actually paint on it. If you bought the canvas from a store, it's likely primed, so you can go ahead and start painting on it without adding gesso. Only add gesso if you need to modify the texture.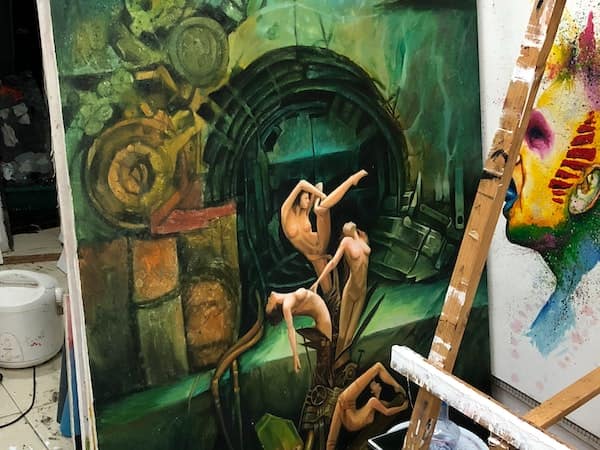 On the other hand, if you use a canvas that hasn't been printed before, you should prime it before moving forward.
Priming canvas gives it a much smoother texture that is less absorbent and easier to work on. It is particularly important, especially when using oil paint; otherwise, the chemicals in the paint will rot or "eat" into the material.
While it's possible to use acrylic paint on unprimed canvas, the surface will suck up a lot of paint.
Do you need to prime a canvas before spray painting?
Yes, the canvas needs to be primed before you paint on it. A primer helps the paint to adhere better and retain its color on the material.
If you skip this step, the canvas will absorb too much paint, leaving dull patches on the finished product. Priming also creates a smoother surface on the canvas, allowing for much better flow if using a brush.
The good news is that most canvases (usually synthetic canvas) in the market are already pre-primed. So you don't need to apply a separate primer. These canvases are generally more expensive than traditional canvases.
Traditional canvases do not usually come pre-primed, so you must prime them before painting. You can use acrylic gesso for this. One or two coats are enough. Allow the primer to dry before spray painting.
For the best results, primer canvas at least 24 hours before using it.
How Do You Spray Paint on Canvas?
The steps for painting canvas might differ depending on the image you want to paint. Below I have described the general steps every canvas project is supposed to take if you're using spray paint.
Prepare the surface
If you're using unprimed canvas, the first thing you need to do before painting it is to apply a primer.
But before then, stretch the canvas if it's not pre-stretched. Don't make the mistake of painting on canvas before unwrapping it.
Next, prime your canvas with gesso. Gesso softens the surface and makes it archival by protecting the fibers. It helps the paint adhere better and ensures you use less paint.
Apply primer
To apply primer, start by lightly wetting the canvas and its sides. Use a sponge dipped in water.

Next, stir the acrylic gesso and pour some into a small cup or container (i.e., what you need for the job).

Cover the main gesso jar ASAP to keep it from drying. Next, add water to thin the gesso in a cup. It should be five parts gesso to one part water. Stir it well.

Next, brush on the primer with a 1-or-2-inch brush, laying it with horizontal strokes. Spread evenly from one side to another and back. Then apply it with even, parallel strokes.

Allow the gesso to dry for at least an hour, or let it sit overnight before moving to the next step.

Gesso is usually white. But you can change the color by adding acrylic paint of your desired color. This can also serve as a tonal background to set a mood for your painting and add depth to the finished piece.
Start painting
Now you can paint the canvas to your desired color. You can start by neutralizing the underpainting, then build it up by adjusting the tones. Your color choice will depend on what you're painting but try to use thin layers instead of applying all the colors at once.
Continue to add layers until you get the image you desire.
How do you seal spray paint on canvas?
The best way to seal spray paint on canvas is to use spray varnish or sealants. This could be any acrylic-approved varnish, clear sealer, or mod podge.
A spray varnish is much better than using a brush-on varnish. Besides protecting your artwork from environmental damage, it gives it a bright and crystalline appearance.
By environmental damage, I'm referring to elements such as moisture and UV rays and physical wear from smudges, scratches, and paint flaking.
Varnish is usually transparent, so it doesn't alter the paint color. It just provides that extra protection.
FAQS: Best spray paint for canvas
How long does it take for spray paint to dry on canvas?
It depends on the composition. Water-based and acrylic spray paints may dry in as little as six hours, but oil-based paints can take one to two days to completely dry.
Can you use Krylon spray paint on canvas?
Yes, you can. Krylon spray paints are suitable for different materials, including canvas. A good example is the Krylon COLORmaxx. Since it's multipurpose, you don't need to buy different products to seal or paint different surfaces.
Can You Use Rust-Oleum on Canvas?
You can use Rust-Oleum on canvas, provided it says so on the label. There are many variants of the spray paint, so you want to use one meant for canvas. Besides offering long-lasting protection, Rust-Oleum is available in various colors and finishes.
What is the best way to spray paint on canvas?
There are two main things you must do when spraying canvas to ensure you have the best results. First, you have to prepare the surface by cleaning (to remove any dirt or debris) and priming it. Secondly, you need to use light, even coats, to avoid oversaturating some spots. Of course, it's assumed you're using the right type of paint.
Which spray paint is best for canvas?
The most commonly used paint for canvas is acrylic paint. Acrylic spray paints are easy to work with, quick-drying, and do not cause yellowing. Oil paint is another popular option known for its thick and gluey consistency, durability, and long dry time (which gives an artist more time with his work).
The Bottom Line
Spraying canvas is a great way to add depth to your work and ensure longevity. The products reviewed here will not only protect your paintwork but also accentuate its appearance.
Most options are sealants or clear coats that seal canvas without altering its color, while a few offer many color options.
Thankfully, each aerosol can is easy to use, so it shouldn't take too long to get the hang of it. Once you do, you will enjoy faster project completions and be able to create different effects that may not have been possible using a brush.
Wear proper safety gear while painting and take the project outside to avoid inhaling too much fumes.
I hope I've answered all your questions about choosing the best spray paint for canvas. If not, let me know in the comment box.