An airless paint sprayer is easily the most efficient way to apply paint, especially when you have a big project. Once you get the hang of it, it is easy to use and will enable you cover large areas in record time.
Graco and Wagner are two of the biggest sprayer brands out there, with both low-cost and pricey models for DIY projects and contractors. 
The debate about wagner vs graco has been ongoing for some time. Both are US brands, so there's no question about their quality. However, there are still significant differences between them, and knowing these differences will help you decide on the best one for your needs.
So, between Graco vs Wagner, which one should you choose? Let's find out by stacking them head to head and looking at some of their best products.
What Is An Airless paint sprayer?
An airless paint sprayer is a type of paint sprayer that doesn't require a turbine or compressor to pump paint out of the unit. Instead, it uses a motor-driven pump to create high pressure to atomize and expel paint onto the target surface. The paint comes out in a light mist, giving you a thinner and more uniform coat.
Air sprayers provide speed and faster application, which makes them perfect for bigger projects and jobs with a short weather window. The high-pressure output of the sprayers also makes them versatile; you can use them for a wide range of coatings without thinning the paint. However, they must be handled carefully because the pressure can reach dangerous levels.
Graco vs Wagner Airless Paint Sprayer Comparison
Performance
When it comes to performance, both Graco and Wagner Airless Sprayers are on the higher side. Compared to most standard options, they are more reliable, accurate, easy to clean, and time-saving.
Graco airless systems are generally more efficient and powerful.
Between Graco and Wagner, Wagner is the less popular brand and has much of its reputation built on the back of their HVLP sprayers. It's one of the pioneers of the High Efficiency Airless Technology, also known as HEA, with the Control Pro being the Hallmark of this tech.
HEA technology is meant to reduce the level of overspray in Wagner sprayers, up to 55 percent less than standard models. You also get continuous spray and variable tip sizes which allow you to take on both small and large projects.
However, compared to Graco units, Wagner airless guns operate at much lower pressure, sometimes as low as 900 PSI. While this gives users more control, it makes the sprayers less suitable for more demanding jobs. You can spray water or oil-based paints and stains but might need to thin down more viscous materials.
Graco airless units generally operate at higher pressure, though fully adjustable, and offer more complex features such as the RAC IV SwitchTip, which allow you to reverse the tip when the machine is clogged. This keeps you spraying and thus reduces downtimes.
The higher pressure of Graco systems means they can handle a wider range of materials or viscosities. Also, they can support longer hoses, sometimes up to 100 ft, which makes them more suitable for high-point jobs such as multi-storey homes. 
Application
Graco offers a sprayer for almost everyone and every type of job, from regular handypersons to professional contractors. However, compared to Wagner sprayers, most DIYers may find Graco more complex as they have too many features.
So, if you're an absolute beginner, you might find Graco a little intimidating, except, maybe, their handheld models.
Graco products are generally best suited for large projects and professional work.
On the other hand, Wagner units tick most boxes for DIYers and home improvement projects. They obviously lack the time-saving features and capacity provided by Graco for contractors working on big jobs. However, since they operate at lower pressure, they are easier to control, making them more suitable for beginners.
Pricing
Most paint sprayers cost around $100 to $300.
Graco is generally on the high end, with the top models costing over $300, which might be above the budget of most homeowners. But this could be a good deal for contractors and other professionals who do a lot of painting.
In addition to many features, Graco sprayers have a longer lifespan which makes up for your initial investment.
Wagner airless sprayers, on the other hand, are more pocket-friendly, with top models costing just above $200. They tend to be smaller than similar Graco units but are still fit for commercial use.
Setup
Graco and Wagner airless sprayers are generally easy to assemble, even for someone without prior experience. As long as you follow the instructions that come along with them, you shouldn't have any problems.
Priming is also easy. Both tools have options to prime or spray paint. So, it's quite difficult to mess things up if you follow the instructions.
However, newcomers might find Graco sprayers a little harder to set up.
The exact steps might slightly differ for a handheld airless paint sprayer, but it's a lot easier whether you're using Graco or Wagner.
Cleaning & Overspray
According to most people, the biggest con of working with paint sprayers is the amount of preparation and cleanup involved. But once you get everything prepped, it is much quicker than rolling or brush painting.
The reason for the extra work is how to deal with paint splatters and overspray, which can be a real pain to clean up. Both Graco and Wagner airless sprayers are designed to produce the least amount of overspray compared to other airless sprayers. But Graco takes it to another level with their PowerFlush Adapter, which connects to a garden hose to make cleaning fast and easy.
So while you won't have a lot of problems with overspray working with both systems, you will find Wagner units a little harder to clean. Having said that, cleaning both sprayers is generally tedious. Make sure to read the specific cleaning guidelines of the model you're using.
Pros & Cons of Graco Airless paint sprayers
Here are some advantages and disadvantages of using a Graco airless paint sprayer.
Pros of Graco airless sprayer
Durable construction
Super fast painting
Sprays paint and stain unthinned at any pressure
Works well with multiple tip sizes
Easy pump replacement.
sprayers look professional
Fuss-free operation
The company offers a wide range of sprayers
Great value for money (produces professional looking results)

Sprays paint and stain unthinned at any pressure
Cons of Graco airless sprayer
Might create a lot of mess (best used outside)
Not the best for newbie painters (you should already be good at painting to use Graco)
Cleanup can take some time.
Not effective for small projects
More expensive than Wagner sprayers
Pros & Cons of Wagner Airless paint sprayers
Here are some advantages and disadvantages of using a Wagner airless paint sprayer.
Pros of Wagner airless sprayer
Easy to setup and use (have fewer parts and accessories)
Durable construction
Very affordable (perfect for DIYers on a budget)
Saves a lot of time.
Creates a very smooth and even finish
Comes with HEA technology to reduce overspray
Perfect for beginners and experienced DIYers
Cons of Graco airless sprayer
May not be ideal for large-scale contractor projects
Doesn't have many tip sizes
It takes more time to clean up
How Do You Use an Airless Paint Sprayer?
Using an airless paint gun is not difficult, though it does take some time and practice. But once you get the hang of it, it can be fun and easy to use. If this is your first time, plan on doing some test spray before you move on to the main project. You can use a large piece of cardboard or newspaper.
Once you're ready to start painting the main project, mask off nearby surfaces to protect them from overspray. While each system has its own specifics, the general guideline for using an airless sprayer is as follows:
Place the smaller prime tube into an empty waste bucket while the suction tube goes into the paint bucket.

If it's an electric model, attach it to a power outlet, then set it to prime. Once you notice paint flowing out, move the prime tube into the paint bucket.

Hold the gun over the waste bucket (there is no need to put the tip or guard in place yet) and set it to "Spray." Then squeeze the trigger until paint begins to flow out and evenly into the bucket.

Next, lock the trigger and turn the power off. Once again, set the spray to "Prime." Direct the sprayer into the waste bucket and press the trigger to release pressure. Put the trigger lock back on.

Next, screw the spray tip and guard into place. You're ready to start painting. It might help to do a test spray on cardboard or some other scrap material before moving on to the main surface.

Switch on the pump and set the gun to "Spray." Hold it 10-12 inches from the target surface, push the trigger, and move the gun quickly and steadily. You can change the pressure settings as needed. Too much overspray is usually an indication that the pressure is too high, while a low pressure can cause the gun not to spray evenly.
What to Look for in an Airless Paint Sprayer
There are two main factors to consider when purchasing an airless paint sprayer: Hose length and capacity.
Hose length
Most airless sprayers have a hose, except for handheld models with built-in paint containers. The hose length will determine how flexible the tool is.
If your job requires you to cover long distances, such as painting a fence, then you want to choose a sprayer with at least a 25-foot paint hose or a long extension cord. This will allow you to work uninterruptedly instead of stopping frequently to move the machine.
Some units also offer options to upgrade to a longer hose, sometimes up to 100 feet. Usually, the higher the hose length, the more flexible the tool will be. In addition to the hose length, you may also want to consider whether the tool has wheels or a backpack if you plan to carry it a long distance.
Paint Capacity
The paint capacity will determine how often you need to refill the tool. You can choose a sprayer with a hopper or one that draws paint from the can or bucket.
In either case, the larger the hopper or paint can is, the less refills will be required throughout the duration of your project. In general, stationary models with 1-, 2-, or 5-gallon paint cans will allow you to work for a long time without running low on paint. Sprayers with hoppers usually hold around one gallon of paint.
Handheld paint sprayers usually feature a built-in cup or container which holds less paint. A common capacity is one quart, which is less practical for bigger projects as you'll need to refill the cup several times.
What is the Best Wagner airless sprayer?
1. Wagner Control Pro 190 Paint Sprayer
The Control Pro series features some of Wagner's best airless sprayers, including the Control Pro 130, 150, 170, and 190. The Control Pro 190 is the most advanced option and undeniably the best so far. It features an ergonomic all-metal spray gun built with an extra layer of durability and professional quality.
The tool paint uses Wagner's HEA technology to reduce overspray by up to 55 percent compared to traditional options while delivering a consistent, soft spray pattern. Compared to a roller, it applies coatings three times faster, allowing you to accomplish more in less time.
The maximum operating pressure is placed at 1600 PSI, which makes it one of the more powerful options by Wagner. You can regulate the paint flow by adjusting the pressure control valve.
The unit is capable of spraying up to 500 gallons of paint per year, which makes it ideal for professionals. It sprays thinned and unthinned paint and comes with a 50-foot hose for bigger projects.
The unit is stationary and draws paint directly from a 5-gallon bucket. It features integrated storage for holding spare tips.
Besides the 515 HEA spray tip that is included in the package, the gun also supports 313 and 211 HEA spray tips which are sold separately. The 515 tip is perfect for latex paint, while the 313 and 211 tips are great for stains and sealers, respectively.
Overall, this is easily the best paint sprayer by Wagner. We can't recommend it enough.
What We Like 👍
Ergonomic design for extra comfort
Supports multiple spray tips
Fairly compact unit
Produces very fine finishes
Suitable for a variety of materials
Better for bigger projects

Supports multiple spray tips
What Could Improve 👎
A bit loud
Cleanup is a bit time-consuming
2. Wagner Spraytech FLEXiO 590 Paint Sprayer
The FLEXIO 590 is an upgrade of the initial FLEXIO 570. While the 570 has only two speed settings, this one has an adjustable dial with more speed options. It also sprays more gallons per minute and comes with a second nozzle for a more detailed finish.
One of the main highlights of the gun is the weight. At 2.11 pounds, this is one of the lightest sprayers you will find out there. This means you can use it for hours without straining your arm. It's perfect for spraying tight corners or carrying up a ladder. However, you need to hold it correctly to avoid hurting your wrist, as most of the weight is at the front.
Even though the tool is designated HVLP, it generates enough pressure to spray most unthinned materials. It utilizes the X-Boost turbine to deliver unmatched power while providing adjustable control and good coverage.
Compared to a brush, the gun is ten times faster.
As earlier indicated, two nozzles are included in the package. The first is the iSpray nozzle for spraying larger projects such as walls, decks, and fences, while the second is the Detail Finish Nozzle for fine finishing and spraying small projects like trims, furniture, and cabinets.
The paint container is a 1.5-quart cup that is well-sealed to prevent spillage, even when using the gun upside down.
The gun has fewer parts, so it's easy to clean.
What We Like 👍
Quick and easy to clean
Ten times faster than a brush
Sprays unthinned paint and stains
Suitable for both small and large projects
Includes two front-end nozzles
Offers greater control which results in less overspray
What Could Improve 👎
3. Wagner Spraytech Pro 130 Power Tank Paint Sprayer
The Control Pro 130 Paint Sprayer is a stationary unit that delivers quick and even spray finishes on different surfaces. It's great for completing smaller jobs around the home. However, you should read the manual carefully before using the tool.
A 25-foot hose is included with the gun, but it can support up to 50-foot hose. Meanwhile, the hopper can hold up to 1.5 gallons of paint, allowing for continuous spraying as there's no need for frequent refills, especially for small and midsize projects.
It's important you prime the machine as instructed; otherwise, it will cast lines on the job, and you will waste a lot of paint fixing it. You can find instructions in the manual or watch videos online (there are many of them on YouTube).
The tool can spray stains and unthinned paint and is suitable for painting various surfaces, including sheds, garages, porches, doors, and ceilings.
Like other Wagner sprayers, it uses HEA technology to reduce overspray by up to 55 percent while delivering a soft and consistent finish. However, if you still have a problem with overspray, consider using a smaller top with a small fan out. You can also dilute the paint.
The only downside is the long time it takes to wash out the system, which is a bit of a hassle. Other than that, this is a powerful sprayer that does its job really well.
What We Like 👍
Sturdy power tank stand
Spill-resistant like to keep debris and contaminants out of the paint
Easy to assemble if you follow the instructions right
Works with latex and unthinned paint
Sprays with less overspray
What Could Improve 👎
What is the Best Graco spray gun?
1. Graco Magnum 262800 X5 Stand Airless Paint Sprayer
The Graco Magnum X5 airless sprayer is an excellent choice for DIYers and remodelers looking for more power and mobility. It can handle projects up to 10-gallon, making it suitable for multiple uses.
The tool is well made and comes sitting right on top of a 5-gallon bucket with the intake hose placed directly in the paint bucket. Since it uses a flexible suction tube, you can also spray from a 1-gallon bucket. With the 5-gallon bucket, you won't have to refill frequently or change to smaller cans. It also reduces paint loss.
The spray gun itself is made of heavy-duty metal and is equipped with an in-handle filter and a TrueAirless nozzle, which can be reversed if it gets clogged.
Like other airless models, the gun can spray unthinned paint – thanks to its powerful stainless steel piston pump. You can adjust the pressure for complete control over the paint flow.
The unit comes with a 25-foot hose but supports up to 75 feet of paint hose, allowing you to reach high points such as fences and second stories without compromising performance.
The only downside is that set up and clean up takes a lot longer than brush or roller painting, which can be a little hassle. You have to clean the surface and cover everything around if you don't want to get overspray. So, this is not the tool we would normally recommend for small projects.
What We Like 👍
Fully adjustable pressure control
Durable construction yet lightweight
Easy to use once you understand it
Sprays very quickly
It comes with some extras
Perfect for big projects
What Could Improve 👎
Setup can be time-consuming
2. Graco Magnum Project Painter Plus Paint Sprayer
The Project Painter Plus has a user-friendly design that makes painting enjoyable, even for beginners. It applies paint easily and fast and works perfectly for DIYers for small-to-medium-size household projects. These include garage doors, interior walls, fences, furniture, and similar projects you can tackle over a weekend.
Since the tool is airless, there's no need to connect it to a standalone compressor. However, you'll need to plug it into an electric outlet, preferably 110v. Then put the suction hose in the paint bucket, and you're ready to paint.
The sprayer "draws" paint directly from a 5-gallon or 1-gallon bucket. The suction tube makes this possible. This allows you to use the tool without needing to fill up or empty anything.
You want to reverse the tip occasionally to keep the sprayer from clogging. Don't wait until it gets clogged before you reverse it.
You can set the nozzle to vertical or horizontal, which allows you to paint in all directions, even upside down. The gun is supplied with a long delivery hose (25 feet) but can support up to 50 feet if desired.
With the long hose, you don't have to move the tool or paint bucket very often. The pump already has a strainer on the hose, which is another big plus.
The maximum tip size is .015, which is already included with the gun. You may want to purchase smaller tips for more detailed projects such as painting trim.
What We Like 👍
Adjustable pressure control
Long delivery hose for easy maneuvering
It doesn't make much noise
High gallon capacity
Compact unit
What Could Improve 👎
3. Graco TrueCoat 360DS Handheld Paint Sprayer
If you want something less cumbersome for smaller jobs than the X5, then you should consider the 360DS. This handheld model is simpler to use and quick to set up. It is compatible with primer/paint mediums and every other type of paint with no thinning required. 
Like the other models, it has an airtight system, making it possible to spray in all directions, even upside down. Simply twist the nozzle to switch it from a horizontal to a vertical spray and vice versa.
The tool comes with dual speed adjustments, which gives you two speeds to choose from. These include Low Speed and High Speed. As you would guess, low speed works great for small detail work, while high speed is better suited for larger projects. With both options, you would be able to complete your projects faster.
We also like that the Graco handheld paint sprayer uses a reversible spray tip instead of the regular one. This allows you to reverse the tip when it gets clogged and continue spraying.
There's a slight learning curve, but once you get the hang of it, it is easy to use, and the results are awesome.
The only downside is that you have to refill the small cup quite frequently when painting a large area, such as a wall. Also, it's a hassle to clean; unfortunately, this has to be done after every use if you don't want the machine to clog. Besides these, this is the right tool for occasional or small projects and is well worth the cost.
What We Like 👍
Easier to clean
It comes with a reversible tip for continuous spraying
Dual speed adjustments
Works well with unthinned paint
Can paint upside down
Great value for your money
What Could Improve 👎
Small paint cup
It's a hassle to clean up
Tips for using an airless paint sprayer
Here are some helpful tips for using an airless paint sprayer, especially if it's your first time:
Safety first! Sprayers are powerful, so treat them with respect. Wear your mask, safety goggles, and gloves, and pay attention to the safety instructions.

Prep the surface. This might be a little boring, but it will make life easier. Make sure the surface is clean and dry. Place a drop cloth on the floor to catch overspray.

Select the correct tip size and filter for the job. This depends on the type of material you're spraying. A wrong choice of filter or spray tip can cause problems in the paint job.

Consider using a tip extension to increase your working radius and reach more areas. This will increase your overall efficiency.
Spray edges and corners first before moving to larger areas. This is one way to ensure the paint is applied evenly.

Start moving your hand before you press the gun. This ensures the paint is applied evenly without leaving streaks. Likewise, release the trigger before you stop moving the gun.

Spray at a constant speed, moving back and forth in a horizontal or vertical motion. Aim to overlap each stroke by 30 percent.

Make sure you have enough paint for the job. You don't want to paint halfway and run to the store to get an extra bottle. Also, use multiple thin coats instead of one thick coat to avoid the dreaded drip.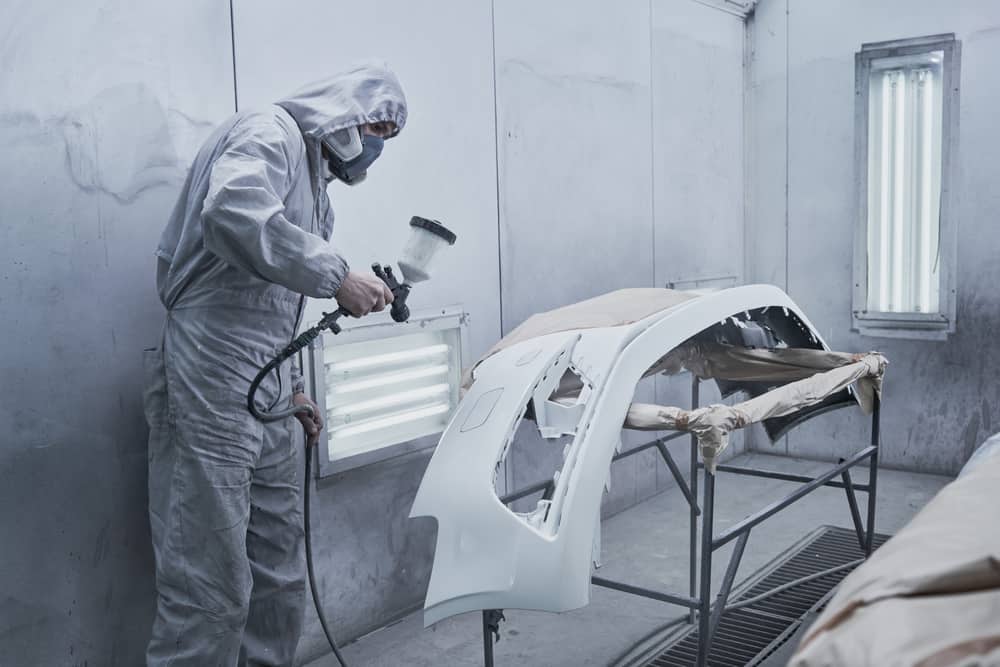 FAQs – Wagner vs Graco paint sprayer
How long do Graco paint sprayers last?
This depends on a few factors, such as how often you use the sprayer, how well you maintain it, and the particular model you're using. In general, most Graco paint sprayers will last 3 to 5 years, or even more, with proper care. However, if you don't maintain the tool properly or use it excessively, it may only last a few months.
Is Graco paint sprayer a good brand?
Yes, it is. Graco sprayers deliver a good combination of speed and a high-quality finish. They are also compact, easy to use, and have a fairly low cost. In fact, some of the best models, such as the Project Plus Painter, cost around $200-$300 and deliver large project capacity for a few days' rent, making it a great option for DIYers who paint several times a year.
Can You Paint a Car With a Wagner Paint Sprayer?
Yes, you can. Wagner sprayers can be used to paint various types of automobiles without the need for additional equipment. The Wagner MotoCoat Sprayer is a typical example of a Wagner paint sprayer specifically designed for car painting. It is fairly quiet and works well with almost zero overspray.
How many coats of paint do you use with a sprayer?
For proper coverage, plan to use more than two coats of paint. While this will cost you, it will ensure the paint last longer. Factors such as the paint type, thickness of each coat, type of surface, and climate can also affect the number of coats. For the best results, follow the manufacturer's recommendation.
Which paint sprayer is better air or airless?
It depends on the application and type of material you plan to use. Airless sprayers cater to larger projects and are best suited for thicker paints, while air sprayers are more suitable for thin paints and smaller jobs.
Summary – Garco vs Wagner, What's the direction?
So, what's the best airless sprayer between Graco vs Wagner? It all boils down to your individual needs and project requirements.
What is the size of your project? How often will you be painting? What type of material do you plan to use? And how much are you willing to spend? These are all things you should take into account before making a final decision.
In general, both brands are backed by decades of expertise, and their sprayers are some of the best in the market. So you won't go wrong with either one as long as it suits your needs. Ultimately, you want to check the specifications of each model and decide if it can handle your project!