Do you have a DIY project you're planning to work on but don't know the type of paint to use? Perhaps you're thinking about using Latex paint and wondering whether it can hold up against water.
Durability and protection are key elements to consider when choosing a paint for your painting projects. While latex paint is often a desirable choice, one common question among homeowners, DIYers, and painting professionals is: 'Is latex paint waterproof?'
In this blog post, we'll explore the properties of latex paint and whether or not it can withstand water. This will help you make an informed decision before using this type of paint in areas prone to moisture.
Is Latex Paint Waterproof?
No. Latex paint is not waterproof. While it has some level of water resistance, latex paint is water-based and is, therefore, not completely water-repellant. When continuously exposed to water or heavy moisture, latex paint may start to peel off, soften, or wash off. The water may also start sipping through the painted surface, causing damage to the underlying surface.
What is Latex Paint?
Latex paint is a water-based paint that uses water as its primary solvent. It's often made up of coloring pigments, binders, additives, and water as the solvent. The binders are made of acrylic resin or synthetic latex, making it a highly durable and flexible type of paint.
Latex paint is highly versatile, easy to use, and has a milder odor than oil-based paint. This makes it a popular choice among DIY homeowners, who use it for both exterior and interior painting projects.
Another reason people choose latex paint is that it dries relatively quickly , which means you can finish your projects faster without worrying about wet paint!
Why Isn't Latex Paint Inherently Waterproof?
Latex paint isn't inherently waterproof since it's a water-based paint. This means it has no natural ability to resist water.
Also, the binders that make up its composition (acrylic resins or synthetic latex) are not completely resistant to water and can break down when continuously exposed to water or moisture.
Latex paint is also relatively porous. Its film often has tiny pores through which water molecules can sip and reach the underlying surface.
While it can withstand some level of exposure, it's advisable to avoid exposing this paint to prolonged moisture since it's not inherently waterproof.
How to Waterproof Latex Paints
Even though latex paints are not naturally waterproof paints, you can manipulate them to become more waterproof and protect your surfaces from water damage.
Let's review a step-by-step process on how you can waterproof latex paint:
Tools and materials
Latex paint
Paintbrush/roller
A clear water-repellant sealer/topcoat
A drop cloth/protective covering
A clean cotton cloth/sponge
Sandpaper (if needed)
Painter's tape (if needed)

Protective garment (gloves and nose mask)
Procedure:
Once you have all your tools and materials ready, follow the step-by-step guide below to make your latex paint waterproof:
Prepare your working surface (the painted item) by cleaning it with a clean cotton cloth and ensuring it's free from debris, dirt, grease, or other loose particles. If it's a wooden surface, you can sand it to smoothen the surface.

Put on your protective garments (nose mask and rubber gloves to protect yourself from the harmful chemicals and toxic fumes from latex paint

Using a painting brush or roller, spread a thin coat of latex paint evenly across the entire surface. Let it dry before applying a second coat until you achieve the desired shade.

Once you finish painting and the final coat is dry, you'll need to perform a water-resistance test. Sprinkle a small amount of water on an inconspicuous area and watch whether it rolls off or seeps into the paint—most probably, some of the water will roll off while some will seep in.

To enhance water resistance, apply a clear topcoat or a water-repellant sealer on top of the latex-painted surface.

Let it dry completely before evaluating the water resistance again. If you feel like you need more protection, add more layers of topcoat or sealer, leaving enough drying time between the coats.
Your latex paint will now be waterproof and can withstand prolonged exposure to water or moisture without damaging your precious surfaces.
7. Once you finish working, use mild soap and warm water to clean your paintbrushes or rollers. Dispose of the drop cloths or protective coverings carefully in the right place.
How Long Until Latex Paint Is Waterproof?
Latex paint gains its partially waterproof properties as it dries up. This can take a few hours to several days, depending on factors like the type of latex paint, temperature, humidity, airflow, and the thickness of the paint film applied.
On optimal environmental conditions, it can take 2-4 hours to dry to the touch and resists minor splashes or moisture. However, latex paint can take up to 7-14 days to cure completely and become more water-resistant.
When reinforced with a topcoat or waterproof sealer, the paint only takes a few hours to dry up and become waterproof.
Tips for Maintaining Latex Paint's Waterproof Properties Over Time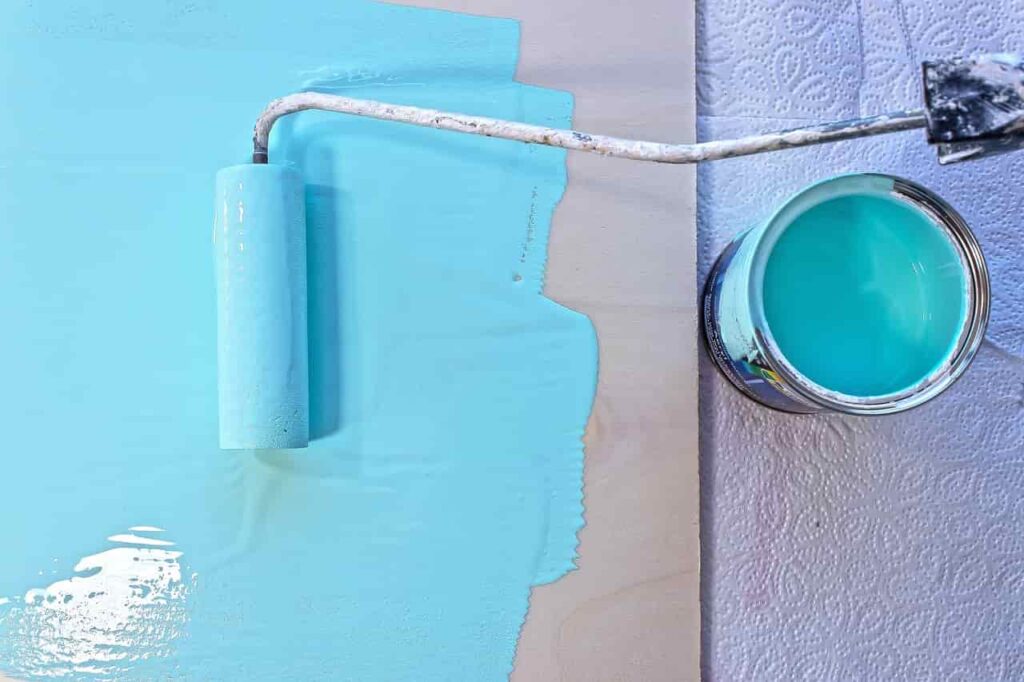 Do you want your latex-painted surfaces to last longer while maintaining their original elegance? If yes, you need to take care of the paint to prevent it from unwanted damage and untimely wear.
Here are some effective tips for maintaining the waterproof properties of latex paint for it to last longer:
Regular cleaning: Always clean your latex-painted surfaces using a soft sponge and mild detergent to free them from debris, dust, and dirt. Dry off any water spills or splashes quickly before.

Gently handling: Avoid using harsh detergents or abrasive cleaning tools on latex paint, as these can damage its film and compromise water resistance.

Keep off moisture: Always keep your latex-painted surfaces as dry as possible by ensuring proper ventilation and keeping moisture sources away. You can use exhaust fans in areas like the kitchen and bathroom that are prone to water leaks and splashes.

Regular coating: Consider applying a protective topcoat or waterproof sealer periodically to ensure the latex paint always has an extra layer of protection against moisture.

Periodic repairs and touch-ups: Always keep an eye on signs like paint peeling, swelling, or cracking and do the necessary touch-ups and repairs. You can remove the loose paint and add an extra layer of latex paint and topcoat whenever necessary.
Does Rain Affect Latex Paints?
Yes. Rain can affect latex paint, especially if it hasn't dried or cured completely. Rainwater can interfere with the drying process and make the paint take unusually long to dry.
When it gets rained on before drying, latex paint won't harden fully and can become less resistant to water and external damage.
On the other hand, if dry latex paint is rained on for a prolonged period, its' integrity gets compromised, and the paint can begin to bubble, peel, or soften. The rainwater will eventually penetrate the paint film and damage the underlying surface.
If you expect it to rain shortly after applying latex paint, consider covering the surface with tarps, polyethylene, or plastic sheets to protect it from rainwater.
What to Consider When Buying Latex Paint for a Waterproofing Project
Buying paint can be tricky, especially if it's your first time doing it alone. And latex paint is not an exemption.
When shopping around for the best latex paint for your waterproofing project, there are several factors you need to consider. Let's review some of them:
Project Type
The first factor to consider is the type of project you're planning to work on. Is it an exterior wall or interior part of your home that you want to give a new look? Is it a bathroom or kitchen wall that's prone to water exposure?
Different project types may need different paint types with different levels of water resistance.
Type of Surface
The second factor to consider is the type of surface you want to paint. Is it wood, metal, concrete, or stucco?
Some latex paints adhere better to certain surfaces than others, providing longer protection on such surfaces.
Ease of Use
When shopping around, look for a latex paint that's easy to apply and won't give you a hard time.
Evaluate its viscosity, coverage and application method and see whether it's compatible with the method you intend to use (e.g., brushing, rolling, or spraying)
Waterproofing Performance
Always read the container label and ensure that it explicitly mentions the waterproofing properties of the paint.
Some latex paints are formulated with additives to enhance their water resistance, so it's always advisable to check. Also, check whether the paint is designed for high-moisture areas.
Customer Reviews and Recommendations
If you're completely clueless, research customer reviews and recommendations from sites like Amazon or YouTube.
Customer reviews will give honest opinions from people who have used the paint and experienced its performance. They'll help you pick the right brand of paint for your waterproofing project.
FAQs–Waterproofing Latex Paints
What Kind of Paint is Waterproof?
Waterproof paint is paint that has water-resistant properties and cannot allow water to penetrate its film to reach the underlying surface. These paints are often formulated with additives and binders that repel water and make the film impermeable. Therefore, they are good at protecting surfaces from water damage.
Which Paint is Best for Waterproofing?
Acrylic latex paints are often the best for waterproofing projects. This is because they are versatile, flexible, and highly durable. Additionally, their water resistance can be easily enhanced using a clear topcoat or a waterproof sealer.
How Long Will Latex Paint Last Outside?
When left outside, the durability of latex paint will vary depending on environmental conditions (rain, sunlight, humidity, and temperature) and the quality of the paint. However, with proper maintenance and regular touch-ups, latex paint can last several years on external surfaces without fading.
Is Latex Paint and Acrylic Paint the Same?
Latex paints and acrylic paints are similar, but they're not exactly the same. While acrylic paint is made of an acrylic polymer solution, latex paint consists of either synthetic latex or acrylic resin in a water-based formulation. However, the terms are often used interchangeably since many latex paints are acrylic-based.
Conclusion: Is Latex Paint Waterproof?
As a DIYer or a professional painter, now you know that latex paint is not inherently waterproof. However, it's slightly water resistant and can only withstand limited exposure to water or moisture.
Factors such as the formulation, drying time, surface preparation, and environmental conditions will determine how much your paint can withstand moisture.
The best part is that you can make latex paint more water-resistant by adding a clear topcoat or a waterproof sealer. Ultimately, it's essential to consider the type of project you're working on, customer reviews, and manufacturer recommendations before buying paint for your waterproofing projects.
Did you enjoy this article? Let's know what you think in the comment section.
Also, feel free to share this article with your fellow DIYers to let them know all about latex paint waterproofing!