Finding the best spray paint for graffiti can be daunting, given the sheer number of products available. As an artist, you want to select a colorant that resonates with your style and preference. Something that can achieve the desired results without compromising on quality and performance.
In this guide, we will look at 12 of the best spray paint for art and graffiti. All the brands mentioned here are tried and tested and guaranteed to create clean and long-lasting art when used correctly.
They all are suited to different objectives, budgets, and preferences. 
So, whether the goal is to express yourself or entertain your viewers, you will definitely find something to add to your graffiti supplies.
Understanding Graffiti Spray Paint
Spray paint is the most popular medium graffiti artists use. And it's easy to see why – it simplifies the creative process. It acts as both paint and paintbrush while providing maximum freedom and control, which is obviously lacking with traditional techniques.
This is why it's used for most graffiti styles to create various effects – from big and bold to small and detailed.
The use of spray paint for graffiti did not start today. It's been in use since the early beginnings of the classic form of art and began to be heavily adopted in the 70s by young people.
The reason why graffiti spray paint works so well is because it meets the conditions associated with outdoor artwork. Unlike other art forms, graffiti is street art and uses walls and outdoor surfaces instead of regular canvas or paper. Aerosol cans make it easy to work in these conditions.
In fact, when you're creating graffiti, you don't need a brush. You can create almost any type of effect with the spray paint.
This doesn't mean spray paint is the only type of graffiti paint. There are others like paint marker pens for creating tags and small mural details and emulsion paint for roller graffiti and wall preparation.
The best graffiti spray is quick-drying and can be used over various surfaces, including concrete, brick, stone, wood, metal, and even plastic. It should require little or no preparation since graffiti is often done on surfaces with previous paintings.
Since graffiti is done outside, your chosen paint should be durable and suitable for outdoor use. In fact, it should be outdoor spray paint!
What Are the Different Types of Spray Paint for Graffiti?
There are two main types of spray paint for graffiti – low-pressure spray paint and high-pressure spray paint.
Low-pressure spray paint
As the name suggests, this type of spray paint has less pressure pumped into the aerosol can during production. As a result, it expels paint at a slower rate, leading to a lower output level.
This type of spray paint is favored by graffiti and street artists for detailed work because it provides more control over the spray can. Since the content is released slowly, there are fewer drips, and you can achieve finer lines more easily.
The added control offered by the paint also makes it an excellent choice for beginners.
Some of the more popular brands in this category include Flame Blue and MTN 94.
High-pressure spray paint
This type of spray paint is characterized by a higher level of paint output because more pressure is pumped into the spray can. In other words, when you press the nozzle, it releases more paint.
This makes it ideal for painting large surfaces since you can cover more areas quickly. So, graffiti artists who want to complete their work quickly usually opt for this type of spray paint.
However, there's a catch. Since the paint leaves the spray so fast, it's usually harder to control the can, which may lead to more drips. As a result, this option is more suitable for experienced artists because they can control the drips much better.
Some popular brands in this category include Montana Black and Flame Orange.  
10 Best Spray Paints for Graffiti & Street Art
Best Overall: Montana Black
The Mural Spray Paint by Montana Black is a high-quality, high-pressure spray paint designed for graffiti street art and mural use. So, it's perfect for artists who need both speed and precision.
It offers an assortment of colors suitable for both art beginners and experts.
Despite the high-level spray, the paint is easy to use and doesn't produce drips or puddles, even when you use a heavy coat.
It provides a perfect coat that goes on smoothly and dries fairly quickly with a vibrant color. It leaves an opaque and vivid finish that hides imperfections on the wall, which can be very beneficial if you're painting a rough or wooden surface.
Once again, the high-pressure valve system makes it ideal for projects that need to be completed fast.
It also features an Orange Dot Fat cap, which allows for thick lines and superior coverage. If you like, you can replace the cap with a skinnier one to have better control over the can and achieve thinner lines. This makes it even more versatile.
Make sure to remove the safety seal or ring under the nozzle before spraying. If you don't, the NOZZLE WILL NOT PUSH. I have seen many users complain about this (a stiff nozzle), so beware.
Also, to prevent clogging, clean the nozzle after each use. Use hot water, vinegar, turpentine, or any suitable solvent. Once you're done, keep it out of the cold.
Overall, this is undeniably the best graffiti spray paint in the game. Everything seems spot on, from the colors to the thickness to the dry time. While it's a bit more expensive than other brands, I think it's worth every penny.
To get the best value for your money, I suggest practicing with cheaper paints, then move on to this one when you're ready to start the main project.
Each can in the pack holds 400ml of paint and can cover up to 25 square feet. Use outside and protect your lungs by wearing a mask.
What We Liked 👍
Ensures quick project completion
Fast drying
Suitable for both starters and experts
Excellent coverage
Pretty decent caps

Huge color palette
What Could Change 👎
Best Premium: MTN Hardcore Spray Paint
The MTN Hardcore Artist Spray Paint offers the best combination of speed and precision, which makes it an excellent choice for graffiti and street art. It sprays really well, even for 3D art, and leaves a glossy finish with uniform coverage.
The high pressure guarantees a smooth, while its huge color palette gives you more options for both hobby and professional graffiti.
The paint runs on the thick side, which is expected for a graffiti medium. Some users complained about the caps clogging most of the time. To prevent this, clean it with a paint thinner or similar solvent after each use. If this doesn't work, spray the can upside down until no paint is released from the nozzle.
To fill bigger areas, you should pick a few fat caps to use alongside the set. Luckily, two NY Fat caps and two Lego caps are supplied with the standard caps on the cans. Each can have a transparent cover that snaps on top to prevent accidental overspray.
The paint comes in a wide variety of colors. Each one is outstanding and dries with a glossy finish that is tough and "winterproof." This means the paint will maintain its color even in the toughest conditions.
Overall, this is nice spray paint for graffiti and artwork, especially if you need something for high coverage and detailed work. The mere fact it's from Montana says a lot about its quality, not to mention its great price.
What We Liked 👍
Reliability
Perfect for graffiti and street art
Provides great coverage due to high opacity
Fast drying
Available in a wide variety of vivid colors

Super durable
What Could Change 👎
Best versatility: Molotow premium 400ml deep black spray paint
Molotow Premium is easily the best individual graffiti spray paint for most people. And I like to call it a reference product because it has been on top of the radar since it was created back in 1999.
It works great for both hobbyists and professional graffiti artists, mainly due to its highly opaque shade with UV protection and quick drying time. 
The paint is contained in a dual-pressure can with a dynamic valve system. The valve accepts both fat and skinny caps. A fat cap is suitable for higher-pressure spraying, while a skinny cap will spray at a lower pressure.
You can also use the medium-sized cap that is supplied with the paint. This gives you a balance between speed and control and enables you to create both skinny and bigger lines (depending on where you spray from).
Molotow Premium also has the most comprehensive color range in the world of street art. Currently, there are over 250 shades to choose from. Each of these colors uses UV-resistant pigments and is weatherproof.
In fact, it can handle temperatures as low as 14 degrees Fahrenheit. But I recommend spraying at room temperature or between 65 to 80 degrees Fahrenheit for optimal results.
It's worth mentioning that the product is highly flammable, so make sure there's no fire or smoke around where you're using it. Also, wear proper safety gear to prevent contact with your skin, eyes, and nostrils. Ideally, you should use it outside.
Overall, if you want something you can truly rely on for your artwork, I have no doubt you will like this product. For the price, you will get the best value for precision, coverage, and performance.
Each can is about 400ml in size.
What We Liked 👍
Provides high coverage
Weatherproof and UV resistant
Dual pressure system
Great for beginners
Numerous color shades

Premium quality
What Could Change 👎
Best Budget: Krylon K05592007 COLORmaxx Spray Paint
Krylon is known for having some of the best spray paints in the market; the COLORmaxx paint and primer is one of them. The multi-purpose spray paint is a great choice for graffiti art but can be used on almost any surface, including wood, metal, glass, ceramic, and even plastic.
It offers an assortment of colors that include both matte and glossy finishes. You can opt for a simple shade like white or black or a more complex combo like Bahamas Sea or Bauhaus Gold. The styles include gloss, semi-gloss, matte, satin, flat, metallic, etc.
I personally prefer the high gloss spray paint as it accentuates your work. Each color produces a modern, sleek finish.
The can features a big button spray tip that is easy to handle. It sprays smoothly and in all directions, even upside down. As long as you use it correctly, you shouldn't deal with any drips or runs.
The aerosol can is the standard 12oz size and covers up to 25 square feet with just one coat, ensuring fast project completion.
As the name suggests, the spray doubles as paint and primer, so there's no need for an extra coat of primer. This cuts down the application time by almost half and reduces the margins for errors in your work.
The paint is a little thick compared to other options. But this doesn't affect the drying time. It dries to touch in 20 minutes or less and covers up to 25 square feet.
I think the best part of the paint is the price. Each can is just less than $10 on Amazon. It's the real deal! I would say this is easily the best cheap spray for graffiti.
What We Liked 👍
Provides smooth, premium coverage
Quick drying time
Doesn't clog easily
Cheap
Offers rust protection

Big button spray tip for any angle spraying
What Could Change 👎
Best Water-Based: Pintyplus Aqua Spray Paint Set
Pintyplus Aqua is a general-purpose spray paint for arts and crafts enthusiasts as well as kids.
The set consists of 8 mini graffiti spray cans that are nice to have on hand. Each has a muted pastel color that makes an attractive matte finish.
Because the paint is water-based, it has a low odor and is environmentally friendly, which makes it safe for indoor use. It is also easy to erase with a brush, soap, and water if you're unsatisfied with the outcome. This makes it perfect for novice graffiti artists, especially if you need something to practice with.
As earlier indicated, the set includes eight mini aerosol cans that are all easy to use. This gives you a variety of colors to use without having to purchase a bunch of bigger cans. The small size of the cans makes them very convenient for children, unlike standard spray cans.
It comes off on the hands easily and works well for smaller projects.
The spray uses a low-pressure valve, which makes it easier to control and reduces overspray. Because it's water-based, residual paint can easily dry up and cause clogging. To prevent this, after each project, always turn the spray upside down and spray until nothing comes out.
Drying takes about an hour, but the recoat window is after 30 minutes. Since the paint is water-soluble, it can be easily removed with soap and water while it's still wet. Make sure to shake the can vigorously before use and a few times while painting.
Overall, Pintyplus Aqua is a great paint for new and experienced crafters and artists. It provides the perfect coverage with no drips or mess. It's perfect for graffiti as well as craft projects.
I just wish the cans were larger.
What We Liked 👍
Super easy to use
Low odor (suitable for indoor use)
Attractive matte finish
Provides good coverage
Multiple colors to work with
What Could Change 👎
I wish they were larger cans
Rust-Oleum Painter's Touch
The Rust-Oleum Painter's Touch is a high-quality, multi-purpose spray paint that sticks to various surfaces. You can use it on plastic, wood, metal, masonry, and even plaster.
It's particularly recommended for graffiti because of its oil base and glossy finish.
The oil formula ensures it doesn't wash off easily, which means your street art will last for ages, even in harsh climates. Likewise, the glossy finish gives your work a good shine, making it stand out.
I also like the Double Cover Technology, which increases application speed. This allows you to cover more areas quicker without sacrificing quality. The paint goes on smoothly and covers really well.
You can use it on both interior and exterior surfaces.
Although the paint is oil-based, it has a low odor and dries fast. But I still recommend wearing a mask and gloves.
The can is lightweight and features a comfortable spray tip with a wide finger pad to help minimize finger fatigue. To prevent clogging, clean or soak the nozzle in mineral spirits (or similar solvent) after each use. Or you can turn the can upside down and spray it until no paint comes out from the nozzle.
Also, before using the paint, shake the can for at least a minute and continue to shake it while on the job. This will help you achieve an even finish.
Keep the can at least 10 inches from the surface and spray back and forth. A few customers have complained about the outlet tube breaking when the can is dropped. So be careful while handling it.
The drying time is 20 minutes, but you must wait at least 48 hours for it to fully cure.
Altogether, there are six bottles in the set. Each one holds about 12 ounces of paint and covers up to 12 square feet. You can select from many color options.
What We Liked 👍
Provides a smooth and even finish
Extends the longevity of your art
Easy to use (great for beginners)
Resistant to chipping
Dries faster than other oil-based paints
Repels water once cured

Convenient any angle spray
What Could Change 👎
A bit pricey

The spray bottle can break when dropped
Montana Black Spray Paint for Graffiti
The Montana Black Spray Paint offers excellent coverage and fast drying, making it a dream to work with. It's perfect as a starter color and works for most projects.
It comes in a well-designed aerosol can with easy-flowing paint. Although the spray is its pressure is high, it provides excellent control.
Meanwhile, the high-pressure valve system allows you to cover a large area quickly, especially when using a larger cap. Thankfully, the spray is compatible with all Montana caps, so you can experiment with different styles and finishes.
The paint is nitro combination-based, meaning it's a nitro-lacquer combination. So, it takes less time to cure and is blotch-free once dry. You can apply several light coats until you get the desired results. I recommend getting additional caps and always shake the can before you layer spray paint on the material.
Surprisingly, the paint is highly pigmented, so it's thicker than what you would normally expect. As a result, it's highly resilient to the weather and winterproof. This means you skip using varnish or other sealants to cover your work afterward, though I recommend doing so for extra protection.
The color vibrancy and depth depend on how thick you lay the coatings and how light or dark the medium is.
NOTE: Remember to remove the black safety ring under the nozzle before you start using it; otherwise, it will be hard to press.
What We Liked 👍
Fast-drying
Vibrant color
Weatherproof finish
Easy to use
Covers really well

Reasonable pricing
What Could Change 👎
MTN Spray Paint Packs
This MTN Pack from Montana Colors offers a great assortment of colors for small projects. It is perfect for DIY enthusiasts and students who want a color that is easy to wash off.
The paint is water-based and goes on very smoothly. It doesn't have any chemical smell like standard spray paint and dries very fast, allowing you to accomplish more in less time. You can use it indoors or outdoors; if you use it inside the house, ensure the doors and windows are open.
Besides being odor-free, the paint is non-toxic, so it's safe to use around the home. But it's better not to get it on your skin or items around the workspace. So, make sure to cover the work surroundings before you commence the project, especially when you're working indoors.
The paint bonds well to various materials, including metal, concrete, glass, canvas, and cardboard. It's particularly recommended for canvas and cardboard because of its low pressure, which makes it adhere better on absorbent surfaces.
Once your project is complete, you can use a sealant over it for extra protection. And since it's water-based, you can also paint it over regular interior latex paint as long as you use a primer. To achieve even results, don't hold the nozzle too close to the surface.
My only issue is that the 100ml cans in the set are too small and don't last long on a large surface. For this reason, I see them as sample cans and a great way for an artist to try out different colors.
Some users also complained about clogs. But I believe this can be prevented if you clean the nozzles every time you finish using them. Notwithstanding, it wouldn't hurt to get additional caps just in case you need them.
Each MTN pack holds 16 cans of multi-colored paints.
What We Liked 👍
Many vibrant colors to choose from
Odor-free and non-toxic
Easy to carry around
Great price
suitable for indoor and outdoor use
Easy to wash off (water-based acrylic formula)

Reliable quality
What Could Change 👎
FLAME Blue is an all-surface indoor/outdoor spray paint for creating high-quality graffiti and street art on a budget. It might not be the most popular option, but it's effective and gets the job done.
The set consists of 12 popular matte colors, each weighing only about 12 pounds, making them lightweight and easy to handle. Altogether, you get over 160 oz. of fluid across the 12 cans, which is amazing considering the price.
Another good thing about the product is that it's low-odor, so you can use it anywhere. I still recommend working outside or somewhere with good ventilation.
The spray features low-pressure adjustment, which makes it perfect for artists or painters who want control and precision in their projects. It also minimizes drips and overspray.
The Blue Dot cap produces a medium soft line. You can replace this with a skinny cap to enjoy even more precision.
Since it produces less pressure, it's best for painting small areas. For larger areas, you will need something faster, ideally a high-pressure spray. For this, you can opt for Flame Orange, which provides faster coverage, though it can be more difficult to control, especially for beginners.
Overall, I'm impressed with the quality and performance of Flame Blue. It is one of the best for its price.
You can select from the many color options. Each is highly opaque with quality pigment that retains the color for a long time. Not to mention the fact that it comes with weather protection.
What We Liked 👍
Suitable for interior and exterior surfaces
Perfect for detailed pieces
Easy to use (perfect for beginners)
UV and weather-resistant
Low-odor formula

High precision and control
What Could Change 👎
Not the best for painting larger surfaces
Loop Colors is another brand that offers professional spray paint for artists of all kinds. This particular set is 100 percent acrylic and offers more protection from the weather. It is highly UV resistant and provides excellent coverage.
The aerosol can is equipped with a medium-pressure valve. So, it sits in-between low and high pressure. This means you can use it for both sprayings.
The versatility makes it suitable for all kinds of crafting projects, including graffiti, street art, canvas, murals, and stencils.
The paint covers really well and dries quickly, which allows for immediate re-application and overlapping with other colors. Once dry, it leaves a beautiful satin finish that stands up to frequent handling and abuse.
I like that the spray uses a skinny universal-style nozzle that allows you to achieve nice fine lines. This makes it perfect for easy details and line work, such as sketching or outlining letters. The choice of a universal cap also means you can use the bottle with almost any specialty nozzle tip or cap.
Altogether, there are 12 cans in the set, each with different color codes, which includes the popular white and black shades. All the colors are environmentally-friendly and safe to use around kids and pets. Besides the colors in the set, Loop Colors offers 180+ other hues, so you will never run out of options.
The choice of a medium-pressure valve means you can have precision while being able to cover quicker than a low-pressure can.
Overall, I believe this Loop Colors set is the best mid-pressure spray paint for graffiti and street art. The 400ml cans are perfect for artists of all kinds, whether beginners or professionals. For the price, I can't recommend it enough.
What We Liked 👍
Perfect for easy details and fine lines
Suitable for beginners and professional graffiti artists
Medium-pressure spray can
Great pricing
Wide range of color options

Offers UV protection and excellent coverage
What Could Change 👎
Prone to overspray when depleted or close to empty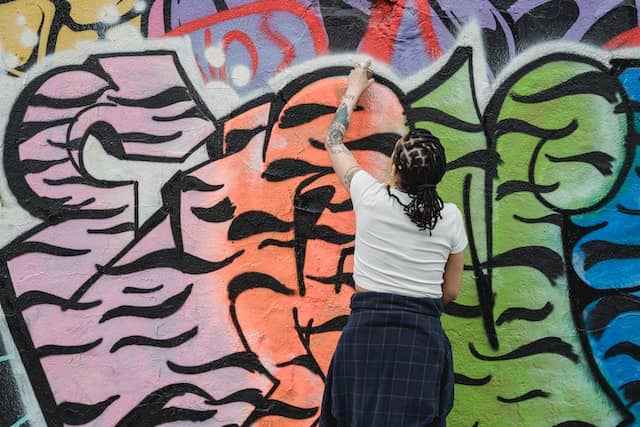 What To know Before Buying Spray Paint for Graffiti
In order to make an informed decision, there are certain things to know before buying spray paint for graffiti. Let's look at each one:
Understand the Difference Between High-Pressure Vs. Low-Pressure Spray Paint
Most spray paint for graffiti has one of two types of valve pressure – low or high pressure.
As the name suggests, low-pressure spray paint uses low pressure or force to eject paint through the spray tip. As a result, the paint comes out slower.
In contrast, a high-pressure spray uses higher pressure or force to eject paint, resulting in faster application.
The lower output of this kind of spray makes it easier to control and allows you to achieve fine lines. However, with a high-pressure can, you will have less control but will be able to cover more area faster.
The best pressure for you will depend on your graffiti style.
Choose this type of spray paint if you desire more precision and control over the aerosol can and want to reduce the likelihood of drips. This is extremely important, especially if you're inexperienced.
However, high-pressure spray paint is better when you need to paint large areas or work quickly. This option may be preferred by experienced graffiti artists.
Matte vs. Gloss vs. Satin Finish
Like other spray paints, graffiti spray paints come with different types of finishes. The most common ones are gloss, satin, and matte.
Matte finishes usually look flat, subtle, and absorb light with no reflection. They have little to no sheen. The main advantage of this type of finish is that it hides imperfections on the surface. On the other hand, it holds dirt more. 
A gloss finish or semi-gloss reflects the most light. It is shinier than a satin and matte finish.
The main advantage of glossy finishes is that they have a high level of sheen and are more scrubbable. They also offer high resistance to moisture, which increases their durability. Unfortunately, they don't do a good job of concealing flaws in the material.
Satin finishes retain a silky or pear-like sheen when dry. They reflect more light than matte finishes but less than gloss finishes. They are not as common as the other two options.
Whatever option you choose will depend on the type of effect you're trying to create.
Know the Different Stock Caps
There are different types of cap sizes for spray paint. Each of these creates different line sizes.
The most common types are skinny caps, medium caps, and fat caps.
Skinny caps are the most popular type of spray caps. They create very thin lines and are perfect for outlining, sketching, and creating small details.
They are ideal for beginners because they provide great control. Loop Colors and MTN are some examples.
As the name suggests, medium caps lie between skinny and fat caps. They create thin and medium-sized lines and are great for outlining and filling small and medium-sized areas.
Fat caps are typically supplied with high-pressure spray paint and are used to create fat lines and fill large areas. They can also be used to create thin lines, but you'll need good control and skill.
Understand the Different Can Sizes
Most spray paints for graffiti come in a variety of sizes ranging from 50ml to 750ml. The 400ml cans are the most popular size and are sufficient for most small projects. If you're just starting out, I highly recommend this option.
There are also 600ml cans; they are taller and typically have higher pressure to compensate for the extra paint. You can cover larger areas faster by pairing them with a fat cap.
150ml cans are also available but are less common. Due to their size, they are often regarded as "pocket cans" and are mostly preferred by people who want something smaller to carry around.
The larger spray cans are usually 750ml and are often regarded as "booster cans." They are typically designed for specialty projects and are ultra-high pressure. They are usually fitted with wider caps to create very wide lines.
Choose the Right Colors
Another thing you may focus on when choosing a spray paint for graffiti is the color. Of course, you want the color to match your project requirements. Sadly, selecting a true color can be tricky, especially if you're buying online (which I guess you are).
You might never know how the color looks until you have tested it. I wish there was any other way around it, but there's none. You just have to pick the colors you need and test them out.
I recommend getting a few cans initially and experimenting with them.
If the colors come out as expected, feel free to get more cans; otherwise, try something else.
This is a common practice among graffiti artists when shopping for new colors. So, don't let it get to you if you don't get the exact color(s) you need the first time.
Spray paint Safely
Oil-based spray paints usually contain a high level of VOCs and thus release toxic fumes when sprayed. These fumes can be harmful to your lungs. So, it's a good idea to wear a respiratory mask whenever you're using them for your graffiti or street art project.
In contrast, water-based spray paint contains fewer VOCs, making them less harmful to breathe. However, they tend to cost more than oil-based paints but are durable.
Whatever spray paint you choose, ensure you work in a well-ventilated area (ideally, outdoors) and wear proper protective gear.
FAQS: Best Spray Paint for Graffiti
Can you Use Any Spray Paint for Graffiti?
Not really. When you need a spray paint for graffiti, go for options specifically designed for graffiti. Ideally, it should be lightfast, easy to apply, and suitable for outdoors.
Is Rustoleum Spray Paint Good for Graffiti?
Yes, it is. Rust-Oleum spray paint is very popular among graffiti writers, especially here in America. It is one of the more durable options and has a wide range of applications.
Is Krylon Good for Graffiti?
Yes, it is. In fact, at some point, Krylon was one of the few options available. Today, it's still one of the most reliable spray paint brands for graffiti. Krylon spray paints are fast-drying, colorfast and come with an ergonomic tip that makes them super easy to use.
What Spray Paint Do Graffiti Artist Use?
This depends on the type of project. But in general, most graffiti artists gravitate towards low-pressure spray paint because they offer more control and make it easier to achieve finer lines and less drips.
Do I Need to Buy Extra Caps?
No, you don't. The stock caps included in the package are usually enough to work with. Only purchase extra caps if you feel like testing different line styles. The good thing about these caps is that they are quite cheap, so you won't incur much additional cost.
How do I Get the Most Out of My Spray Paint?
To get the most out of your spray paint, shake the well vigorously before use. This ensures you get the best color and prevents splitting. Also, remember the unclog the can at the end of your project by holding it upside and spraying until no more paint comes out. Also, only use fat caps when you need to, as they tend to drain the paint quickly.
Content Summary – Spray Painting Graffiti
I will draw the curtains here. Now, you should know everything about choosing the best spray paint for graffiti. All the products mentioned here offer the best value and quality for their price. They also resonate with different styles and color preferences and offer the best precision.
Feel free to sample the many color options and settle for the ones that work best for you.
No matter what you choose, take proper precautions when using spray paint. Always wear a mask to protect your lungs from harmful fumes, and paint in a well-ventilated space.