Adding wicker furniture is one of the simplest ways to bring texture to your porch or patio. But what happens when the furniture looks old and worn out? You paint it, right? Well, you got it!
There's no better way to revamp an old piece of wicker furniture or make it match the rest of your furniture than spraying it with a fresh coat of color. However, in order to do this, you need the best spray paint for wicker furniture.
Sadly, such products are not always obvious. With so many options in the market, finding a good paint for your wicker furniture can be a daunting task. Luckily for you, we've done all the hard work.
After much research and testing, we've come up with a list of the best spray paint for outdoor wicker furniture. These products are multipurpose (suitable for different surfaces), professional, and never go out of style.
We'll also show you how to spray paint wicker furniture, so you can enjoy it for many years to come.
If you're ready to have a good time, keep reading!
Is it OK to spray paint wicker furniture?
Yes, it's perfectly fine. In fact, it's better to spray paint wicker than using a paintbrush. Spraying allows you to reach into the wicker weaves, making it easier to achieve even coverage and a consistent finish.
However, it's best to use a product designed for wicker or exterior use; otherwise, the paint might chip or peel sooner than you expect.
Adding a topcoat or sealant is often recommended for extra protection, especially if you're using the furniture outdoors. Some paints contain primer and sealants, so this step may not be required.
What kind of paint do you use on wicker furniture?
You can use a variety of paints on wicker. Oil-based paint is your best bet if you want a more natural look and long-lasting finish. Most people believe this is the best option.
Other options include chalk paint, milk paint, acrylic, latex, and even mineral paint. You can choose any of these options depending on the look you wish to achieve.
For instance, chalk paint and milk paint can give you a distressed look; however, chalk paint offers better consistency in color. Also, you can sand down chalk paint to make it look worn.
If you're using latex or acrylic, it's recommended to apply primer first. This will help the paint stick better. Also, you should use a topcoat or sealant, especially if you're using wicker outdoors.
Some outdoor spray paints are "all-in-one," which means they contain primer and sealant. If you're using such products, you don't need to bother with priming.
Irrespective of the paint you're using, you will need to apply several light coats to achieve a durable finish. Before applying the next one, you must wait for each coat to dry completely.
How To Spray Paint Wicker Furniture
Clean the Furniture
Before painting wicker furniture or any other item, you must give it a thorough wipe. This step will ensure the paint adheres correctly. Depending on how dirty the furniture is, you may want to wear a dusk mask to protect your lungs from dirt particles and mold spores.
Start by brushing all over the furniture to remove dust and debris stuck in between the weaves. Use a kitchen scrub brush or any stiff brush of your choice. You may need an old toothbrush to get into the tight corners and other tricky spots.
Finally, dust off any loose debris. You can use a vacuum (shop or handheld) if you have one.
The next step is to thoroughly clean with a sponge and soapy water. For wicker furniture with previous stain or paint finish, strip with a deglosser. Then leave it to dry completely.
Prepare the workspace
Once you're ready to paint the wicker, remove any item in the work area you don't want to paint or cover with plastic sheeting. Next, place a drop cloth under the furniture to protect the floors.
You can also use a garbage bag, layout cardboard, old newspaper, or plastic sheets. Ideally, the drop cloth or whatever you're using should extend several feet beyond the size of the furniture.
It's best to do the painting outdoors, ideally in a shady spot where you won't be disturbed by the wind. Otherwise, use the garage or any area where you have good air circulation.
Apply primer
Priming is not always required when painting wicker, but it will help you achieve the best possible finish. It's particularly recommended when painting a dark piece with a lighter color.
Apply the primer according to the instructions on the label. In most cases, two light coats of primer will be all you need. Leave the piece to dry.
If you're using an all-in-one or paint plus primer spray paint like some of the options in the list, you can skip priming.
Start Spraying
Once the primer dries, it is time to paint the piece with your chosen shade. Apply the first coat and allow it to dry before adding another coat. It's best to use multiple light coats rather than one heavy coat that drips.
To apply the first coat, hold the can about 8-10 inches away from the furniture. Then with a gentle sweeping motion, work from one side to the other (right to left or vice versa). Endeavor to spray from different angles to reach all the layers and weaves. Walk around the furniture so you don't miss any spots.
Make sure you're putting on a respiratory mask and gloves.
Once you're done spraying the top of the wicker furniture, allow it to dry completely. Then turn it upside down and repeat the process.
Allow To Dry
You can apply additional coats if desired or until you achieve the desired color or brightness. But make sure to allow plenty of time to dry between coats.
Factors such as cold, humidity, heat, and the paint type will affect the drying time and adhesion. Some spray paints may take only 20-30 minutes to dry to touch, while others may take a few hours.
After applying the number of coats you want, allow the paint to cure fully. This usually takes a few days, but some people may decide to wait for 1-2 weeks. Waiting long enough ensures the paint hardens well and holds up better.
You can apply a sealer for additional protection, especially if you're using the furniture outdoors.
Our Top 8 Best Spray Paint For Wicker Furniture
After much research and testing, we've compiled a list of the best spray paint for wicker furniture. To make things, we've ranked each product in different categories.
To kick off the list, we have one of the best spray paint for wicker by Rust-Oleum – the American Accents 2X Ultra Cover.
The product offers all the perks you can expect from a premium quality paint – great color, strong adhesion, good coverage, easy application, and more. Besides wicker, it bonds well to most surfaces, including metal, plastic, wood, plaster, fiberglass, unglazed ceramic, etc.
It flows evenly and doesn't drip unless you spray it too close to the surface. The nozzle design ensures there are no sudden spurts, which can lead to globs of paint. The paint goes on light and smooth but thick enough to fill those tiny spaces created by minor scratches. This removes the need for a filler primer.
We also like the fact that you don't have to wait the whole day for each coating to dry. It takes about 20 minutes to dry to touch.
Each aerosol can covers up to 20 square feet, so you can complete your project faster. Most projects will require 2-3 coats to get an opaque color, but you can apply more coats if you like.
Talking about color, the American Accents comes in various trending colors and sheens. So it's easy to find the perfect match for your space. Our favorite was the brown shade; it doesn't only look expensive but also rich and comes closer to the look of natural wood. The satin espresso color doubles as warm and cool tones and will blend in anywhere.
You're not mandated to use a primer with the paint, but we highly recommend you use one or at least a topcoat. For optimal results, use both primer and topcoat.
What We Liked 👍
Covers nicely

Rich espresso color and satin finish

Easy to apply (can be sprayed at any angle)

Comes with a comfort tip to reduce finger fatigue

Suitable for different surfaces

Fast-drying time
What We Didn't Like 👎
The Rust-Oleum Universal All Surface Spray Paint is another product that provides long-lasting protection and durability. As the name suggests, it will work on virtually any surface, including wicker, glass, metal, wood, plastic, concrete, and fiberglass.
As an oil-based formula, the paint is perfect for exterior use and will resist peeling, fading, and corrosion. This makes it ideal for preserving the look of your wicker furniture and keeping it in good shape. You can also use it indoors!
Another major highlight of the paint is that it has primer already. So, there's no need to use a separate primer. However, if you decide to purchase one, make sure it's Rust-Oleum.
The spray can is very easy to use, especially for a novice. The nozzle design limits how much you can spray, which helps to prevent overspray. Also, the Any Angle Spray technology allows you to reach difficult areas, while the Comfort Grip trigger helps to reduce finger fatigue. We recommend cleaning the nozzle with mineral spirits after each use to prevent clogs.
It's worth mentioning that the paint odor is quite intense. So, make sure to stay in a well-ventilated area and wear a mask.
We recommend three coats of paint for wicker furniture, but some items may need just one or two. You may need more than one can to cover a whole chair evenly, depending on the size. Specifically, each can is 12 ounces and covers up to 15 sq ft.
The paint dries to the touch in 30 minutes, which is a little longer than most spray paints. However, it delivers a professional finish without compromising on overall quality. The color quality doesn't fade or wear out easily. We are also satisfied with the adhesion.
What We Liked 👍
Suitable for both indoor and outdoor use

Super easy to use

Ergonomic cap reduces finger fatigue

Great coverage

Doesn't peel or fade easily

Available in a variety of colors and finishes
What We Didn't Like 👎
Has a strong odor

Dries in 30 minutes
The Painter's Touch 2X Ultra Cover is another premium spray paint by Rust-Oleum that gets into all the nooks and crannies of wicker furniture.
As the name suggests, it uses Double Cover Technology to speed up your project while enhancing the quality. It provides a beautiful, even finish with no dripping and works for various surfaces, including wood, wicker, metal, and plastic.
Like the other products above, it comes in a variety of colors and finishes. All the options have a classic look and can be easily paired with monotonous colors.
For us, the satin finish stands out. Not only does it look vibrant, but it also provides excellent hide and helps to greatly minimize surface imperfections. Likewise, the gloss adds a nice shine, while the matte is more neutral and natural.
The paint is also fast-drying and has good adhesion. Despite its composition, it dries to touch in 20 minutes like most spray paints and covers up to 12 square feet per can.
It is also low odor, chip resistant, and provides long-lasting protection. It usually takes one day to dry fully.
It's worth mentioning that the level of VOCs in the product is a bit high, which gives the paint an odor. So, it's recommended you use it in a well-ventilated space, preferably outside. If you use it inside the house, it may take a few days before the smell goes away.
Make sure to shake the spray can for a minute or two before you begin spraying. You should hear the rattling sound of the mixing ball. Even while using the paint, continue to shake every 30 seconds. Hold the can at least 6 inches from the workspace; if you hold it too close, it will run. For the best results, apply at least two light coats.
To fix a clogged valve, twist and pull off the tip, then clean it with mineral spirits.
Overall, we are pleased with the quality of the paint, especially for the price. It adheres to just about everything and is great for beginners. It comes highly recommended!
What We Liked 👍
Easy to use

Reasonable pricing

Dries quickly and provides decent coverage

Hides imperfection on wicker

Long-lasting

Comes with a comfort tip to reduce finger fatigue
What We Didn't Like 👎
The nozzle might get clogged
If you need to protect wicker from fading, the Krylon ColorMaster Paint And Primer comes highly recommended. The paint is easy to use, dries fast, and delivers a smooth, beautiful finish. Even though it's specially made for automotive items, it will stick well to almost any surface, including wicker.
As the name suggests, this is paint plus primer, which means you don't need to apply primer first before hydro dipping.
The nozzle design ensures comfortable spraying and reduces finger fatigue. Without applying too much pressure, the paint comes out evenly without sudden blobs or splatters.
The spray cap is not as wide as some spray paints, which makes it easy to direct the paint. As long as you handle the can properly, there shouldn't be any runs or splatters.
Drying takes only 10 minutes or less. So, you can apply as many coats as you want. Make sure to wait the full amount of time between coats; don't apply a new coat until the previous one has dried, or you may have to deal with crackles or bubbles. We recommend at least three coats for wicker furniture that is going to be used outdoors.
Always do a rain check before using the paint. Make sure temperature and humidity levels are low enough for you to use the paint. Shake the paint for two minutes before spraying and periodically while you're using it. After spraying, wait for at least an hour before handling the piece.
We must warn you – the paint has an odor. So, you're meant to use it outside.
What We Liked 👍
Suitable for different surfaces

Dries in 10 minutes or less

Long-lasting protection

Ergonomic nozzle design for increased comfort

No need for primer
What We Didn't Like 👎
Don't be deceived by its small size; the spray paint from Minwax packs a lot of value. It comes in an 11-ounce aerosol can and is available in three sheens – satin, gloss, and semi-gloss.
Our favorite is the satin finish, which projects a sleek, soft, unique sheen for a trendy modern look. It's considered by many to be one of the best satin clear varnishes for woodwork. We also find it perfect for wicker furniture, especially wooden wicker.
This paint is oil-based, which makes it an excellent choice for protecting the natural beauty of your wood and wicker furniture. It is suitable for both bare and finished wood and is ideal for various household items, including cabinets, doors, floors, furniture, and woodwork. It is perfect for interior surfaces.
You can either use it as paint or as a clear top coat to provide a hard protective coating that is resistant to scratches and spills.
When it comes to the drying time, the varnish allows for recoats after 4 to 6 hours, depending on the surrounding temperature and humidity. It may actually dry sooner. Like most oil-based clear coats, it has an odor, which is more noticeable if used indoors.
So, it's best to work outside or where there's plenty of ventilation. After the final coat, you may need to wait up to a day or two for the fumes to completely vanish.
Be sure to follow the directions on the can when applying the paint. This usually involves removing old paint, sanding the surface, and applying th stain and varnish.
What We Liked 👍
Suitable for both finished and unfinished wood and wicker

Avaialble in different sheens

Easy application

Offers long-lasting beauty and protection

Excellent adhesion to wood and wicker

Reliable quality

Large spray tip for maximum comfort
What We Didn't Like 👎
Has an odor

Often requires multiple coats
The Krylon COLORmaxx Spray Paint offers a beautiful color palette that includes both shiny and matte finishes. Some notable classic mentions in its color selection include White, Black, Almond, Burgundy, Celery, Bahama Sea, Bauhaus Gold, and Banner Red.
You can also choose from various styles, including gloss, satin, semi-gloss, primer, flat, matte, and even metallic.
However, the gloss paint is more popular and works well on wicker. With each color, you get a modern, sleek finish.
The can is easy to handle, making it perfect for beginners. The easy push big button spray tip allows you to spray in any direction, even upside down. As long as you follow the instructions on the label, you shouldn't experience any runs or drips.
Each aerosol can is 12 oz. and can cover up to 25 sq. ft., which is quite impressive and allows you to complete the work faster.
The paint comes out thicker than most other options. However, it still dries in time, so you can apply more coats if you want. For wicker, it dries to touch in 20 minutes or less, depending on the weather condition. On some materials, the recoat window can be up to 4 hours or more.
We found the odor to be quite strong even when used in a small amount. So, it's best to use the paint outside or in an open space. If you're going to use it indoors, make sure the room is well-ventilated.
You will get the best results when the temperature is 55-75 degrees, and humidity is below 60 degrees. But even below temperature and humidity limits, the paint still comes out nice.
Make sure to shake the can first before spraying and use the entire container, if you can, to avoid clogging problems.
What We Liked 👍
Doesn't clog easily

Provides rust protection

Good protection

Quick to dry

Excellent coverage (the best so far)
What We Didn't Like 👎
7. FolkArt Enamel Glass & Ceramic Paint
Available in many specialty finishes, the FolkArt Home Decor Spray Paint is arguably the best water-based formula for wicker. It has an expansive palette consisting of several acrylic colors that blend seamlessly with any outdoor setting.
The chalk paint is "self-sealing," which means it requires little or no surface prep. It is highly pigmented and provides exceptional hide, and doesn't scratch easily. It is easy to distress. You can even layer and sand it down to get a perfect aged look and feel.
The paint is water-based acrylic and is certified non-toxic. It has a low odor and cleans easily with soap and water if you mess things up. Even though the paint is certified non-toxic, it is not meant to be ingested. So avoid using the paint on items that will be in direct contact with food.
Another thing we like about the paint is the consistency. It flows smoothly onto the surface with a rich, creamy consistency. The coverage and texture are great.
The paint is quite thick, so you don't need to do multiple coats. All you need is just two coats to cover your wicker thoroughly. Generally, the more coats you use, the darker the final result. You can either air dry or bake to cure.
Once dry, the paint leaves a clear finish without any air bubbles.
Overall, the FolkArt Enamel Paint is a perfect match if you need a wicker paint that is easy to work with. The price is reasonable, and you can get it in several colors. We cannot recommend it enough!
What We Liked 👍
Self-sealing (no prep required)

Easy to distress

Superior scratch resistance

Great coverage and texture

Very easy to use and cleanup
What We Didn't Like 👎
If you have a huge obsession with chalk paint but want something that will last longer than the usual water-based chalk spray paint, then the Rust-Oleum Chalked Ultra Spray Paint will make an excellent choice. The product is specially formulated to rejuvenate shabby wicker furniture and decor and give it a unique look.
It should be known that this is not water-based, as most chalk paints are. It's an oil-based formula but has a chalked appearance. Perfect for achieving a soft, matte, chalky finish with a vintage, rustic or distressed texture. Being oil-based also means the color will last longer than regular chalk paint.
The paint is not only good for wicker; it can also be used on other surfaces such as metal, canvas, wood, ceramic and more. It is a lot easier to use than regular spray paint. It is fast-drying and doesn't drip or run too much like most aerosol cans. In fact, the sprayer hardly clogs, which means you can get every last drop of paint out of every can.
The paint is also super forgiving. In case you get a little heavy-handed, it tends to self-level while drying. Also, a quick wipe and spray is all you need to correct any anomaly caused by little debris, such as tree leaves or pesky bugs.
The paint comes out great, even with little to no preparation. Except you're working on a wooden piece with an old paint job, sanding may not be required. Generally, For old pieces, make sure to sand to remove any loose paint or rust. The same rule applies when working on bare wood.
Coverage is about 12 square feet per can. It's recommended to use a minimum of two coats. The paint dries to touch in about 20-40 minutes and cures fully for handling in 2 hours.
High humidity increases the drying time, so it's best to paint when wind and humidity are low. Also, the temperature should be 60-70 degrees. It's worth mentioning that distressing gets harder as the paint hardens.
We recommend applying a top coat for extra protection. However, this should be done at least 24 hours after applying the last coat.
Make sure to shake the spray can well before and during use. This will help prevent drips and splatters.
What We Liked 👍
Very easy to apply

Beautiful antique ultra-matte finish

Available in a variety of trendy colors

Unique vintage appearance

Provides good coverage with excellent adhesion

Easy to apply (features Any Angle Spray)
What We Didn't Like 👎
How To Choose The Best Spray Paint For Wicker
Paint Type
One of the first things you should look at is the type of spray paint. Whether the paint is oil-based or water-based, you want to be sure it's made for wicker furniture. If you use any random paint you come across, it may not adhere well and may peel before long.
In addition to the paint type, also consider the surface type. Depending on the type of wicker you wish to paint, make sure the product is compatible with the surface.
For instance, if you're painting plastic wicker meant for your patio, you would want to use a spray paint that is both compatible with the plastic wicker and is weather-resistant
Drying Time
The next thing to consider when choosing the best spray paint for wicker is the drying time. While spray paint is generally fast-drying, the exact drying time differs slightly with each product.
Some paints dry to the touch in 10-30 minutes, while others take longer. In general, water-based spray paints dry faster than oil-based paints. To prevent cracks and bubbles, make sure to allow complete drying time between coats.
Paint Color
There are various colors of spray paints to satisfy various themes and home decor. Some of these colors appear more natural, while others are brighter.
When picking a color, consider the color of the wicker furniture. Ideally, you should choose a color that is a bit darker than the wicker. But if you choose a lighter color, make sure to use a primer before applying the paint.
In the end, you want to choose a color that is complementary.
In addition to color, wicker spray paints also come in different finishing touches, including satin, gloss, matte, chalky, etc.
Ease Of Application
Spray paint is generally easy to use. However, some products come with wider spray tips which in reducing finger fatigue that comes from continuous spraying.
Therefore, when making a purchase, choose a spray can that has a nozzle that is not only wide but also smoothly padded.
Durability
This is one of the most important things to look at when purchasing spray paint, especially if you're painting outdoor wicker furniture.
As earlier indicated, there are basically two types of paint based on the composition – oil-based and water-based paint. Oil-based paints are long-lasting and do not wear out easily.
Water-based paints, on the other hand, do not last as long but are less toxic and low in odor, which makes them the safer option.
How many coats of paint should I apply to my wicker furniture?
You can apply as many coats of paint as you want to your wicker furniture, but we recommend using 2 to 3 coats. With three coats, you should be able to get a bright and even coat.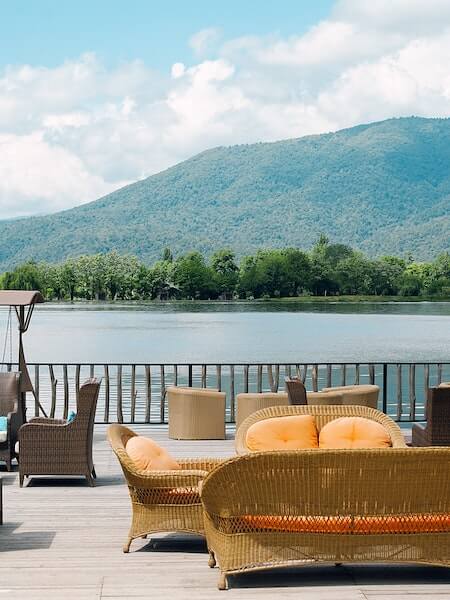 Make sure to allow complete drying time between each coat of paint. When you're done, leave the paint to dry completely for at least 24 hours before handling the furniture. You can check the paint label for exact recommendations.
Do I need to prime wicker before painting?
Yes, you should! Priming wicker before painting helps to prepare the surface so the paint will adhere better. It also serves as a shield between the paint and the original wicker material, ensuring the paint doesn't seep through.
Also, since wicker is often darker, using a primer is particularly recommended if you're painting with a lighter color. It will save you from applying several coats of paint just to get good coverage.
Make sure to choose a primer that is oil-based and well-suited for your project, especially if you're using the furniture outdoors. To highlight the texture of the wicker furniture, apply one or two coats of primer.
Some spray paints already include a primer, so this step might not be necessary.
How long does it take spray paint to dry on wicker?
It depends on the type of spray paint you're using. However, oil-based paints and latex usually take the longest to dry.
In general, most spray paints dry to touch in 20 to 30 minutes and cure fully in 24 hours or more.
Besides the paint type, other factors that may affect the drying time include weather conditions (temperature and humidity), the type of wicker material, and the kind of finish you wish to achieve.
Also, using thick coats will cause the paint to dry slower. So, instead of using one heavy coat (or a few), use multiple thin layers. Light layers will always dry faster than thick ones.
Allow each coat to dry before adding another one. You can refer to the product label for more instructions on drying time.
Safety Tips for spray painting wicker furniture
Here are a few safety tips you should be aware of when painting wicker furniture:
Ensure There's Proper Ventilation
It's best to spray paint outdoors, where there's a lot of ventilation. The second best place to stay is your garage. If for any reason, you're unable to paint outdoors, you can move the project indoors; however, make sure to keep the door and windows open.
This will ensure there's enough fresh air flowing into the room. If possible, set up box fans or a ventilator to filter out fumes from the room. Remember to wear a mask to protect your lungs.
Avoid Getting Paint On Your Skin
Besides the fumes, you should also keep spray paint away from your skin and eyes. This is because the chemicals in the paint can cause several health problems when inhaled or exposed to the skin. Wear good-quality hand gloves to protect your hands and fingers.
Remember to wash your body and clothes after painting and take time to remove paint stains from your hands, fingers, and skin.
Cover Areas You Don't Want To Paint
Before you start spraying, cover areas around the wicker furniture to protect them from paint. You can use a tarp, a drop cloth, or an old sheet. Also, to prevent overspray, avoid spraying too close to the surface. Keep the can at least 6 inches away from the furniture.
Don't Spray Near Heat or Fire
By all means, avoid staying near heat or open flames when painting. Don't smoke! This is extremely important because aerosol cans are highly combustible and could ignite a fire when used near a heat source. Also, make sure to store it in a dry, cool place.
Keep the Aerosol Can Whole
After you finish with the cans of spray paint, don't puncture or burn them. This is because the cans are pressurized. So, burning or puncturing will cause them to burst. Likewise, don't discard them in a trash compact but recycle them when empty.
Don't Paint Dirty Furniture
Before spraying your wicker furniture, make sure it's thoroughly clean. Painting wicker chair when it's dirty can lead to frustration later. Even if it comes out great initially, the dirt under will eventually cause the paint to flake.
FAQs – Best spray paint for wicker furniture
Is it better to stain or paint wicker furniture?
Both painting and staining offer ways to protect and finish wicker furniture. However, while staining shows off the natural look and beauty of wicker, painting allows you to change the color or cover up flaws or damages. Also, paint tends to last longer than stain.
Is it better to spray paint or brush paint wicker furniture?
Spraying wicker furniture is usually more efficient than using a paintbrush. It is easier to use and allows you to achieve a more consistent finish in lesser time. You will be able to reach tight corners and crevices, which is normally difficult to do with a paintbrush.
What is the best color to paint wicker furniture?
This depends on your preference and existing décor. Generally, wicker looks fabulous in natural, warm-toned colors such as brown (espresso), amber, beige, chestnut, and khaki. Other options are sage green, orange, black, and ivory. You can also opt for bright or pastel hues.
Can you use Rustoleum spray paint on wicker?
Yes, you can. Rust-Oleum is one of the best paints to use on wicker, especially if you need a smooth and even finish. However, before using any product, make sure it's designed for wicker.
Is it OK to hose off wicker furniture?
This depends on the type of wicker. Generally, it's safe to hose off synthetic wicker, but for reed or paper wicker, it's recommended not to use a hose. In fact, using water on paper wicker can warp and deform the furniture.
Can wicker furniture be waterproofed?
Yes, it can. Luckily, most spray paints are either water-resistant or waterproof. However, if you are still unsure, you can apply a clear waterproof coat or tung oil to seal off everything. Just be sure the sealant is compatible with wicker.
Summary – Best Spray Paint For Wicker Furniture
Your wicker deserves the best treatment, and part of that is giving it a fresh new look and protecting it from the weather. We know there's so much to consider when you decide to take on such a DIY project. Hopefully, this post has helped you.
The paints reviewed here are not only popular but offer all the perks you can expect from high-quality spray paint for wicker furniture. Some of these include great coverage, fast drying, durability, and affordable price. You can't go wrong with any of them!
Let us know if you have any more questions about choosing the best spray paint for resin wicker patio furniture. Until then, happy spraying.