Several spray paints are on the market, but only a few are food safe. You can use these to add an artistic touch and give your utensils a vibrant look. Food-safe spray paints do not contain harmful substances that may affect your health if ingested or inhaled.
Enamel is one great example of spray paint that you can use to redecorate your dinnerware and other household items without worrying about health risks. You can also add an epoxy resin or sealing layer on top of the food-safe spray-painted utensils to maximize health safety when using spray-painted utensils.
Throughout this article, we discuss food-safe spray paints, what they are, how safe they are on different items, which brands are the best on the market, and what else you can use to spray paint your dinnerware instead of food-safe spray paint.
Is Spray Paint Food Safe?
Some commonly used spray paints are food-safe. Others have labeled warnings indicating they should not come in contact with food. One sure way of knowing if the spray paint you are using is food-safe is by checking the label on the canister.
What Is Food Safe Spray Paint?
Food safe paint is a type of paint designed specifically for surfaces that comes into contact with food and cooking materials. It is commonly used in painting, color-coding, and decorating items in the food industry such as kitchen wares, cake stands, food containers, or glass wares.
The major characteristic of food safe spray paint is that it does not contain toxic and harmful substances that could get into food and pose health risks. The paints are made with ingredients that comply with food safety standards set by government agencies such as the United States Food and Drug Administration (FDA), or other similar bodies in other countries.
Remember to always follow manufacturer's instructions and guidelines carefully when using food safe paints. They should be applied on a clean dry surface and allowed to dry fully before getting into contact with food. Also, some of the food safe spray paints have limitations to high temperature and certain food exposure, so it is imperative to check the product labels any special recommendations.
What Is Food Grade Spray Paint?
Food grade spray paint is any paint that is safe for use on surfaces that get into direct contact with food. It has a non-toxic formulation and complies with the food safety regulations to ensure that no chemicals get into the food.
They are resistant to heat and moisture, making them ideal for use in the kitchen environment. Always check the product packaging and label to confirm that the spray paint is labelled "food grade" before using it.
Following manufacturer's guidelines and instructions is important for proper usage and application.
Food Safe Labels And Certifications.
When searching for spray paints to use on utensils and food containers, it is important to know and understand the various food safe labels and certifications.
There are various standard and regulations set by the Food and Drug Administration agency to ensure safety of items used in food contact applications.
Below are the major ones about spray paints.
FDA Title 21, Section 175.300.
This label denotes the regulation that specifies general requirements for resins and coatings that get into contact with food. Make sure you see this label on the spray paint packaging to ensure it is food safe.
Key factors addressed by this regulation include:
The types of food: this regulation outlines the types of food the coating is considered safe for, such as aqueous, acidic, or fatty foods.
The coating's dispersal limits: the coating should not produce any toxic substance to the food at levels past the set safe limits.
Temperature and duration of contact: the regulation describes the acceptable contact durations and temperatures. Ensure the paint is suitable for the intended usage.
FDA Title 21 Section 174.
This label denotes a regulation that addresses the requirements for materials that are used in food contact resins and coatings.
Be keen on the following aspects when choosing a food safe paint:
Direct food additives: this section provides the list of food additives allowed in the process of formulating food contact coating. Ensure the ingredients used in the spray paint aligns with this regulation.
Indirect food additives: section 174 also addresses indirect food additives, things that may unknowingly come into contact with food through manufacturing processes or packaging materials. Ensure the paint ingredients doesn't pose the risk of migrating into the food products.
Can you make spray paint food safe?
No. This is not possible as it will be difficult to guarantee complete safety. Another reason is that you cannot modify canned spray paints as the container does not allow it.
Although it's not possible to convert regular spray paint into food-safe spray paint, you do have the option of using food-safe paint and thinning it to achieve a consistency suitable for spraying with a paint sprayer of your choice whether HVLP or Airless sprayer.
Is Rustoleum Spray Paint Food Safe?
Rust-Oleum is one of the most popular spray paints and a favorite among many DIYers and designers. But when it comes to food-grade paint products, is Rustoleum spray paint food safe? Some, not all, Rust-Oleum spray paints are food-safe.
If you want to use a food-safe Rust-Oleum spray paint on your dinnerware, strictly use water-based spray paints. These types of spray paints do not contain toxic VOCs and are entirely biodegradable.
Water-based spray paints are much safer and great for use on utensils, unlike oil-based spray paints. But despite this, it's still advisable to follow instructions on the label while using water-based Rust-Oleum spray paint on eating utensils.
Is Krylon Spray Pint Food Safe?
Yes, Krylon spray paint is one of the few food safe spray paints you can get in the market. This means that you can use it to paint surfaces that get into contact with food without worrying about the possible health risks.
Although it is not approved by the FDA as a food safe paint, it does not contain harmful substances that make other spray paints toxic, and it is totally safe when fully dried.
Which Spray Paints Are Food Safe?
Since there are many food-safe spray paints available, it can be confusing knowing which ones are food-safe and specifically recommended for use on dinnerware.
To help make things easier for you, we have listed some of the best food-safe spray paints on different materials like glass, wood, and ceramic to help you determine which one to use on which surface. Check out the list below.
Food Safe Paints For Metal.
Metal surfaces are common in our kitchens and food processing industry, just like any other items like wood, glass, ceramic, etc. Just like these other surfaces, you may consider painting the metal utensils like yeti cups you use for food-related purposes to extend lifespan and add aesthetic value.
When it comes to painting metal surfaces for food-related applications, it is important to use food safe paint for metal to ensure the safety of the food and the people consuming it. Food-safe paints are designed to be non-toxic and resistant to food and beverage substances. They should also be able to resist high temperatures if they are going to be subjected to heat or for cooking applications.
Food safe spray paint for metal also should be FDA approved and clearly labeled as food grade. So ensure you check for the labels and certification ascertain safety.
Food Safe Paints for Glass
You may have glass household items that need spray painting. Items like plates, dishes, cups, antiques, etc., are delicate and require equally benign and nontoxic spray paint.
If that's what you're looking for, we suggest you opt for paints containing rich pigmentation, fast-drying formulas, durable color blends, and thicker color consistency.
That way, you can be sure your painted glass items retain a good quality glossy finish with a professional artistic touch. Such food-safe spray paints for glass offer a smooth finish making them easy to blend with other colors.
The rich pigmentation is also ideal for creating vivid colors and is compatible with other household items like ceramic, wood, metal, paper, canvas, etc.
If in doubt, you should read the manufacturer guidelines and label toxicity levels, especially if they contain volatile air compounds (VCOs), carcinogens, or other harmful chemicals.
You can use food-safe spray paints for glassware to create varying color shades and blends. Even better, you can let your children use them to paint their toys because they're entirely non-toxic and biodegradable.
Finally, food-safe spray paints for glass dries faster, meaning you can complete a spray painting job and allow the paint to settle quickly. The only challenge you're likely to experience is the price factor.
These spray paints are generally expensive, and each container only has a small quantity. If you have a lot of paintworks, you'll have to make additional refills which may cost more.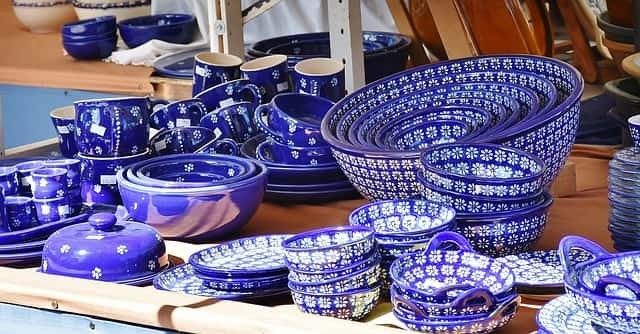 Food Safe Paints for Ceramic
Spray painting ceramic utensils is popular among homeowners who love spray painting household items and artists who enjoy interior décor. Ceramics can be painted in a blend of various colors with different spray paints, but food-safe enamel paints are more suitable.
One of the most significant advantages of food-safe spray paints for ceramics is the rich pigmentation that provides an attention-catching, brilliant, and captivating appearance.
The only disadvantage of food-safe enamel paints is that they tend to drip and become messy during application. Still, overall they're convenient and affordable and are recommended for beginners.
Before using food-safe enamel spray paint, it's best to learn the paint's ingredients and application methods indicated on the product label.
Another issue with food-safe spray paints for ceramics is that they take longer to dry, at least 14 hours. But overall, they're easy to use and clean.
Food Safe Paints for Dishes
Food-safe spray paints for dishes and bowls include those used to paint and decorate porcelain and china dinnerware. These types of paints offer durable finishes to your previous utensils and other household items. Such spray paints do not have harmful chemicals like VOCs and carcinogens, which are common with most spray paints.
The lack of harmful toxins not only means you can use them on any eating utensils, but they also contain fast-drying components. It's best to always check the label for the type and amount of food you can put on the spray-painted utensils after drying.
Examples of food-safe paints for dishes and plates include Hobart Met Grey spray paint and Rust-Oleum Appliance Touch-Up paint.
Applying these on porcelain dishes and plates results in a glossy and attractive finish. Such paints can also withstand UV rays and solvents.
The major pitfall with food-safe paints for dishes and plates is the mandatory requirement to stick to a single precise application technique if you want to achieve a permanent appearance.
Using the proper application technique can result in thickness and better color quality.
Food Safe Paints for Wood
Perhaps you're looking to add a new coat of paint to your fading vintage wooden furniture or wooden dinnerware, and that's where using food-safe spray paint becomes necessary.
You can add a new natural touch to your wooden furniture and dinnerware with relative ease. Such paints are generally alcohol-based, offering numerous advantages and a few drawbacks.
These paints are easy to use and clean just as they are fade-resistant, long-lasting, and contain fast-drying formulas, so you don't need to wait longer for them to dry.
The main disadvantage is the complex application process which sometimes requires you to use the padding method instead of spraying directly like most spray paints.
Can You Eat Off Spray Painted Plates, Bowls, or Cups?
The straightforward answer is a firm no. If you spray paint something, especially using standard paints, which may not be food-safe, the harmful chemicals stay on the surface.
And when you eat off such toxic surfaces, you ingest the chemicals. The result could be adverse health effects like nausea, vomiting, headaches, diarrhea, stomach pain, etc.
To avoid dealing with such health problems, do not use toxic spray paints on eating utensils, and try to find alternative options to decorate your dinnerware.
The alternatives include stenciling and decoupage. Also, remember that spray paints eventually get worn out and start to peel, and you may end up consuming them with your food.
What Can I Use Instead Of Spray Painting My Eating Utensils?
You can customize your decorations for utensils by utilizing various materials. Examples of such materials include clay, glass, ceramic metal, and even wood.
Alternatively, consider using fabric, wallpaper, canvas, paper, form board, and even cardboard.
Depending on your creativity and skill level, you can create beautiful designs from various objects and materials using different techniques. Stenciling, decoupaging, and cutting are easy, safer techniques than spray painting with toxic chemicals.
5 Best Food Contact Spray Paints and Varnishes
Below is a list of our top picks for the best food-safe spray paints and vanishes to decorate your food containers and antique items.
These products are toxic-free and biodegradable, so you can use them without worrying about their effects on your health.
1. DISPAINT FoodGrade
DISPAINT FoodGrade paint is a water-based enamel paint that's safe even when it gets into direct and indirect contact with food. It's an EU and FDA-certified product that's easy to apply to new projects and renovations.
DISPAINT FoodGrade paint contains fast-drying formulas and has good adhesion. It's recommended for painting and renovating multiple surfaces, including household items, furniture, wooden and plastic items, primed metals, and 3D prints.
Rust Preventative Spray Paint has a maximum opacity of 80% with a dry film thickness of 2 millimeters. It can be applied to furniture, household items, and dinnerware that come with direct contact with food including wood, metal, concrete, etc.
The Rust Preventative Spray Paint is a resin-type modified alkyd solvent that takes two hours to dry on surfaces. It comes in an aerosol can and is resistant to heat.
KRYLON Spray Paint is a general purpose food-safe spray paint with a 100 Percent opacity and compatible with most surfaces, including metal. It offers a sheen gloss finish and takes half an hour to dry.
It's packaged in an aerosol can and can be applied on the interior and exterior of a food container. It should be used within a maximum temperature of 85 Degrees F.
4. DISPERLITH FoodGrade Elastic
The DISPERLITH FoodGrade Elastic is a water-based, food-safe transparent varnish that can paint and decorate eating utensils.
It poses no known health risks in direct and indirect contact with food and beverages and is EU 10/2011 certified. It's primarily used on larger items like water tanks and containers used in the food industry.
5. FAKOPUR FoodGrade
The FAKOPUR FoodGrade paint is a polyurethane food-grade enamel product that's EU 10/2011 certified. It's generally safe to use on food containers and nontoxic if exposed to food and beverages.
FAKOPUR FoodGrade paint is suitable for use in areas with limited epoxies or where PU protection is required, such as outdoor spaces, food processing plants, fish farms, and the agricultural sector.
FAQs: Is Spray Paint Food Safe?
Can I Spray-Paint a Food Bowl?
Yes. You can spray paint your wooden bowls, plates, dishes, and antique wooden items. Some of these products are compatible with wooden surfaces and include Whirlpool Appliance White Spray Paint, Hobart Met Grey spray paint, and Rust-Oleum Appliance Touch Up paint, among others.
Is Spray Paint Toxic To Eat?
Depends on the type of spray paint under consideration. Some paints are toxic and unsuitable for utensils, while others are safe for your dinnerware. Enamel paints are safe to apply on eating utensils, but even then, ingesting the paint directly is not recommended.
Is Rustoleum Safe For Food?
Water-based Rust-Oleum spray paint is safe for food, as does enamel spray paint. Rust Preventative Spray Paint is one of the best rust-oleum spray paints we recommend for use on food containers. It's a resin-type modified alkyd paint compatible with most surfaces, including wood and metal.
Can You Spray Paint Eating Utensils?
Yes. But you'll have to work with products marked food-safe and recommended for eating utensils. Examples of such spray paints include enamel paints, KRYLON Spray Paint, and DISPERLITH FoodGrade Elastic spray paint.
Is Spray Paint Food Safe When Dry?
While dry spray paint is usually considered non-toxic, it must fully cure to meet these safety claims. Nonetheless, even dry spray paint is not food safe unless it FDA approved and labeled food grade.
Is Enamel Paint Food Safe?
Yes, enamel paint is considered food safe. You can find a food-contact enamel paint that is certified for approved for direct and indirect contact with food in your local stores.
Content Summary: Spray Paint Food Safe?
So, is there food-safe spray paint? Spray paints with a "food-safe" label on the canister contain no harmful ingredients and are generally safe to use on containers and other household items used to store or process food.
When shopping for the ideal food-safe spray paints and varnishes, you'll need to consider a few factors, like the raw materials and the chemical compounds used to manufacture them.
Sometimes poor quality products may be labeled as food-safe, which can be dangerous if the paint contains harmful substances that may negatively impact your health.
Always check and compare different brands to ensure you use the best quality healthy products that give you value for money.