Latex paint is both cheap and versatile compared to other paint options. It makes for commercial or large painting jobs requiring bulk paint. Being water-based means that it's easy to use, clean, and apply alongside other paints.
So, what paints can you use with latex? Can you paint acrylic over latex paint? For starters, painting acrylic paints over latex is possible. However, there are some guidelines for achieving the best results even when working with different types of water-based paints. 
To answer your question in detail, we will cover everything related to painting acrylic over latex, how to paint acrylic over latex, and whether you can thin latex paint before painting over acrylic. Keep reading
Can You Paint Latex Over Acrylic
Absolutely. As a water-based paint, acrylic will have no problem mixing with or adhering to latex paint. You can apply latex as a base coat and then paint acrylic to create unique decorations or add color details. You can even use acrylic as an adhesive or primer, then add latex.
Can You Paint Acrylic Over Latex Primer?
Yes. Acrylic and latex are water-based paints meaning they're compatible with each other. Therefore painting acrylic over latex primer is a no-brainer. Both formulas go hand in hand and can be used on multiple surfaces.
Latex primers help with surface preparation and boost adhesion, providing a superior, elastic finish capable of handling natural elements. Since both paint and primer have water as the primary solvent, they'll dry faster, and you'll find maintaining them relatively easy.
Always remember that the success of the outcome of your work depends on how adequately you prepped the surface. Choosing the right paint and primer, plus the techniques for application, also determines how successful your job will be.
What Type Of Latex Paint Is Best To Use With Acrylic?
Different types of latex paint are available in the market, so knowing which one will work with latex is vital. While making the selection, you'll have to factor in your personal preferences and your artwork objectives.
For the most part, premium brands like Rust-Oleum, Krylon, and KILZ offer high-quality options that will work, although you must ensure that the latex paint dries fully before applying acrylic over it.
You can apply acrylic paint over eggshell latex paint or flat latex. Flat latex is the most common option for painting with acrylic as it gives impressive outcomes once dry. You can use it with various acrylic paint options, as it is versatile and flexible. 
However, you will have difficulty manipulating flat latex paints, especially if you're a novice or it's your first time painting acrylic over flat latex paint. But once you get the hang of it, you'll love the outcome of your custom designs.
How To Paint Acrylic Paint Over Latex? A Step-By-Step Guide
The good thing with acrylic paints is they're fast-drying paint, so you should expect your project to be complete within the shortest time possible. When you're ready to paint acrylic over latex, follow these steps.
Get the Tools
Start by organizing everything you'll need, right from surface preparation to equipment cleanup. A few examples of what you'll need include:
Soap and water.
TSP.
Sponge or soft bristle brush.
Fine grit sandpaper.
Chemical stripper.
Primer.
Latex paint.
Clean rag.
A bowl for thinning acrylic.
Water or acrylic paint thinner.
Organizing all the requirements is recommended to make your work easy and hassle-free. With that done, it's time to get down to work. Refer to these quick steps to make the process easier:
Step1: Surface Preparation
The first and most basic step for any painting project is surface preparation. Wash it with warm soapy water and a sponge. If the surface is too dirty, deep clean it with TSP or something equally stronger. Rinse and let dry.
Step 2: Surface Sanding
For the paint to bite better on the surface, it needs some grip. Consider roughening it up a little in this case to help acrylic paint adhere well. Use fine-grit sandpaper to sand latex paint and ensure the coating isn't damaged rough up.
Step 3: Priming
With the surface cleaned and dry, you'll need to prime it to ensure the paint adheres properly. This will ensure the new paint sticks evenly on the surface while creating a barrier between the two paints. Different types of primers exist, but for latex and acrylic paints, use water-based primers because compatibility is already guaranteed.
Step 4: Painting
Leave the primer to dry, then paint acrylic over latex. Spray evenly across the surface, moving back and forth steadily and consistently. Ensure you maintain thin coats of paint, as thick ones will take a long time to dry. You can use a spray gun airless sprayer though an aerosol can also work fine.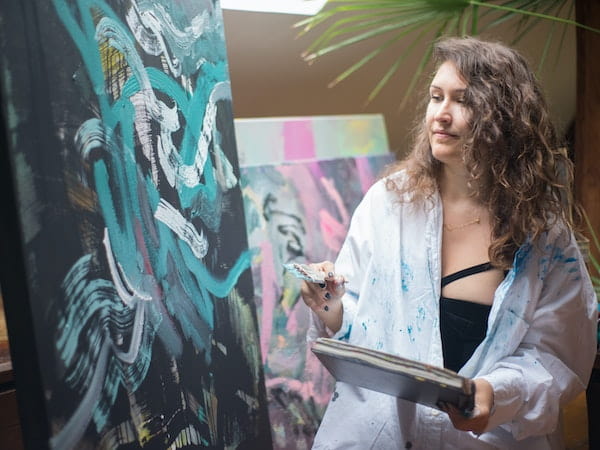 Step 5: Leave to Dry, Then Seal with a Clear Sealer
After completing your painting, let the surface dry for 24 hours or more before using the object. Once the paint is cured, consider sealing it with a clear sealant to enhance surface durability by providing an additional layer of protection.
Can You Thin Acrylic Paint Before Painting Over Latex?
Yes, we advise that you thin acrylic paint since it's generally thicker. Depending on your artwork goals, you can thin out acrylic paint with up to 30% water or use it as it is.
Adding some water or a recommended paint thinner helps the paint to set better and covers the surface more evenly. However, it would be best if you took note to avoid adding more than 60% water, as this will make the paint watery, causing it to lose its bonding qualities.
A good approach would be to add a little water at a time and stir consistently. Keep stirring as you add water until you achieve the ideal paint flow. Just be sure not to add too much water, as this will be irreversible.
What Do You Use to Seal Acrylic Over Latex Paint?
Some products you can use to seal latex paint over acrylic paint include varnish (gloss or medium gloss) and resin. Enamel spray is also another good option popular with most artists. You can use these on various artworks and DIY home projects.
On the other hand, gloss varnishes offer a superior, glossier finish, so you should consider that, too, although they're more pricey.
However, if you want to create sophisticated, high-end art pieces, use an ultra-high gloss finish. That said, sealing your acrylic painting after applying it over latex is a creative idea that most professionals recommend.
The extra coating ensures maximum protection of your art pieces from the extremes of UV lights, dust yellowing, and other forms of degradation. Varnishes are also available in various forms, including gloss, matte, and satin.
FAQS: Can You Paint Acrylic Over Latex?
Can you use latex primer over acrylic paint?
Yes. Since latex primers and acrylic paints are water-based, they're compatible. Latex primers tend to dry faster, and the paint is also easy to clean and maintain, so you'll have no problem using the two products. Alternatively, you can use universal primers since they're designed for various applications. Just ensure the products are compatible with the material you want to paint.
Can you put acrylic paint over latex paint?
Yes. After applying latex paint to the model, leave it to dry, then add a few coats of primer. Once the primer is dry, add acrylic paint over the latex base coat. You can use this technique when painting large surfaces with artistic details. Latex will provide the base coat, while acrylic will create impressive finishing details. Since acrylic paints are ideal for crafts, put it over latex to create the final touches.
Does acrylic paint stick to latex primer?
Absolutely. Latex primers will offer the necessary adhesion for acrylic paint to settle on wood, metal, or concrete substrate. The combination of latex primer and acrylic paint provides an elastic finish that protects the model from harsh elements. And since both the primer and paint are made of water, expect your paint job to dry quickly.
What paint can I use over latex paint?
You can use any water-based paint over latex. These include acrylic, shellac, watercolor, eggshell, and even chalkboard. Using them with latex will create beautiful designs with impressive finishes. The only paint you cannot use over latex is oil-based paints. Since oil paints and water paints don't mix well, you'll have to work extra harder to make them stick together, although this route is not recommended.
Can you paint over existing latex paint?
Yes. Painting over existing latex paint is possible. If the paint is old and peeling, you can paint it with suitable paint. If the peeling is extreme, consider scraping off the paint first, sanding the excess peeling latex paint, and wiping clean, priming, then painting. However, oil-based paint will not stick over existing latex paint, whether peeling or not. That is unless you can create a go-between in the form of a high-quality primer.
Is it okay to use latex primer over oil-based paint?
You can use latex primer over oil-based paint, provided it's a bonding primer. These primer options are designed to stick on glossy surfaces, especially those painted with oil-based finishes. You won't need to sand the surface if using bonding primer. Also, regular latex primers are only good for surface sealing and should not be used over oil-based paint.
Content Summary – Can You Paint Latex Over Acrylic
Acrylic and latex paint are like twins. The two are often used interchangeably, and their versatility and flexibility mean you can use them on various applications and with different materials. They will dry faster, provide robust coverage, create smooth, impressive finishes, and offer lasting durability.
For cleaning and maintenance, all you need is water and soap. With these similarities, you can paint latex over acrylic and paint acrylic over latex, whichever suits your needs.
Still, acrylic paint is great for art and craft projects, while latex paint is your affordable painting solution for commercial or DIY home improvements. You can paint with latex paint, then use acrylic paint to add details and decorations and let the colors stand out.
However, for best results, prepare the surface adequately. Wash, sand, and prime as necessary. Following simple but effective steps to paint over acrylic paint or latex paint will ensure a beautiful, durable finish. We hope you find this guide helpful when painting latex paint over acrylic paint.