Contemporary vinyl siding is made of high-quality materials designed to make them last for decades with minimal maintenance. However, as with everything else, they're not entirely durable and are just as susceptible to wear and tear.
Your vinyl siding will fade at some point due to exposure to the natural elements. When that happens, you'll want to restore its original aesthetic appeal, which brings us to the question: can you spray paint vinyl siding?
In this post, we will guide you in the intricacies of spray painting vinyl siding to bring it back to life and restore your home's charm. Read on.
Can You Spray Paint Vinyl Siding?
To spray paint vinyl siding, conduct through surface preparation and priming. Work with vinyl-safe spray paint and apply at least two coats. Avoid using paint with dark colors as they attract more heat.
What Is Vinyl Siding?
Perhaps it would be best if we start with the basics. In case you're wondering, vinyl siding is an exterior housing material typically made of plastic.
Modern options feature highly durable PVC resin that resembles natural wood but is highly resistant to weather conditions. Vinyl siding expands when exposed to too much sun and can peel and crack.
If your vinyl siding has suffered thermal expansion, you can replace it with a new one or spray paint it for a more vibrant appeal. Both options are good, depending on your budget.
Should You Spray Paint Vinyl Siding?
Yes. As we have indicated above, there are instances where spray painting vinyl siding is absolutely necessary. This renovation option is three times less expensive than a replacement.
The only drawback is that there are few specific spray paints for vinyl siding and limited colors. Where your vinyl siding is too old or partially damaged, the best option is to replace it.
If you choose to spray paint it instead, make sure the paint is 100% acrylic exterior paint. In addition, use an airless paint sprayer to prevent lap marks from showing on the surface.
While it's possible to revamp a fading vinyl siding with new coats of spray paint, the process is delicate, so unless you're an expert, it's not a typical DIY anyone can try.
Another rule when spray painting vinyl siding is to stick to vinyl-safe paint colors that are less likely to warp or overheat and avoid darker options.
We recommend you stick to high-quality vinyl-specific paints like Benjamin Moore and Sherwin Williams for best results.
What Kind of Spray Paint Will Stick to Vinyl Siding?
Besides choosing the best color for your vinyl siding, you must also consider the type of paint you work with. Experts recommend working with paint that contains urethane and acrylic resins for guaranteed adhesion.
This type of paint also helps reduce the effects of vinyl expansion and contraction arising from too much exposure to the sun. Use latex urethane paint for outdoor painting available in any of the following colors:
Almond yellow
Classic white
Golden honey
Light tan brown
Sage green

Stonecrest gray
Avoid darker colors since they fade faster and attract more heat than lighter hues.
How to Spray Paint Vinyl Siding
Spray painting your vinyl siding is a worthy cost-saving investment. For best results, use vinyl paint colors slightly lighter than your vinyl's existing paint.
You can even recoat with a similar paint to the existing one on your vinyl. If you choose a darker color option than your existing vinyl color, you do not need to prime before painting.
A good example is Superpaint or Duration from Sherwin-Williams, which is 100% acrylic latex paint. With that in mind, here are the steps to spray paint vinyl siding.
Step 1: Get the Tools
Before you get started, following the usual spray painting process is essential, which typically starts with surface preparation. You want to gather all your tools in one place to make the job easier. Here you'll need:
A paintbrush, especially a soft bristle brush
Paint roller, which should be within the 3/9 to 1/2 inch range
Good quality paint sprayer

Painter's painter's tape to make up those windows
Step 2: Choose the Right Color
We can't emphasize this enough, but choose the right paint for vinyl siding if you want a successful painting project. Avoid darker colors and stick to paint containing urethane and acrylic resins.
Step 3: Check the Weather Forecast for Painting Day.
This should be done at least 48 hours before the project starts.
You want to ensure the weather is conducive and safe for outdoor painting. That means checking the weather forecast to ensure there will be no inconvenience.
We recommend working when temperatures are mild with relatively low humidity and little to no sunlight, wind, or heat for the paint to stick efficiently.
Step 4: Pressure Wash
There's a high chance your vinyl siding has accumulated dust and mildew. You'll need to get rid of these before applying a fresh coat of new spray paint.
The best way to achieve that is by pressure washing and cleaning with a vinyl-safe bleach, mold-removing solution, or mild detergent, then scrubbing with a soft bristle brush. To avoid damaging the vinyl siding, rinse with a low-pressure washer.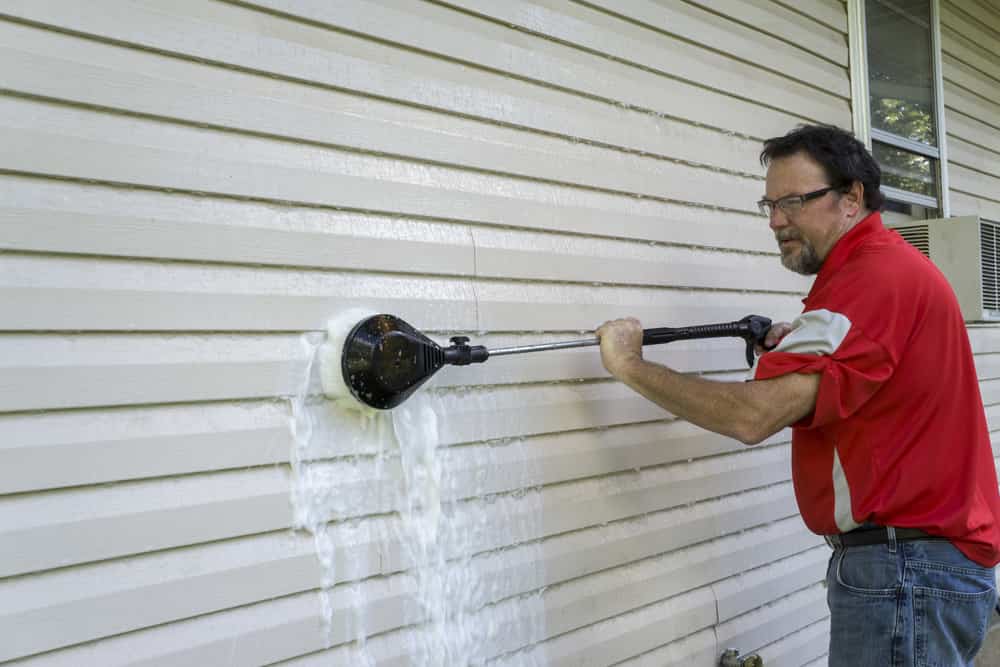 Step 5: Tape and Mask
To prevent paint from accidentally landing on nearby surfaces like doors, windows, brick, and trims, tape and mask them with a painter's tape.
This step is necessary when painting exterior vinyl. Use a masking gun to make your work easier and prevent paint touch-ups.
Step 6: Prime
Vinyl surfaces that have been extensively damaged will require more than one coat of paint. This means you must prime your vinyl surface for these coats of paint to stick better and provide a smooth finish.
A primer acts as a surface filler, covering imperfections like cracks, crevices, and pits for a smooth finish. For a seamless process and to ensure compatibility, use a primer from the same brand or manufacturer of the paint you intend to use.
Some brands have an all-in-one primer and paint pack, which is cost and time-effective, so you want to try out those.
Step 7: Paint With Airless Sprayer
This is the last step to spray painting vinyl siding, and you should always use an airless paint sprayer.
A paintbrush is good but insufficient to conceal lap marks, which can be unsightly, so stick with an airless sprayer.
Alternatively, combine your spraying with back rolling to prevent flashing and ensure better coverage. Moreover, apply two coats of paint, letting the first dry before applying another.
Best Spray Paint for Vinyl Siding
Most vinyl paints are water resistant, which makes them the perfect choice for siding, interior automotive painting, and boat and upholstery painting. When shopping for the best spray paint for vinyl, here are a few options you should check out.
Rust-Oleum Specialty Vinyl Spray Paint is a versatile formula ideal for vinyl siding.
It contains vinyl paint resins, providing a flexible, smooth finish similar to the actual vinyl material. You can use this paint on marine equipment such as boat seats and cushions since it prevents cracking.
It's also heat-resistant and long-lasting, so it will be several years before you can add more touch-ups.
Features
Up to 11 ounces
White color

Gloss
The most outstanding feature of the Rust-Oleum Universal Surface Spray Paint is its excellent adhesion capabilities.
It can stick on vinyl, plastic, tiles, aluminum, and concrete surfaces. It's available in over 20 colors and offers three finishes: gloss, matte, and satin.
With these qualities, the Rust-Oleum Universal Surface Spray Paint can be a multi-purpose vinyl spray paint with a high-quality finish.
However, its primary drawback is its inability to resist extreme heat, so it shouldn't be used in areas with harsh climates. Some users have reported leaking on the nozzle, so you want to wear gloves when using this formula.
Features
Up to 12 ounces
White color

Satin finish
ColorBond vinyl spray is the fastest-drying spray paint vinyl on our list.
It boasts an impressive 10 minutes of drying time and does not peel or crack. It's also compatible with a few materials, including vinyl, smooth plastic surfaces, and leather.
ColorBond is an exterior paint recommended for spray painting vinyl and automotive interiors and is designed to resist heat and melting.
Features:
Up to 12 ounces
Neutral tan color

Flat finish
Pros and Cons of Spray Painting Vinyl Siding
As you plan to spray paint your home's exterior, consider the merits and demerits of such a project. Here are some pros and cons of spray painting vinyl siding to give you an idea of what to expect.
The Pros
It's cost-effective: It costs less to paint your vinyl siding than to replace it. For example, if you factor in the average cost of new vinyl siding, which can be around $10,000 (12 per square foot) vis a vis the cost of a new paint job, which is around $3 per square foot, you realize spray painting is definitely cheaper.

Different color choices: Spray paints compatible with vinyl are limited, but the colors are available in plenty. For example, the Rust-Oleum Universal Surface Spray Paint, the best high-quality spray paint for vinyl, has up to 21 color selections. This means you can paint your vinyl in any color you use.

Enhanced protection. A new paint job helps you prolong your vinyl siding's lifespan by another 5-10 years. You won't have to contend with surface cracking, pitting, or peeling during that time, especially if you use high-quality paint. This further increases the value of your home in the long run.
The Cons
Thermal expansion: Too much heat causes your vinyl siding to expand and contract. This further results in paint gaps, which is why you should only choose safe paint for vinyl.

Doesn't work with dark colors: Dark colors are heat magnets, and your siding will warp when it's too hot. It's best to stick with lighter color shades to prevent this.

Not 100% durable: Spray painting your vinyl will add up to 10 years to its lifespan. However, while replacing the siding costs more, it can last up to four decades.
Is Spray Painting Vinyl Siding Worth It?
Unpainted vinyl siding can last for two decades. However, spray painting adds more life, ensuring it lives for another 5-15 years. So unless vinyl siding is badly worn out, painting it is definitely worth it.
Similarly, spray painting vinyl is a cost-effective option compared to replacement, so investing in a new paint job is worthwhile unless you have a limited budget.
FAQs – Spray Painting Vinyl Siding
Can Vinyl Siding Be Painted Without Peeling?
Absolutely. Ensure adequate prep work to remove surface pollutants like mold, mildew, and dust. Use a vinyl-safe bleach or laundry detergent, then rinse with a low-pressure power washer. From there, prime the surface and apply two coats of paint. These steps will ensure optimal coverage without peeling.
What Spray Paint Will Adhere to Vinyl?
Vinyl requires special paint for maximum adhesion and coverage. Such paint should be specifically formulated for vinyl and similar delicate surfaces. Go for urethane paint or water-based paints with acrylic resin.
Is it Cheaper to Paint or Replace Vinyl Siding?
Yes. Replacing the old vinyl siding can cost an average of $12 per square foot, translating into $10,000 per single project. This is on the higher side, considering it costs around $3 per square foot to paint vinyl siding, so it's definitely cheaper.
Can You Paint Vinyl Siding With a Brush?
Yes and no. Brushing is a convenient, traditional method that has been used for years. However, it has its shortcomings in that it causes lap marks and brush strokes, which may not look great on your finish. A better approach is spray painting with an airless sprayer.
Is Rustoleum Spray Paint Good for Vinyl?
Yes. Rust-Oleum provides superior-quality paint formulas for different materials, including vinyl. The Rust-Oleum Universal Surface Spray Paint and Rust-Oleum Specialty Vinyl Spray Paint are good examples of the best spray paint for vinyl.
Summary – Spray Painting Vinyl Siding
Vinyl siding is typically made of plastic. Modern designs feature PVCs, which are more durable.
Still, vinyl siding is susceptible to heating and can expand and contract with time. When this happens, you have two options: you can either replace or repaint it.
As we have seen in this article, spraying vinyl siding is possible if you have the expertise and can source the right paint and colors. We outlined the steps to spray paint vinyl siding to guide you should you decide to do it yourself.
Finally, we have emphasized the drawbacks of using certain paint colors, especially darker ones, so stick to lighter colors as you redefine your home's aesthetic appeal.