Rustoleum is a well-known brand that produces different types of paint and coatings. Most of their products are oil-based, while a few others are water-based. If you're considering using this spray paint in your next project, you could be asking, "Is Rustoleum spray paint waterproof?"
Waterproofing or water resistance ability of spray paint is key when working on an outdoor or high-value project. You need a premium-quality paint that can endure the elements and retain its value for a long time.
In this guide, we shall focus on Rust-oleum spray paint, what makes it waterproof, where you can use it and the best Rust-oleum spray paints.
Is Rustoleum Spray Paint Waterproof?
Yes. Rust-Oleum spray paints are formulated with high-quality ingredients meant to resist water. As an oil-based formula, it is designed to protect surfaces from the effects of moisture, rust, and other weather elements. However, it depends on how much water the paint film is exposed to and its application. Rust-Oleum spray paint is waterproof only after it dries.
What is Rustoleum Spray Paint?
Rustoleum spray paint is a brand that specializes in premium paint solutions, manufacturing high-quality paint products that offer superior protection against rust, moisture, and other forms of damage.
Rustoleum is one of the leading paint brands in the market, offering oil and water-based paints for roofs, walls, concrete, and many other surface types.
As one of the top spray paint manufacturers, their products are available in matte, gloss, flat, satin, semi-gloss, and other finishes. You can also find Rust-Oleum spray paint in nearly any color, be it metallic black, gold, white, clear, etc.
Each type of Rust-Oleum spray paint has a set of features and benefits. For example, Rust-Oleum Universal is perfect for remodeling old metallic household pieces like wicker and rattan baskets.
Rust-Oleum Ultra Cover 2X is an excellent choice for wood finishes, while the glossy Rustoleum Crystal Clear Enamel is perfect for outdoor and indoor furniture.
Where Can You Use Rustoleum Spray Paint?
You can use Rust-Oleum on nearly any surface; plastic, metal, concrete, fabric, wood, or walls. The oil-based formula provides excellent protection against surface cracks and leaks. It prevents moisture from seeping through your surfaces, including porous ones like concrete.
Rust-Oleum spray paints take little time to dry and cure, and you can recoat it in less than an hour. Rust-Oleum paint can seal metal joints, ductwork, asphalt, and even PVC.
Below are some of the most popular types of Rust-Oleum spray paint and the projects they're best suited for.
The Rust-Oleum Universal is a line of multipurpose spray paint that can create a protective finish on virtually everything. The Universal is compatible with everything from old antique furniture to interior walls, fiberglass, fabric, plastic surfaces, and masonry projects. This spray paint can be used on patio furniture, basket ware, and other unique household items. 
This is the most popular spray paint commonly used on wooden surfaces. The Ultra Cover provides stunning finishes that can transform a vintage chest of drawers into a modern masterpiece. As its name suggests, the 2X Ultra Cover offers double coverage requiring only a few light coats to create a brilliant, long-lasting finish. This fast-drying solution is available in various colors, including heirloom white, gold, pastel, black, silver, and crystal clear. 
The crystal clear enamel is your go-to Rust-Oleum spray paint if you want a protective glossy finish to transform your project, be it concrete, wood, melamine, or metal furniture. It's available in gloss and satin finishes and is compatible with interior and exterior projects. 
Here's another popular spray paint solution for nearly anything. This silver spray paint is ideal for spray painting light fixtures and old lamps to give them a new makeover. You can even use it to transform an old table and finish it off with some polyurethane.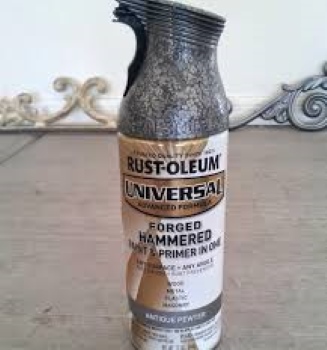 Is Rustoleum Spray Paint Waterproof? The Science Behind it
As a premium paint brand, Rust-Oleum spray paints are formulated with the finest ingredients. It was originally made with fish oil which naturally protects against rust and corrosion. In its early years of conception, fish and whale oil were the primary ingredients used to make most Rust-Oleum paints.
Over the years, however, the company has incorporated other innovative approaches into its formulations. Today, oil-based rust-oleum paints no longer contain fish oil but are primarily made with petroleum, petroleum distillates, and acetone. The products also contain epoxies, latex, polyurethane, and resins extracted from alkyds.
Furthermore, the Rust-Oleum company originally specialized in oil-based paints but has since included acrylic and water-based paint options. Rustoleum oil-based paints provide superior durability and adhesion for any material and surface.
These premium ingredients make Rust-Oleum spray paint highly resistant to water. However, it's best always to check the product label to know if the spray paint is oil- or water-based.
Oil-based spray paints have a lot more immense benefits than water-based paints. For example, they provide better adhesion and coverage. Oil-based paints are also less prone to chipping and peeling and can withstand weather conditions well.
They're more suitable for outdoor use or projects that require maximum durability. However, oil-based spray paints also contain strong odors.
Therefore, they are highly flammable compared to water-based options, which largely contain water and pigments, making them less volatile, less durable, and easy to clean.
How to Spray Paint a Surface with Waterproof Rustoleum Spray Paint?
If you want to use Rust-Oleum spray paint, it's best to follow a proven procedure that will retain the paint's quality and offer superior protection against water. Below is a straightforward step-by-step process for spray painting a surface with Rust-Oleum spray paint.
Some materials you'll need include Rust-Oleum Spray Paint of your choice, old newspapers, drop cloth or duct sheets, and masking tape. The process is as follows:
1. Organize Everything Together
Before you get the ground running with your project, ensure you have everything you need in one place. These include a drop cloth or old newspapers to spread on your workspace and trap those stray spills.
You should also wear safety equipment like a face mask, eye goggles, and paint gloves. If you need to mask away specific surfaces or items, include masking tape and painter's tape in your list.
Finally, get the right waterproof spray paint of your choice and ensure the can nozzle and other components are in perfect working condition.
2. Choose a Good Paint for the Job
As high-end as Rust-Oleum is, not all its spray paints are the same. Most spray paints are compatible with nearly every surface, but some are better suited for specific surfaces than others. Therefore ensure you get the right spray paint for the project you are working on.
3. Prepare the Substrate for Painting
Ensure that the object you want to paint is clear of any dirt or surface impurities before applying the first coat. Depending on what you're painting, consider priming to enhance paint adhesion.
To do this, test the paint on a particular spot to ensure it's compatible with your object. If it demonstrates excellent adhesion, you need to prime the surface.
But if the paint doesn't stick well enough, consider priming with Rust-Oleum Surface Primer before painting. However, using Rust-Oleum Universal priming is not necessary.
4. Shake the Can Well
Before applying the first coat, thoroughly shake the can to mix the paint evenly. This helps blend the solvents and pigments to create a consistent formula that will guarantee a smooth finish.
5. Keep Your Workspace Well-ventilated
If proper safety isn't observed, working with oil-based spray paints can have some negative health effects. Most of these spray paints have toxic compounds that may be harmful if inhaled. You want to protect yourself from such effects but ensure your workspace has sufficient airflow.
It's best to spray paint outdoors where you'll have an oversupply of fresh air, but keep the windows and doors open if you must work indoors. You might even want to turn on the fan for maximum air circulation.
6. Test the Paint
To be sure your project will turn out as expected, consider testing the paint on an inconspicuous spot or object before you start working.
Use this step to determine the proper spraying distance, the number of coats needed, and whether or not you should adjust the color of your paint.
7. Start with the Edges
It's always good to start with the edges when painting a large surface. By tackling the edges before the center of the object, you'll be able to prevent paint runs and drips and maintain a seamless, consistent process.
8. Apply Even Coats
Light, even coasts, are known to yield the best results than thick ones. Avoid applying too much paint on a single spot to prevent inconsistency. With each coat, wait for the time specified on the product before recoating.
We also recommend that you pause to shake the can at various intervals during the painting session to maintain the consistency of the paint. This will also help to unclog the spray paint can for even paint discharge.
A better approach is to slightly overlap each stroke, moving back and forth, up and down, to prevent paint stripping and achieve a balanced, smooth finish.
Is Rustoleum Spray Paint Waterproof After Drying?
Like most spray paints, Rustoleum is a liquid coating solution. That means it can get ruined if mixed with or submerged in water in its liquid form. However, once it's been sprayed and the pigments and solvents have hardened, it easily resists water.
In other words, Rust-Oleum is waterproof after drying, but it's not 100% resistant to water when wet. A few factors affect Rust-Oleum waterproof capabilities; for example:
Paint quality: Water-based Rust-Oleum spray paints do not offer the same durability and protection as oil-based paints. They're easily susceptible to overexposure to moisture, so it's best to use oil-based paints on outdoor surfaces that require high durability.

Surface types: Sealing porous surfaces is a great idea to achieve maximum resistance to water.
Best Rustoleum Waterproof Spray Paint
If you're looking for the best Rust-Oleum spray paint for wood, plastic, masonry, and metal coating solution, look no further than the High-performance enamel spray paint. This formula provides superior protection against rust and moisture, ensuring a durable finish.
As a gloss spray paint, the high-performance enamel can withstand heavy-use environments and extreme weather elements. It features a high-output tip allowing you to spray from any angle comfortably.
The Rust-Oleum Concrete White Grey Spray Paint, otherwise known as Rust-Oleum Natural Effects spray paint, offers that natural look and feel of concrete on masonry projects. It has a matte finish that is perfectly textured to mimic the feel of natural concrete. It can be used on any material, including wood, glass, plastic, asphalt, metal, etc.
In addition, you can use the Rust-Oleum Natural Effects on indoor and outdoor projects as it performs well in high-weather environments. It offers good coverage, adhesion, and color retention. It also conveniently hides surface flaws. However, good surface preparation is necessary to achieve optimal results.
What We Liked 👍
Dries faster within 30 minutes.
Provides a tough and durable finish.
Applicable on most surfaces.
Corrosion-resistant.
It can be used indoors and outdoors.
What Could Improve 👎
Rust-Oleum Painters Touch 2X Ultra Cover is the ultimate spray paint for all furniture projects. You can use it as long-lasting oil-based paint on your wicker patio furniture, PVC pipes, rattan baskets, and almost anything.
Its low odor makes it even more suitable for indoor projects or art pieces involving kids. The paint is also highly resistant to chipping, peeling, and similar signs of wear and tear. Since it offers double coverage, you can spray paint up to 12 square feet with a single can of Rust-Oleum Painters Touch 2X Ultra Cover.
Moreover, this product contains an in-built primer, another great advantage. Thanks to its satin finish, you can conveniently spray it from any angle and easily hide unpleasant spots on the surface.
What We Liked 👍
Double coverage hides impurities.
Excellent satin finish and good shine.
Multipurpose and long-lasting
What Could Improve 👎
It may take longer to dry.
It's all in the name. The green Glow in the Dark MAX spray paint provides a green glowing effect in dark spaces and emulates natural and artificial light. As a superior luminous paint, this product provides a powerful glow twice the glow of other Rust-Oleum spray paints.
It's a great choice for painting drywalls, plastics, ceramics, wood, and metal. You can use it indoors and on outdoor furniture or patio accessories. However, for outdoor painting projects, you must conduct periodic re-applications to maintain the same glow.
What We Liked 👍
2X glow power, superior illumination in the dark.
Fast-drying paint.
Perfect for functional and decorative projects.
What Could Improve 👎
Mostly green with limited color options
Do You Need to Seal Rustoleum Spray Paint?
No. Sealing Rust-Oleum spray paint is not necessary. As a premium paint, Rust-Oleum is formulated to dry perfectly and provide a durable finish without additional recoating or sealing.
The paint is waterproof and corrosion-resistant and bonds well with most surfaces rendering sealing (and in some cases priming) entirely unnecessary.
However, if you're painting something that will be exposed to water for longer periods, such as a boat, you should add an extra layer of protection by sealing the final coat of paint.
A good quality sealant or varnish is recommended for such cases to provide superior protection from peeling.
Does Rustoleum Spray Paint Come Off in Water?
If the spray paint is still wet, it will come off if submerged in water since it's not properly hardened. Such spray paints tends to wipe away easily. However, once the binding agents in Rust-Oleum spray paint harden, the paint becomes highly waterproof. This is true with all oil-based paints that have fully dried and cured.
Such paint can be difficult to remove since they contain naturally waterproof alkyd binding agents. If you need to clean or remove such paints, you'll need to scrub vigorously with dish soap and lots of water.
Removing dried Rust-Oleum spray paint on porous surfaces is even more challenging, and you might need a power washer or heavy-duty cleaning solutions to remove them. 
How Long Does it Take for Rustoleum Spray Paint to Dry?
Most Rust-Oleum spray paints dries to the touch in 20-30 minutes. Others are designed to dry within an hour before recoating. At best, paint should be left to dry for at least two hours.
However, Rust-Oleum recommends leaving your painted project to sit for 24 hours to allow the paint to dry and cure optimally. That's enough time to ensure the paint is 100% waterproof.
To speed up the process, apply thin coats, and if it's urgent, a dehumidifier or space heater could help. Always spray paint within 65 and 85 degrees F temperatures to make the paint dry faster.
FAQS: Is Rustoleum Spray Paint Waterproof?
Is Rustoleum spray paint water-resistant?
Yes. Rust-Oleum spray paints are made with natural oil and alkyd binding properties that ensure the paint can withstand maximum contact with water. Even water-based Rust-Oleum paints, once dry and cured, can resist water to a great extent. It's best to avoid exposing the paint to water when it's still wet to retain its waterproof capabilities.
What happens if spray paint gets wet?
If your spray paint comes into contact with water or moisture before it's dry and cured, it will likely wipe away easily and dissolve in water. However, dried spray paint is generally waterproof. Such pants can resist rain, snow, and other harsh elements, although water-based spray paint has less waterproof capabilities than oil-based paint.
Is Rustoleum paint weather resistant?
Yes, rustoleum is a water-resistant spray paint. Made with the finest ingredients, Rust-Oleum spray paint is a premium product designed to endure all the natural effects of weather. As the name implies, Rust-Oleum can resist rust and corrosion, the primary effects of weather. They can also withstand excess moisture, U.V. lights, or wind. They're exterior spray paint, meaning they're made to survive the effects of wear and tear, so they're best suited for outdoor use.
Is the spray paint waterproof?
Yes. Oil-based Rust-Oleum spray paint is waterproof when fully dry. Your spray paint should be able to retain its original quality and shine if exposed to water after drying. However, you should ensure the spray paint doesn't come into contact with water before it's fully cured since it could wash off, especially if it's water-based spray paint.
Do you need to seal Rustoleum spray paint?
No. You don't need to seal Rust-Oleum spray paint after painting. The premium paint contains high-quality bonding and sealing agents for superior protection. Unless it's water-based paint or a heavy-use environment, you don't need to seal your project painted with Rust-Oleum. However, this largely boils down to preference. If you wish to add a new coat of varnish or sealant to your surface for extra sheen and protection, you can do it out of choice, not necessity.
In Summary: Is Rustoleum Spray Paint Waterproof?
Yes, Rust-Oleum spray paints can be oil-based or water-based. The oil-based options are 100% waterproof, containing powerful binding agents and ingredients to guarantee a long-lasting finish.
On the other hand, water-based paints are made with pigments and solvents that can resist water to some extent. While they're not as waterproof or as durable as oil-based paints, they can also be used on outdoor projects that can last quite long. Always check the label on the can to determine if your Rust-Oleum spray paint is waterproof or water-resistant.