Most painting projects and crafts usually involve the two most popular finishes: satin and gloss. To understand which one can produce a perfect finish, a comprehensive satin spray paint vs. gloss comparison guide is necessary.
It's important to note that both satin and gloss spray paint has immense benefits and drawbacks.
Once you understand what each finish entails, including distinctive qualities like durability, cost, appearance, ease of use, etc., deciding which is best for you ultimately boils down to your tastes.
In this guide, we dive into the definition of satin vs. gloss spray paint, their qualities, the best surfaces for each finish, and the best satin and gloss spray paints available in the market.
Satin Finish vs. Gloss Paint
Generally, satin and gloss spray paint has several similarities and only differ in the sheen level. Where satin spray paint finishes provide a pearl-like sheen perfect for dining and bedroom finishes, gloss spray paint finishes have a higher sheen and are therefore suitable for bathroom and kitchen finishes.
What Is Satin Spray Paint
In painting and crafts, satin finish is the oldest form of finishing ever used. Satin spray paint finish doesn't necessarily refer to a specific product. Instead, it describes the overall aesthetic of a particular finish, and it can be achieved by aerosol spray paint, varnish, clear coat, and stains.
The satin paints aren't as hyperreflective as gloss, only reflecting minimal light and providing a warm, dull glow.
This finish option is popular for most painters thanks to its durability, smooth touch, and compatibility with most surface contours. Satin is easy to clean but completely hides imperfections more than gloss spray paint finishes, requiring little surface preparation before use.
What is Gloss Spray Paint
A gloss paint finish is a treatment applied to create a shiny look after a coating has cured. Like satin, gloss finishes are available in aerosol cans, stains, clear coats, varnishes, and natural oils. 
A typical high gloss paint sheen can be 70-90% suitable for high-maintenance rooms like kitchens and bathrooms. Since you can wash satin and gloss spray paint finishes, gloss is more durable and can withstand frequent and rigorous washing thanks to its high sheen level.
Satin vs. Gloss Spray Paint: Side-by-Side Comparison
Now that we understand what satin vs gloss spray paints entails, we will explore how they differ. The two spray paint finishes have similar properties, although gloss is the ultimate leader in durability and shine. Below is a comprehensive analysis of the two spray paints:
Satin Finish vs Gloss Finish – Appearance
Appearance is generally subjective. Gloss paints provide a brighter shine, while satin finish paint is more subtle. You could choose any appearance that works best on your surface. For example, you can use satin to create a subtle, stylish, yet contemporary look.
On the other hand, gloss paint is best applied on vintage projects like antique house makeovers to add a touch of vibrancy to period features.
Gloss Finish vs Satin Finish – Application
Application techniques for satin and gloss finishes are similar. Both require the same procedures and employ the same spray painting rules. They also provide the same consistency and apply evenly on various surfaces.
The only challenge you'll encounter, especially with gloss paint, is that achieving a smooth finish is more challenging. However, this also depends on the type of paint you use (water- or oil-based) and the brand. For best results, it's advisable to go for premium gloss spray paints, although they are a bit pricey. 
Satin Paints vs Gloss – Durability
On robustness and durability, gloss paint outperforms satin paints, although preparation is key. You'll find that a perfectly prepared satin finish can yield better results than a poorly prepared gloss finish.
Both paints can withstand wear and tear, scuff marks, and other imperfections, but these will be more visible on gloss than satin finishes which hide them much better.
Still, gloss finish is more durable and doesn't retain these impurities for long, making it a better choice for hallways, kitchens, skateboards, and other high-traffic surfaces. Gloss paint is also a perfect choice for households with kids and pets.
Satin vs. Gloss Texture
Satin finish has a distinctive smooth feeling and velvety appearance, while gloss is slicker and shinier. Since the satin spray paint texture is neither too glossy nor flat, it's a perfect choice for hiding imperfections.
Similarly, gloss is not ideal for bigger spaces, especially those with rough surfaces, since its hyper reflective.
Satin Finish vs Gloss Finish Cost
High gloss paint finishes are usually more expensive than subtle finishes like satin. A satin spray paint finish can be $5.00 cheaper than a gloss spray finish. For example, the average price for Krylon Fusion All-in-One Spray Paint Satin Black is $14.45 compared to the price of Krylon Fusion All-in-One Spray Paint Gloss Black, which costs around $18.00.
Gloss vs Satin – Ease of Cleaning
Satin and gloss spray paints are washable, but gloss will regain its original texture and finish even with frequent and rigorous washing. It's much easier to clean high gloss finish surfaces with equally easy-to-get supplies like warm soapy water and a kitchen sponge to remove stains and dark marks.
It's even much easier to use elbow grease and abrasive side to clean dark stains on gloss surfaces without compromising the finish. However, for satin finishes, cleaning should be done in moderation and with a sponge to mitigate damage to the surface.
Advantages and Disadvantages of Using Satin Paint
Using a satin finish can be beneficial in many ways. It would be best to consider using it on specific projects because it's subtle, hides surface imperfections, and is generally affordable.
If used correctly, satin paint can yield similar results to high-quality premium finishes like a gloss. Below are some of the benefits to expect from this option.
Advantages
Easy to use on various surfaces, both hard and smooth.
Non-sticky, smooth to the touch.
Durable than the matte finishes, washable with a detergent soap solution.
Less hyper-reflective than gloss spray paint, it hides scratches and dents even on larger surfaces.

It provides more accurate color compared to high gloss finishes
Disadvantages
It can hide imperfections but not deeper dents and scratches.
Doing touch-ups can be challenging in case of such marks as the paint doesn't blend in.
While it offers excellent protection, it has limited durability and cannot withstand moisture or excess stains.
It can cause orange peels and runs if not properly applied.

Best used by professional painters who know how to control paint runs
Advantages and Disadvantages of Using Gloss Paint
Gloss spray paint, while loud, classy, and has a higher-end tone, does offer several benefits. Below are some of its advantages.
Gloss finishes are more premium, more durable, and shinier. However, because of their reflective qualities, shiny texture, and appearance, they're less likely to hide imperfections as much as satin finishes do. Gloss paint is also stain and moisture-resistant and adds a brighter glow to spaces.
Disadvantages
Gloss finishes highlights imperfections, making small issues appear glaringly obvious. This requires high-level surface preparation to achieve the smoothest outcome.
Gloss spray paint finishes can be distracting and may alter the color hues.

Very expensive and not suitable for large surfaces
What Products Suit a Satin or Gloss Finish
The following are some products best suited for satin and gloss spray paint finishes.
Wood Stain Finish
Wood stain is a common medium for these two popular finishes. It's a straightforward way of decorating your art pieces while creating a long-lasting finish that will protect your work.
Wood finish is a powerful option capable of penetrating deep into the wood, thus protecting it from moisture, heat, and pests. Satinwood stain is a popular choice for high-traffic surfaces susceptible to wear and tear.
Aerosol Spray Paint Finishes
Thousands of aerosol spray paint finishes exist, but satin and gloss aerosols are the most widely used on various paint projects. For spray paint, both satin and gloss perform exceptionally well in terms of durability, ease of use, and application.
Again, both satin and gloss aerosol spray paints contain powerful ingredients and binding properties that support adhesion on most surfaces, creating unique finishes far better than conventional paints.
Clear Coat Finish
Clear coats help protect a painted piece and add a new dimension to the existing coat on a substrate. Since they're generally affordable and easily versatile, satin and gloss, clear coat finishes are best used on outdoor pieces to protect against the elements.
In addition, satin clear coat finishes are subtle, so it's not easy to tell if a workpiece has been treated with one.
It makes for projects where you would want your workpiece to have a subtle tone instead of having something too loud. However, you can use a gloss clear coat finish on workpieces that you want to protect from exterior forces because they're more durable.
Varnish Finish
Varnishes used to be the go-to choice for surface protection until they became less and less eco-friendly.
However, there has been a considerable improvement in formulation where contemporary varnishes have demonstrated a significant reduction in volatile organic chemicals (VOCs). 
A gloss or satin varnish works the same way as a wood stain finish; the main difference is that the varnish is a high-maintenance finish as it is susceptible to scratches and chippings.
Similarly, satin and gloss varnishes provide nearly the same degree of sheen but expect satin varnish to produce deeper, subtle colors on your surface and lighter ones with gloss paints.
Best Places to Use Satin Paint
Satin spray paint best suits rooms and surfaces with lots of foot and hand traffic. For example, wooden furniture for bedrooms, kitchens, and living rooms requires less reflective paint, making satin paint a better option.
Similarly, the durability of satin spray paint makes it ideal for children's rooms that experience lots of surface touching and regular cleaning.
You can use satin spray paint finishes on hallways as they tend to get dirty more frequently and should therefore be able to withstand frequent cleaning and scrubbing. Satin paint is also a great option to make a bold statement and let the colors speak for themselves without appearing too loud.
Best Places to Use Gloss Paint
Gloss spray paint should be used strategically where a more dominant theme is needed. As such, it's best suited for front doors, moldings, and small furniture pieces.
If you're creative, you can combine satin and high gloss finishes to blend subtle but dominant patterns. For example, you can use gloss spray paint to create unique designs over satin coating.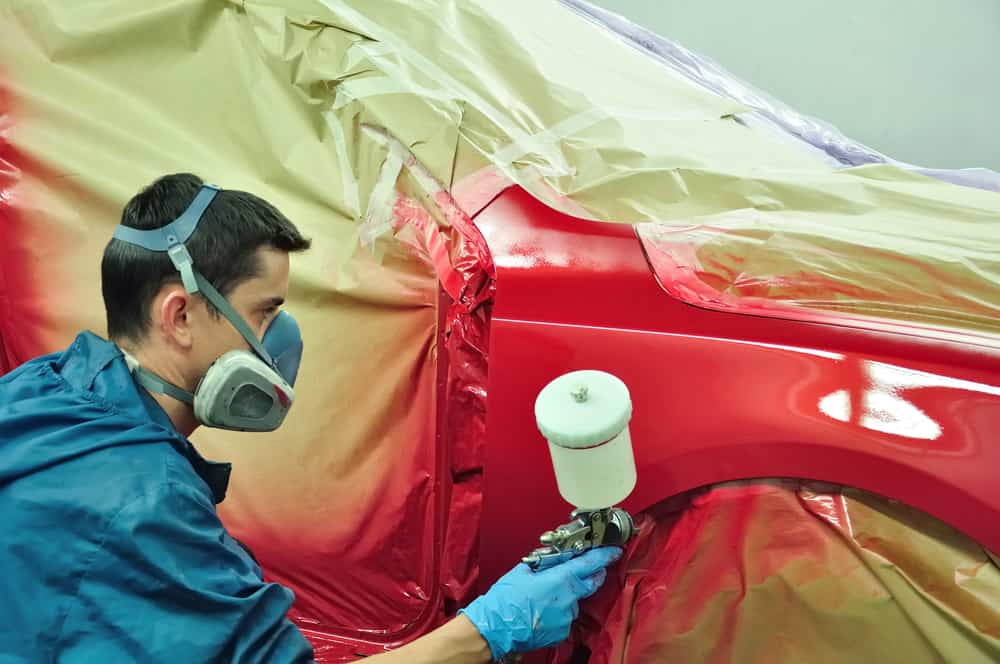 Best Satin Spray Paint
There are many satin spray paint brands in the market, including Krylon, Rust-Oleum, and Seymour. While some contain the same properties, other factors, like quality and durability, differ from one brand to the next. Below is a quick review of our best picks for satin spray paint.
Seymour 98-24 Spruce General Use Enamel, Satin Black
The Seymour 98-24 Spruce General spray paint is a durable, anti-rust satin finish. It's also available in high gloss, semi-gloss, and flat finishes. It's a fast-drying formula that hides imperfections and dries faster. 
It's also made to withstand chipping, peeling, and other effects of wear and tear. Seymour 98-24 Spruce General spray paint is available in six and 12 packs and has various color options. It provides more coverage, so you can expect to use a single aerosol can to paint 15 sq. ft.
Although the Seymour 98-24 Spruce General spray paint is water-resistant, it cannot be immersed continuously in water. In addition, this satin spray paint dries to the touch within five minutes and resists up to 250˚ F of heat.
Minwax 33333000 Polyacrylic Protective Finish Spray
The Minwax 33333000 Polycrylic Protective Finish Spray brings out the natural beauty of a substrate. It is, therefore, ideal for woodwork like furniture pieces and side tables.
It creates a crystal clear top coat that protects the wood surfaces against scratches and peelings. The Minwax 33333000 Polycrylic Protective Finish Spray finish can be used on wood surfaces, including ash, birch, and maple.
It is an ultra-fast drying protective coating that can be recoated after two hours. As a clear top coat, you can easily use soap and water to clean any surface coated with Minwax 33333000 Polycrylic Protective Finish Spray. 
Best Gloss Spray Paint
Rust-Oleum 334133-6PK Stops Rust Turbo Spray Paint
If you want maximum protection of your surfaces previously painted with Rust-Oleum spray paint, use the Rust-Oleum 334133-6PK Stops Rust Turbo Spray Paint for a perfect finish.
Available in a large can of up to 24 oz, the Rust-Oleum 334133-6PK Stops Rust Turbo Spray Paint is designed for large projects, thanks to its advanced Turbo Spray System.
This formula also boasts superior durability and coverage and an impressive output speed four times the normal aerosol can. It also features a super tall fan that easily spreads to cover large surfaces like wood, metal, plastic, or any other substrate.
Although its speed and can size are impressive, some users prefer a much smaller can that doesn't spray too forcefully. That should improve user experience, but overall, the Rust-Oleum 334133-6PK Stops Rust Turbo Spray Paint is an excellent gloss spray paint that you can use on diverse projects.
Rust-Oleum 7701830 Stops Rust Spray Paint
As the name implies, the Rust-Oleum 7701830 Crystal Clear Enamel Gloss Protective Enamel Spray Paint offers a crystal-clear top coat that provides maximum protection for your painting projects.
You can apply this gloss finish on anything from metal to wood, fiberglass, concrete, and masonry surfaces. It's designed with a comfortable tip and a wider pad to protect against finger fatigue.
It also has a spray feature that lets you spray from any angle or direction. This spray paint offers more coverage with each can, long-lasting protection, and a beautiful glossy finish. It also protects against corrosion, fading, and chipping.
Verdict: Satin vs. Gloss Spray Paint, Which is Better?
Now that you are conversant with satin and gloss spray paints, the decision as to which one is best depends on what you're working on and the circumstances at hand. Gloss paints, as we have seen, are hyper-reflective, while satin paint is a blend of matte and luster.
If you wish to enhance the aesthetics of your exterior project, like a wall finish, gloss is the best application to use. It's also best suited for doors, trims, and porches to create a high shine impact.
On the other hand, satin paint is ideal for larger projects where you want to bring out the color more accurately yet subtly while hiding surface flaws.
However, you're better off with a blend of satin and gloss, where you can experience the best of both worlds. This way, one spray paint finish gets to compensate for the characteristics that the other finish doesn't offer.
A balanced approach is much better in this case, but the decision depends on your preferences and long-term goals.
FAQS: Satin vs. Gloss Spray Paint
Is Satin Spray Paint Shiny?
When comparing satin vs gloss, satin spray paint is a medium gloss finish with a more reflective sheen than matte but less shiny than gloss and semi-gloss paint. It is more polished and produces more luster than similar finishes like eggshell paint. Satin finishes are perfect for higher-traffic areas like family rooms and hallways.
Is Satin Paint or Gloss Black Trims Better?
Notable characteristics of satin spray paint are durability, ease of cleaning, and covering flaws and imperfections on your substrate. This makes it an excellent choice for doors and interior trims.
Is Satin Finish or Gloss Spray Paint Better?
If you want a smooth-feeling surface and a shinier finish that offers more protection from moisture, gloss is your best choice. But satin finishes are recommended if you want a finish with medium and subtle luster, especially for bigger projects.
Both options are durable and easy to clean, but dents, dings, and scratches will be more noticeable on gloss finish surfaces than on satin. Each finish is perfect for different finishes and projects, so it will depend on what you prefer.
Is Satin Spray Paint Glossy?
Yes. Satin paint has a decent sheen but is not too glossy. It is less reflective than gloss and doesn't highlight surface imperfections as much as gloss does. The gloss finish has a classy, higher-end tone, while satin features a sporty look that can fit anywhere.
Is Satin the Same as Semi-Gloss Spray Paint?
Satin and semi-gloss produce nearly the same effects on a given project, although they differ significantly in characteristics. For example, where semi-gloss has more sheen than satin finishes, the latter has a particularly reflective surface that's softer, perfect for concealing issues on a given surface.
It's perfect for frequently used rooms and surfaces. On the other hand, semi-gloss finishes have more moisture protection capabilities.
Content Summary: Satin vs. Gloss Spray Paint
Now that you can tell the difference between satin gloss spray paint, their characteristics, pros and cons, and the projects each is suited for, your best course of action right now is to implement your newly acquired knowledge.
If you've never used satin or gloss finish, it's time to experiment and practice applying each. This way, you'll easily determine which option to use on different projects.
You can even blend both finishes to create a unique theme. Always consider factors such as durability, washability, and the finish's ability to hide impurities on the surface.
You should also consider the elements your project will be exposed to, especially if it's outdoors.