Whether you wish to upgrade the style of your car or spruce up an old photo frame, chrome paint is an easy way to do it. Chrome can be used to create a sleek, metallic finish on anything while giving it a contemplating feel.
The best chrome spray paint imitates the luxurious look of real chrome but at a much lower price. This makes it perfect for restoring chrome surfaces, as well as giving other surfaces a bright, metallic look. It can be used on various materials, including metal, wood, and plastic.
Some products even have rust-inhibiting properties, making them ideal for exterior use. In this post, we go over seven of the best spray paint for chrome and other materials currently available.
What is Chrome Spray Paint?
Chrome spray paint is simply chrome paint that comes in a spray form. It is used to create a chrome effect on a surface. In other words, the final result is a shiny, metallic finish that matches the look of brand-new chrome but is not real chrome.
The use of an aerosol to dispense the paint is to provide convenience. However, even though chrome spray paint and aerosols have a similar texture, the latter produces silver nitrate.
The silver nitrate is responsible for the higher reflection rate (up to 98 percent) seen in most chrome paint compared to other types of spray paint.
You can use Chrome paint on different surfaces, including wood, glass, ceramic, metal, and even plastic. However, it's extremely important you choose the right product, as most best chrome spray paints are designed to work on certain materials.
Like regular spray paint, chrome spray paint is available in different finishes. You could either opt for a mirror or metallic finish. This also applies to colors.
It's worth mentioning that even Chrome paint offers a budget-friendly alternative to actual chrome plating; it doesn't look quite as bright or have the same level of durability.
Why Use Chrome Spray Paint?
The main reason for using chrome paint is that it's way cheaper than chrome plating or buying new metal. It also requires less time and effort and is much easier to apply.
Chrome plating is a time-consuming process and is much more complicated. In contrast, spray painting is beginner-friendly and requires no special tools. All it takes is to shake the can a few times, followed by a steady spray pattern.
Here are other benefits:
Chrome spray paint is more environmentally friendly. Chrome plating creates a huge amount of waste and toxic gas. In fact, chromium itself is carcinogenic when inhaled or exposed to the skin.
Chrome spray paint, on the other hand, releases fewer toxins. It's even better when the product is water-based, as is often the case.
In addition, using spray paint makes it easier to get a more even and smooth finish without brush marks. The paint also dries fast, which allows for quick project completion. You can easily apply 2-3 coats within a few hours.
Although it's not actually silver, chrome spray paint still provides a strong, durable finish. Most brands also have anti-rust properties, which help protect the underlying surface from deterioration.

The best products also protect against scratches and chips and can be used on various surfaces.
How to Choose the Best Chrome Spray Paint
There are two main factors you should look at when choosing the best chrome spray paint.
Durability
Some chrome paint delivers a vibrant coat but tends to peel off when exposed to tough conditions. This is where durability is important.
You want a chrome paint spray that won't only deliver a bright color but also provide increased hardness and durability. In this case, you should look out for features such as UV resistance, scratch resistance, chip resistance, water resistance, and so on.
Some paints include a primer, which also provides an extra layer of protection.
Primer or No Primer
Depending on the surface you're painting, applying a base primer may be required to help the paint adhere better. This can be time-consuming, albeit an important step.
To save time, some manufacturers have primer mixed into the base paint. This means you don't need to apply a separate coat of primer when using the paint.
As indicated earlier, primers also increase durability and ensure an even coating.
7 Best Chrome Spray Paint
1. Overall Best Chrome Paint Spray: KRYLON Chrome Spray Paint
When it comes to anything chrome, whether it's a spray can or some high-end spray gun, this Krylon Metallic Chrome Spray Paint beats them all. It has the most reflective and deepest finish. 
But more importantly, it's just as described – easy to use, has good coverage, and has a nice, durable, bright chrome finish. Perfect for DIY touch-up jobs or craft projects.
It's super easy to paint and achieve a nice coating. And that is because the paint goes on nicely and dries quickly. Specifically, it dries to touch in 10-15 minutes, which allows for fast coverage. However, after the last coat, you should allow it to dry for a few hours before any heavy handling.
As earlier indicated, the product is easy to use and has just sufficient quantity for small projects. For a larger area, you will need to purchase a few more bottles, as each one is only 8 oz.
It is possible to achieve a Chrome mirror-like reflective finish, though deeper in color. The trick is to spray it 6 inches away from the surface. The good news is that it doesn't run. You will need to apply 4-5 light coats for the best results.
To take care of overspray, ensure you mask any area you don't want to get paint on.
The paint adheres to most surfaces, including metal, plastic, wood, glass, paper, and wicker. On any material, you will need at least two coats to cover evenly.
According to the manufacturer, the product is meant for interior surfaces ONLY. However, we've seen it perform well outdoors with no adverse issues.
Once the paint dries, it can be extremely fragile initially, so you must avoid touching it; otherwise, it might leave permanent fingerprints. It's probably best not to use the paint for something that will be handled a lot.
We think the product is a little expensive for the size of the can. But it's excellent Krylon quality, so it's a great chrome spray paint; totally worth it!
What We Like 👍
Provides a smooth, deep, lustrous finish
Fast drying time
Very uniform spray, no blotching
Offers great coverage
Fabulous true chrome color

Excellent quality
What Could Improve 👎
A little pricey

Strong fumes
2. Best for Color Vibrancy: RUST-OLEUM Bright Coat Metallic Spray Paint  
The Rust-Oleum Stops Rust Bright Coat is a must-buy if you want something that gives a chrome look and protects from rust. It's a great way to turn old pieces, such as frames and furniture, into something new, beautiful, and usable again.
You can use it on a variety of materials where you desire a shiny metallic finish. These include metal, wrought iron, plastic, concrete, wood, and masonry. The paint provides excellent chip resistance and color retention that will keep your projects looking great over a long spell.
It goes on smoothly, looking like chrome, and when it dries, it still looks just as good. It's super shiny, which is what you would expect from a true chrome color.
We recommend spraying two or three light coats. Each coating must be allowed to completely dry before applying the next one.
If you use the aerosol correctly, you shouldn't have issues with drips or uneven coverage. Drips typically occur when you go too heavy.
Proper preparation is key to a good final finish. Clean off dirt and dust on the surface, and remove rust with steel wool. The surface should be clean and dry before painting.
Follow all the instructions on the label and go slow. The paint dries to touch in 60 minutes, so it may take a few days to complete the entire project. After the final coat, allow it to cure for at least two days.
The spray has an easy applicator that is very easy to hold and ensures even paint application. It doesn't hurt your fingers when you use it for long periods. Make sure to hold the can a couple of inches away from the surface to avoid runs.
What We Like 👍
Suitable for different materials
Comes with an easy applicator
Provides a nice, even spray
Leaves a very bright and attractive chrome finish
Doesn't fade or dull when used indoors

Great coverage
What Could Improve 👎
Reacts with most clear coats
3. Best for Versatility: RUST-OLEUM American Accents Spray Paint
The Rust-Oleum American Accents can be used on virtually any surface, not just chrome. This makes it the more convenient choice if you want something you can use for different projects and materials.
It works on metal, wood, wicker, plastic, plaster, fiberglass, and more. But it doesn't end there.
The paint also has all the qualities of premium spray paint. These include good adhesion to surfaces, superior coverage, fast-drying time, ease of use, etc.
It is available in many trendy colors and finishes, so you won't run out of options. For chrome, metallic silver seems like a perfect choice as it provides a fresh shine to the surface. If you're using it for wood or wicker furniture, we recommend the brown shade for that rich, natural wood look.
Other great options for metal and chrome include metallic gold and metallic oil-rubbed bronze. With each of these colors and sheen, the look is expensive and resembles the real thing.
In addition, the spray features an any-angle comfort tip to reduce finger fatigue caused by continuous spraying. It also allows you to reach hard-to-paint areas effortlessly.
The paint comes out smooth and evenly. The nozzle is designed to prevent sudden spurts, which can result in paint globs. Avoid spraying too close to chrome to avoid drips or runs.
The paint dries to touch in 20 minutes, which allows for quick project completion. Each aerosol is 12 oz and covers up to 20 square feet, which is quite impressive.
We recommend applying 2 to 3 light coats for good coverage, but you can apply more until you achieve the desired effect.
It's not a must that you use a primer, but we recommend using one or at least a clear coat. This will add an extra layer of durability to the paint job.
What We Like 👍
Provides long-lasting protection
Features comfort spray tip to reduce finger fatigue
Smooth, light texture )fills in tiny spaces)
It can be used for a variety of surfaces

Dries quickly
What Could Improve 👎
Not suitable for items that are constantly exposed to heat
4. Best for Mirror Effect: Spaz Stix Ultimate Mirror Chrome Aerosol Paint
Spaz Stix is one of the best chrome/mirror-style sprays you'll come across. It is a beautiful chrome for indoor use and works perfectly for smooth parts, making them very reflective.
We believe this is the perfect mirror chrome spray paint for plastic and RC car bodies. And that is because these are smooth surfaces. While the paint works for other substrates, it will require additional preparation.
The can is only 3.5 oz, which isn't much paint. So, I won't recommend this for huge projects unless you purchase more cans. The small size also makes it a bit pricey.
Having said that, the paint does exactly as described. You want to start off with a very glossy black base, then add a few light coats. You can apply several layers until you achieve the shine you want. But make sure each coat dries completely before applying the next one.
As earlier indicated, the paint is best used for smooth surfaces such as plastic and RC bodies.
If you wish to use it on wood, you will need to get it as close as glass smooth, which can be time-consuming. This is because you have to apply multiple coats and sand between them. However, for plastic, you can skip this step.
You can add a clear coat, but the paint will probably lose its luster. So, it's better not to use one. This means the Chrome paint is best used for items that can do without a clear coat, preferably those meant for indoor use.
If you want something that can withstand a clear coat, consider automotive-grade paint (for RC).
What We Like 👍
Perfect for RC bodies
Very easy to use
Sprays nicely
Dries very fast
Leaves a smooth and shiny finish

Excellent coverage and doesn't bleed
What Could Improve 👎
The fumes are intense

A little expensive
5. Best chrome spray paint for metal – Rust-Oleum Specialty Spray Paint
The Rust-Oleum Metallic Leaving Spray Paint is an excellent choice if you want to achieve a high-shine gold or silver coverage. It dries super fast and produces a beautiful metallic effect.
The product is super easy to use, and the coverage is incredible. Each 11 oz bottle covers up to 12 square feet.
There's no tacky feeling with the paint, and it covers in just one coat for most applications. But we recommend using at least 2-3 light coats for optimal protection.
The paint can also be used on wood, plastic, and glass. It is water-resistant but is meant for indoor use. Common applications are scrapbook projects, candle holders, door handles, hinges and knobs, picture frames, and other accent pieces.
There are up to four metallic hues to choose from – silver, copper, brass, and gold. The gold paint is really good and appears close to real gold. It has an incredibly even sheen – not a glossy polished look – but it's bright and bounces off light.
For chrome, the shiny silver finish is perfect. It won't give you a mirror kind of metallic finish. It's very shiny and looks like glitter, and you can see the silver flakes when spraying it.
The crazy part is that it doesn't run like normal paint, so it's very difficult to mess up. And once dried, it doesn't come off when touched, unlike some cheap glitter spray. It makes the object look new and helps to prevent future rust even when exposed to small amounts of water.
The paint dries super fast, so you don't have to wait too long between coats.
What We Like 👍
Dries quickly
Very good coverage
More forgiving on drips (thicker than regular paint)
Beautiful metallic finish

Easy to apply
What Could Improve 👎
Not the best for brass

Slightly expensive
6. Best Fireproof Chrome Spray Paint: VHT Flameproof Spray
The VHT Flameproof Spray is perfect when you have parts that get exposed to heat. It provides both color and heat-blocking properties.
Specifically, it can withstand temperatures up to 2000 degrees F. This makes it perfect for exhaust systems, headers, piston domes, converters, smokers, BBQ pits, grills, and other parts that get very hot.
The paint lays on smooth and remains in place for many years without any fading or discoloration.
To apply it, you must start off with a clean surface. All rust must be removed. Otherwise, the paint will flake.
You can use something like Windex to clean the metal or just hose it down. This will take care of dirt and grease.
For the best results, we suggest applying 4-5 light coats of VHF primer first instead of the 2 light coats and a thick coat recommended by the manufacturer. This is to avoid any run. You can do this 20 minutes apart.
Apply the color using the same method. Use 4 to 5 light coats; apply in a sweeping motion rather than just spraying hard.
Since the color is flat grey, it might look a little dull. To give it some shine, you can apply a high temp clear coat using the same method. Otherwise, you can skip this step.
The label isn't quite clear as to how long the paint job should sit before curing it. From our research, it's best to leave it for at least 24 hours or more in direct sun so the paint doesn't get too soft.
You can cure it at 200 degrees heat. This means if you're using it on a vehicle part, you will need to put it back, then drive and brake repeatedly. For other parts, you can use an oven or something similar.
Failure to cure the paint properly could lead to a poor finish and adhesion. This could cause it to rub off within a few days.
Besides the flat grey color, which works for chrome, you can also select other hues for different applications. For instance, the orange is great for flagging catalytic converters as having been marked, which helps to prevent theft.
Each color adheres well and looks really close to the original factory color.
Overall, if you have any surface that is constantly exposed to extremely high temperatures, you can use this spray to renew and extend its lifespan. It's arguably the best heat paint made in the US.
Make sure to remove any factory paint before applying the paint.
What We Like 👍
The paint smell goes away after sometimes
Adheres very well
The finish gets better over time as the paint "cooks"
Coverage is great
Easy to apply
Lays down very well without runs

Holds up to very high heat
What Could Improve 👎
A little pricey

Flat finish, not glossy
7. Best Chrome Spray Paint for Plastic: Krylon K02700007 Fusion All-In-One Spray Paint
Krylon Fusion is another high-quality spray paint that works for virtually any surface. These include difficult ones like plastic and chrome. It creates a strong bond on these materials without any need for sanding or priming. Of course, we always recommend using a primer when painting chrome.
The paint dries to touch in 15 minutes or less, depending on the condition of the weather. Each 12 oz bottle can cover up to 25 square feet, which is quite a lot.
Interestingly, the product includes a primer and a sealant. This is why it's called an all-in-one solution. So, you don't need to apply a separate coat of primer or sealant, which saves you a lot of prep time.
Also, sanding may not be required depending on the texture of the surface.
As earlier indicated, you can use the product on different materials, including wood, plastic, fiberglass, metal, Chrome, PVC, and even tile. When used on chrome and metal surfaces, it also provides rust protection, making it ideal for items that are used outdoors.
The paint is available in various colors and finishes. Of course, you would want a metallic finish for chrome. We recommend metallic rose gold for a sophisticated, modern look. Of course, you can also choose other trendy colors and finishes.
The spray also features a wide tip for comfort, which also allows you to spray at any angle, even upside down.
The paint is oil-based, so it has a strong smell. So, it's best to use it outdoors, where there's a lot of ventilation. You should also keep a suitable solvent for cleanup.
Overall, we are satisfied with the quality of the spray and highly recommend it if you want something for chrome and other applications. It offers rust protection and is suitable for interior and exterior use.
What We Like 👍
Easy to use
Convenient spray tip works in all direction
No special preparation required
Bonds well to materials
Dries very quickly

No runs or drip
What Could Improve 👎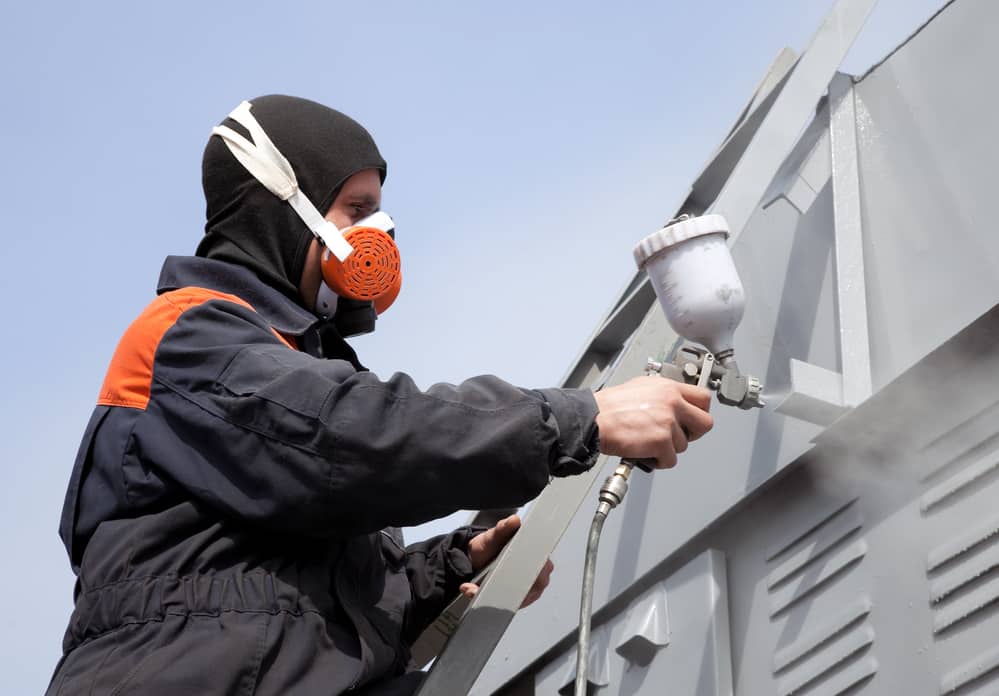 How to Spray Paint Chrome
Prep the Surface
Before you start applying paint to the surface, you want to ensure it's clean and dry. Dirt, dust, and oil can alter the adhesiveness of the paint.
Depending on the material, you can scrub it down with soapy water. For metals, you may want to clean first with a towel soaked in denatured alcohol before washing the area with warm soapy water.
Once you're done cleaning the surface, allow it to dry. Then move to the next step.
Priming
Next, you want to apply a primer. This is extremely important and should not be skipped unless you're using paint that includes a primer.
A primer creates a smooth surface for the paint and also improves adhesion.
Apply one or two coats of primer following the instructions on the label. Make sure each coat dries completely.
For Chrome paint, you may want to use a black primer in order to get a bright, reflective finish.
Apply Paint
If you didn't use a black primer, it might be a good idea to apply a black base coat before the main paint. Just one layer should be enough; leave it to dry for 24 hours. This step is completely optional and depends on the paint you're using.
In most cases, you can just go ahead and apply the paint once the primer dries. Apply at least 2/3 light coats following the manufacturer's recommendations. Ensure each coat dries completely before adding the next one.
You can apply a clear coat to seal everything, but this is completely optional.
What Is The Best Primer for Chrome Spray Paint?
The best primer for chrome paint depends on the paint you're using and the material. You want to use a primer that is compatible with the paint and specific to the item you're painting.
For instance, two-part epoxy primers or zinc-rich primers are great for metal as they provide the best level of adhesion while resisting corrosion.
On the other hand, if you're painting plastic, you may want to choose a plastic-specific primer. This could be latex or oil-based primer, depending on the spray paint. Some chrome spray paint doesn't even require a separate coat of primer as they include built-in primer.
In general, to achieve a chrome appearance that is shiny and reflective, you will need a dark base coat. So, it makes sense to use a black primer.
Ideally, the primer should be rust- and water-resistant depending on where you plan to use it.
To avoid compatibility issues, it's a good idea to buy the same primer and spray paint brand.
Ensure you apply the primer according to the instructions on the label for best results.
How Can we Protect the Chrome Surface from Rusting?
The best way to protect the chrome from rust is to keep it away from moisture. But that is not always possible.
Sometimes, environmental degradation is unavoidable, especially if the item is used outdoors. In this case, you can use good-quality rust-preventive spray paint to remove and prevent future rust.
If the item is already painted and you just want to add an extra layer of protection, you can apply a coat of chrome wax or polish. This will create a barrier between moisture and the surface underneath. At the same time, it will also give the surface an extra shine.
Tips for Using Chrome Spray Paint
Choose a well-ventilated space to work. It shouldn't be too humid, hot, or cold
For the best results, read and follow the instructions on the level, especially with regard to recoat windows and curing time.
Wear a mask or respirator to protect your gloves. Also, a good overall and gloves would be great.
Unless you're using a product that includes a primer, always apply a primer before using the chrome spray paint.

Hold the can 6 to 12 inches from the target surface. Spraying too close can cause drips while spraying too far will lead to much overspray. Spray back and forth in a sweeping motion.
FAQs – Best Spray Paint for Chrome
Can You Restore Chrome?
Yes, you can restore chrome as long as you follow the right steps. This usually involves good surface preparation followed by layers of primer and paint. Depending on the material, you may need to add a clear coat for extra protection.
How Long Does Chrome Spray Last?
The longevity of chrome spray paint depends on the particular brand, surface preparation, and whether or not you use it for the intended surface. Generally, you can expect at least a year of flawless coverage. It's usually more!
How Many Coats of Chrome Spray Paint Do You Need to Use?
It depends on the material and surface texture. Some projects might require just one layer of paint, while others require up to four to cover the surface evenly. In general, we recommend applying at least 2 to 3 coats for the best results, but you can apply as many as you see fit. Always allow each layer to dry completely before applying the next one.
Can You Use Chrome Spray Paint on Exhaust?
You can use chrome spray paint on exhaust as long as it's high-heat paint. General chrome paint can melt or peel off when applied to exhaust pipes because it's not intended for such high temperatures. So, make sure you choose something that is heat resistant.
Can You Add a Clear Coat Over Chrome Paint?
Yes, you can. Adding a clear coat over chrome paint is a great way to seal off the paint and protect it from the elements. This step is highly recommended if you're using the object outdoors. Besides providing protection, a clear coat can also increase the shine of the chrome paint, making it more attractive.
Content Summary: Best Chrome Spray Paint
There you have it – the best chrome spray paint reviews for 2023. Hopefully, you now have all the information you need to find a suitable paint for your project.
All the products reviewed here not only create a chrome effect but also protect the surface. They also offer the best combo of quality and price.
For the best results, follow the instructions on the label to apply the paint. Use light coats rather than heavy ones, and where a primer is needed, apply one.