Spray painting fiberglass is a good way to give your surface or object a great new look.
However, with so many products on the market, finding the best spray paint to use on your fiberglass can sometimes be time-consuming.
Luckily, you do not have to worry about it anymore!
This article will outline the 5 best spray paint for fiberglass (that I have tried and tested), a quick guide on how to paint fiberglass, and everything in between.
Can you spray paint fiberglass?
Yes, you can spray paint fiberglass. Since not all spray paints are a good option when painting fiberglass surfaces, you must pick a spray paint that will adhere to the surfaces well. Also, proper cleaning, prepping, sanding, and application are essential if you want to have a great finish.
Guide to Choosing the Best Fiberglass Spray Paint
As specified above, choosing the best spray paint is essential. So, how do you select the correct spray paint for your fiberglass spray painting project?
Well, here is a quick guide on the most important consideration to keep in mind:
1. Aesthetic Finish
Along with adding a protective layer to your fiberglass, painting can be a good way to give the surface or object a great look.
However, different finishes are available for every spray paint you can use. You can give the fiberglass a satin, glossy, clear, metallic, matte, or any other finish you like.
Ensure you also pick a color you will love – so you do not have to repaint the surface after you finish painting and end up not liking the final result.
2. Non-slip Protection
While this might not be a big issue for some surfaces, it can be a huge factor to consider for some. Examples may include home items handled a lot or boat and home surfaces.
Typically, if you are painting a fiberglass surface that will be handled or stepped on a lot, then it is better to use spray paint with non-slip protection.
3. Type of Spray Paint
This factor should be considered carefully because it can affect different aspects of your paint job and the entire process.
First, consider the use and where the surface will be located. If it is indoors, outdoors, etc., select a spray paint that caters to that.
Different fiberglass surfaces will require different types of spray paints.
For example, if you want to spray paint fiberglass decorative pieces that will be indoors and not handled a lot, an acrylic-latex or a basic acrylic spray paint may be enough.
On the other hand, if you want to spray a fiberglass bathtub, then polyurethane or epoxy spray paint will be better.
And, if it is a boat, go for commercial-grade marine spray paint that can stand the elements.
Generally, your type of fiberglass surface and how it will be used will determine the type of paint you should get.
4. Potential Health Hazards
This is one of the most overlooked things when looking for the best spray paint for fiberglass.
Different spray paints have varying levels of volatile organic compounds (VOCs) in their mixtures.
Water-based or acrylic latex paints have fewer VOCs than solvent or oil-based paint. These compounds are harmful to both your health and the environment.
Therefore, choose a paint that meets all your requirements and has fewer harmful compounds whenever possible.
5. Coverage
You would think that all spray paints have the same coverage. While this might be a general assumption, it is not always true.
The main difference here will be because of the viscosity of the paint. Typically, less viscous paints will cover more square feet, thus reducing the total cost of paint used.
As a general rule of thumb, I go for 16-ounce paints that cover circa 30 Sq. Ft., or 4.5-ounce and 11-12-ounce paint that covers approximately 6 sq. Ft. and 20 Sq. Ft, respectively.
These paints usually have the recommended viscosity to spray paint fiberglass surfaces and have great coverage.
6. Type of Your Fiberglass Surface
Unbeknownst to any DIYers, there are different types of fiberglass – I was in the same boat until I checked it out.
Fiberglass is categorized into different classes. There are more than 17 classes of fiberglass surfaces.
Take note of the fiberglass class of your surface and ensure you pick a paint that will stick properly to the surface.
The 5 Best Spray Paint for Fiberglass – Our Top Recommendations
1. Rustoleum Universal Spray Paint – Best Overall Spray Paint for Fiberglass
There are very few spray paints that give an excellent finish, no matter the surface they are used on.
Rustoleum Universal Spray Paint is one all-rounder paint that does this and stands out from the rest. It can be used on various surfaces, including fiberglass.
It comes in 11- and 12-ounce cans. Best of all, it is a 2-in-1 spray paint, i.e., paint and paint.
Like most Rustoleum spray paint, one thing that quickly stands out about this product is the eye-catching textures.
The matte finish variant is excellent if you love a velvet finish. It gives your surface a finish that pops and is nice to look at but not too glossy.
On the other hand, the hammered finish can be a great option to give your fiberglass surface that unique "hammered" finish to complement other surfaces or objects around it that have a flat color.
The spray paint also offers other types of finishes apart from the two mentioned above, in addition to different color variants of each.
This makes the product perfect for different fiberglass spray-painting colors and finish requirements.
Since Rustoleum Universal Spray Paint has an oil-based formula, it can be used on most exterior and interior fiberglass surfaces.
We all know that cracking, peeling, and chipping can be issues, especially when painting fiberglass surfaces.
However, this is something I have never had to worry about when using this spray paint because it offers excellent adhesion power and is durable.
With an excellent ergonomic design that makes holding the spray can comfortable. Using Rustoleum Universal Spray Paint makes spray painting your fiberglass easy and less time-consuming.
What We Liked 👍
Easy to use and good triggers.
Time-saving 2-in-1 formula.
It can be used for various spray-painting projects.
Great textures and finishes.
Ergonomic design allows full control during spraying.
Excellent adhesion power.
What Could Improve 👎
The spray paint may not have the exact color displayed on the cap.
2. Krylon Fusion All-In-One Aerosol Paint – Best Satin Finish Spray Paint for Fiberglass
This is the product for you if you want the best clear satin finish that perfectly balances a matte and glossy finish!
Krylon Fusion All-in-one is an excellent option for individuals looking to give their fiberglass surface a decent satin texture.
It is an excellent option if you are looking for a decent texture on a fiberglass surface.
The spray paint comes in 12-ounce cans and is available in various color options. Due to this, there is a good selection of color variants to match your finishing needs.
One thing that stands out is that this high-quality spray paint has good adhesion power and does not require priming or sanding before application.
However, I recommend sanding and priming to ensure the best possible outcome for your DIY fiberglass painting project.
Unlike other spray paint on the market, this clear satin finish spray paint does not leave any yellowing spots when used on fiberglass.
Krylon Fusion All-In-One Aerosol Paint can be a good option when spray painting outdoor and indoor fiberglass surfaces.
The quick dry feature of the paint makes it a good choice for DIY projects since you will not have to wait long between coats.
The paint dries to the touch in just 20 minutes or less without drips or running. A single spray can cover circa 25 Sq. Ft.
The Krylon spray paint also features an easy-to-push and big spray tip button, making it easy to paint at any angle comfortably.
What We Liked 👍
Offers one of the best clear satin finishes for fiberglass.
It can be used for different DIY projects.
No fading and yellowing.
Quick drying formula.
Sanding and priming are optional.
Ergonomically design.
What Could Improve 👎
2. Rustoleum Marine Wood and Fiberglass Primer
This product is a good way to prime and prep your fiberglass before painting. It makes the paint you will use adhere well to the surface and reduces the chances of peeling.
One thing to note right away is that Rustoleum Marine Wood and Fiberglass Primer does not come in an aerosol can. You have to mix it and use a sprayer to apply it.
However, the product is superior to most other primers used on fiberglass surfaces exposed to water.
Remember, this is not for surfaces that will be completely submerged in water all the time.
This enamel spray paint gives a matte finish and comes in a 32-ounce container.
Priming is a great way to ensure your paint job lasts longer, and this primer is the best you can find to prime your fiberglass surface.
It helps topcoats adhere well to the surface, improving the durability of the paint. It also improves the appearance and gloss of the topcoat.
The primer dries to the touch in about 1 hour and can be used on various previously painted and new surfaces.
It can also paint aged, checked, rough, cracked, and pitted surfaces.
A single container can cover approximately 100 sq. Ft. of fiberglass surface.
What We Liked 👍
It can be useful for various surfaces, including fiberglass and wood.
It can be used on new as well as previously painted surfaces.
Improves the appearance of your finish.
Helps the topcoat adhere well to the surface.
It can be used with a spray gun, brush, or roller.
What Could Improve 👎
Takes a little bit longer to dry to the touch.
3. Yamaha Marine Spray Paint – Best Outdoor Spray Paint for Fiberglass Surfaces
This fiberglass boat spray paint works wonders when used on outdoor fiberglass surfaces and has excellent durability against the elements.
Yamaha Marine Spray Paint can be used on different outdoor surfaces, including fiberglass.
This waterproof fiberglass paint spray paint comes in a 12-ounce can and can give your outdoor surface or object a nice enamel finish that makes them stand out.
It is a commercial-grade marine paint that can withstand the elements, making the paint job on fiberglass more resilient against the elements.
As expected, the paint has superior adhesion power, which helps reduce cracking and peeling even after being exposed to the elements for a long time.
Yamaha's spray paint can be used for different purposes, including touch-ups and full overcoats.
This durable enamel coating spray paint comes in a matte finish. This makes it a good choice for outdoor surfaces and helps limit the light bounce.
Due to this, you and others will be able to look at the fiberglass and enjoy your handy work without getting your cornea seared off.
What We Liked 👍
Waterproof spray paint.
Excellent for outdoor use.
No dulling, chipping, or flaking.
Great matte finish.
Very durable.
What Could Improve 👎
It cannot be used with a lacquer-based primer.
4. VHT Epoxy Spray Paint – Best All-Weather Epoxy Spray Paint for Fiberglass
VHT Epoxy spray paint is a durable all-weather paint used to paint indoor and outdoor fiberglass surfaces.
VHT Epoxy Spray Paint can be used on various surfaces, including metal, ceramic, and fiberglass. The paint has a gloss finish and comes in 11-ounce cans.
The paint is self-priming and, as such, does not require that you apply any primer before spraying it. However, I recommend cleaning and prepping the fiberglass for the best possible results.
Unlike some paints, VHT spray paint is easy to spread evenly across fiberglass and has amazing adhesion power.
Due to this, the paint job is more durable and does not crack or peel. Furthermore, the baked-on finish of the paint makes your surface stand out.
The paint is also resistant to different elements, including weather, water, and other chemicals.
With a quick drying time of 10 minutes and excellent coverage, the spray paint is a good option for many DIY painting projects.
What We Liked 👍
Resistant to water, chemical, and weather elements.
It can be used on many materials.
Excellent for outdoor fiberglass surfaces.
Great baked-on finish.
Easy to apply uniformly.
What Could Improve 👎
Has specific temperature and humidity requirements when applying.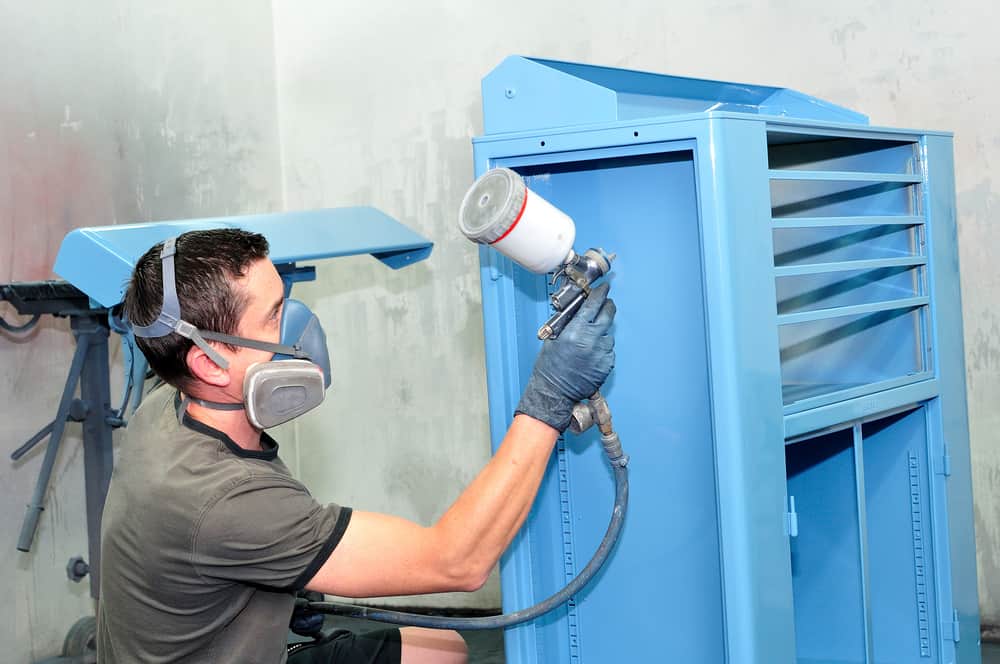 How to Remove Old Paint from Fiberglass Before Painting
There are various ways you can remove old paint from a fiberglass surface.
The first is by using a paint remover or stripper. Apply the remover solution on a microfiber towel and wipe away the paint.
Another way is by abrading or sanding. Most of the time, these two methods will be used in combination.
You can initially use an abrading tool or abrasive pad to get most of the old paint job out of the way. Next, use high-grit sandpaper to remove any remaining paint and rough the surface.
Quick Guide on How to Paint Fiberglass
Just as is the case with painting other surfaces, there are steps you can follow to help make spray painting fiberglass easier and have good final results.
Below I have outlined a step-by-step, actionable guide you can follow to ensure you have great results with your paint job.
Step 1: Cleaning
No matter the type of surfaces you want to spray paint, including fiberglass, cleaning is essential.
You cannot just start priming and painting without proper cleaning and prep work because the paint will not stick well.
Luckily, this process is not complicated; you only need soap and water. You can use a tack cloth or piece of sponge and soapy water to clean the fiberglass surface.
After cleaning the surface thoroughly, let it air dry, and you will be ready for the next step.
Step 2: Prepping
So, you are ready to start working on your fiberglass surface, but you cannot just do it anywhere.
Here, you have to prep the workspace so that the work area is well-ventilated and all materials and supplies are well-organized to streamline the painting process.
Put on your protective equipment and make sure that it is working properly.
Once you finish all the cleaning and prep work, we are ready to start working on the fiberglass surface.
Step 3: Sanding
A great thing about fiberglass is that it has a gel coat finish. While this serves as a guide coat and provides a layer of protection for the surface, spray paint will not adhere properly to it.
Due to this, sanding is a good way to rough up the gel coat, making it possible for your primer and paint to stick to the surface and avoid any peeling or cracking issues.
Some spray paints can be sprayed on surfaces without sanding. However, even with these paints, you will get a better finished and professional look if you take the time to sand your surface or object.
When sanding, I recommend that you start with 200-grit sandpaper. A hand sander or just using the paper directly is okay.
Remember not to put too much force the pressing the sander against the fiberglass surface. Use enough force to rough up the surface so the primer has a tooth to stick.
Additionally, do not sand in a circular motion. It is best to use a uniform back-and-forth motion for the entire surface.
Use the same process but with higher-grit sandpaper, preferably 400-grit paper.
Once all the sanding is done, you wipe and dust off any particles and dirt from the sanding process. You also use a blow or vacuum if the surface is large.
Step 4: Priming
Now let's get to the fun stuff. Start by shaking the primer can for a minute or two so the paint is uniform.
Spray a thin coat of primer across the entire surface of the fiberglass. Wait for the coat to dry; if needed, apply a second coat of primer.
Spraying a high-quality primer on the surface before painting would ensure you get a smoother finish that looks amazing and lasts longer.
Let the primer dry completely before you move to the next step.
Pro Tip: If you want your paint to adhere well to the surface, you may also consider letting the primer cure before painting – for most spray paints, this might take several hours to a day. However, it is not necessary if you do not have the time. You can start spray painting after a few hours of applying the primer.
You can skip this step when using a 2-in-1 (primer plus paint) or self-priming spray paint.
Additionally, ensure that you spray enough of the primer so that your paint will stick properly and also so that you use a lesser amount of paint.
Step 5: Painting
Again, just as with the primer, start by shaking the spray paint can. You can then remove the outer paint cap, hold the can 8-10 inches from your fiber surface, and spray.
When spray painting, ensure that you spray in a sweeping motion from one end of the surface to the other.
Also, spray intermittently so you do not overspray and have drips and runs on your fiberglass surface.
As always, use thin coats of paint. It is better to use 2 or 3 thin coats than thick coats because they dry faster. It also limits the chances of drips and runs and makes it easier to spread an even coat across the surface.
Ensure that you let each coat of paint dry completely before adding the next one. Once all the painting is done, give the surface enough to dry properly and cure before using it – which normally takes 2-3 days.
FAQs – Best Spray Paint for Fiberglass
Which is the Best Way to Paint Fiberglass?
The best way to paint fiberglass is by using a sprayer or spray paint cans. Spray painting is cost-effective, faster, and easier than conventional painting methods. Also, spray paints will give you a better and more professional-looking finish on your fiberglass paint job.
Can I Use Acrylic Paint to Paint Fiberglass?
Yes, acrylic paint can be used on fiberglass surfaces. It can especially be used on surfaces that are indoors and indoor fiberglass objects that are not handled or used a lot. It is also important to note that these paints are inexpensive and less harmful than solvent-based paints.
What Spray Paint Would You Recommend for Someone Painting a Fiberglass Boat?
Using commercial-grade marine spray paint when spray painting a fiberglass boat would be best. These paints are designed to be waterproof and can handle the rigors of the fiberglass boats while being in the water and other weather elements. A good example is the Yamaha Marine Spray Paint discussed in this post.
How Can I Prepare My Fiberglass For Painting?
The first step is to clean the fiberglass surface thoroughly and let it dry before using appropriate sandpaper to sand it. Next, apply 1 to 2 coats (as needed) of primer and let it dry before you start spray painting.
Should I Sand Before Spray Painting Fiberglass?
Yes, it would be best if you sand before you spray paint fiberglass. Even spray paint manufacturers state can be used without sanding and will produce much better finishes if you sand than if you do not. Sanding helps dull the gelcoat of the fiberglass and gives it enough tooth, so primer and paint can stick to it properly.
Content Summary – Best Paint for Fiberglass
Contrary to what people might think, painting fiberglass does not need to be hard, especially if you know what to do and you have the right paint.
Different spray paints are available on the market, and choosing the best for your surface can make a difference in your paint job.
Rustoleum Universal Spray Paint is the best spray paint for most indoor and outdoor fiberglass projects. It has excellent adhesion power and provides good coverage and value for money.
If you are in the market for a more durable spray paint for outdoor fiberglass surfaces is Yamaha's Marine Spray Paint.
Alternatively, if you are looking for all-weather spray paint for indoor and outdoor projects, you can never go wrong with VHT Epoxy Paint.
No matter the paint you go for, remember that proper cleaning, prepping, sanding, and application are essential to getting a great finish when you spray paint fiberglass.