Laminate pieces look sleek and modern on their own. But you may consider upcycling them after some time to make them look more attractive.
Is spray painting a good way to revamp a laminate surface? Can you spray paint laminate furniture? I often get to answer these questions in painters and DIYer's discussion forums.
The quick answer is yes, spray painting works on laminate surfaces. However, since laminate is relatively glossy, it's usually difficult to get any paint to stick to it.
This guide will help you learn about the potential issues you could encounter when spray painting laminate and how to get around them and achieve professional results.
Can You Spray Paint Laminate Furniture
Yes, you can spray paint laminate furniture as long as you use a primer. Spray paint ordinarily doesn't adhere well to laminate because of the glossy surface. The right primer will bond to laminate and create a base for the paint to stick.
What Is a Laminate Funiture?
Also known as "fake wood," laminate furniture is made up of synthetic materials used to create a thin layer that looks like wood. This is done by layering and bonding several heavy-duty paper and melamine or nonwood fiber materials.
Since they are not actually made from wood, laminate pieces often look a little fake. The laminate layer gets its wood grain appearance through a printed process. It is then attached on top of an MDF (medium-density fiber) material or particulate board.
Laminate pieces typically have a shiny finish and are often used as a replacement for real hardwood furniture, cabinets, and floors.
The main advantage of laminate cabinets or furniture is that they're less expensive than their solid wood counterparts, easy to clean, and require little to no maintenance.
How to Know if my Furniture is Laminate or Veneer?
Veneer is often referred to as "laminate," but there are two different materials. Both laminate and veneer belong to the realm of fake wood furniture and are made of synthetic materials. The main difference can be seen in the top layer.
Veneer furniture has a very thin top layer made of real wood. This top layer is bonded to less expensive material, such as MDF, particleboard, or some other synthetic material.
So even though the entire furniture is not made of real hardwood, it looks nearly so from the outside.
On the other hand, with laminate, the top layer (and decorative wood grain) results from a printing process. You can call it a high-quality "sticker."
So, while veneer and laminate furniture have naturally looking wood grain, only veneer has real wood present. This makes it easier to sand and stain veneer furniture.
Will Spray Paint Stick to Laminate Furniture?
If you paint directly on laminate, the paint will scratch off before long. This is because laminate has a smooth, glossy surface, which makes it difficult for paint to stick.
The only way to refinish laminate or get spray paint to stick to it is to use a proper primer first. A good primer will bond to laminate easily and provide a base for your paint to adhere to.
What Kind of Spray Paint Do You Use on Laminate?
You can use latex paint, acrylic, chalk paint, and oil-based spray paint on laminate. Latex and acrylic are safer to use and are perfect for indoor applications since they give off less fumes and odor. 
On the other hand, oil-based spray paints offer more durability. But they usually contain more VOCs (volatile organic compounds) than latex and acrylic paint, so you should use them with care. Ideally, you want to use them outside or in a craft room with a lot of ventilation.
Luckily, the oil paints mentioned here are low odor and safe to use on laminate.
How to Spray Paint Laminated Furniture?
What You Need:
Warm soapy water or a good degreaser
Drop cloth
150-grit sandpaper
Primer (spray or brush-on)

Tack cloth
Follow the steps below to spray paint your laminate furniture.
Clean the Surface
Dirt and oil make it difficult for paint to stick to laminate and can cause chipping or uneven coats of paint. So, before painting laminate cabinets or furniture, be sure clean the surface.
You can use warm soapy water or a good cleaner degreaser (for more difficult stains). Be careful not to use too much water so it doesn't sip through and damage the composite underneath.
After cleaning, allow the surface to completely dry before moving on to the next step.
Sand the Surface
Sanding is optional, especially if you're using a primer. But we still recommend it. Doing this will add a little texture to the surface and remove the shine. This will make it easier for the paint and primer to stick and prevent peeling.
Also, if there's any stains or flaws on the surface, sanding will help remove it so it doesn't show through the new color.
Use 150-grit sandpaper and sand gently in a circular motion. Don't apply too much force, or you will end up sanding off the surface of the material underneath.
When done, wipe off the sanding dust with a tack cloth or dust spray.
Apply Primer
Using a primer is necessary when painting furniture (made of laminate), whether you've sanded the furniture or not. However, the primer will stick better if you've sanded the furniture. If you skip this step, the paint will result in paint failure since laminate is ordinarily slippery.
Choose a primer that is specifically designed for laminate furniture. You can either use a brush-on primer or spray primer. Follow the instructions on the product label to apply the primer.
One coat of primer is usually enough, but you can apply two. We find it best to wait two hours between coats depending on the primer type. Sand lightly between coats if the finish doesn't feel smooth. It may help to take the laminate piece apart, if possible, to get better coverage.
Allow the primer to dry completely before spraying it with paint.
The Paint Job
Once the primer dries, you can go ahead and apply your desired spray paint color. Regular spray paint is ideal, but you can also use a paint sprayer if the furniture or surface is extensive. It's better to apply several light coats rather than one heavy coat.
Hold the spray about 12 inches (or the recommended distance) from the surface and apply in even strokes. It may help to do a few test strips on cardboard or newspaper to ensure the nozzle is working properly before moving on to the main project.
To prevent runs and clumps, allow each coat to dry completely before adding a new one.
After the final coat, allow the painted laminate furniture to dry completely before use. This can take a few days, depending on the brand.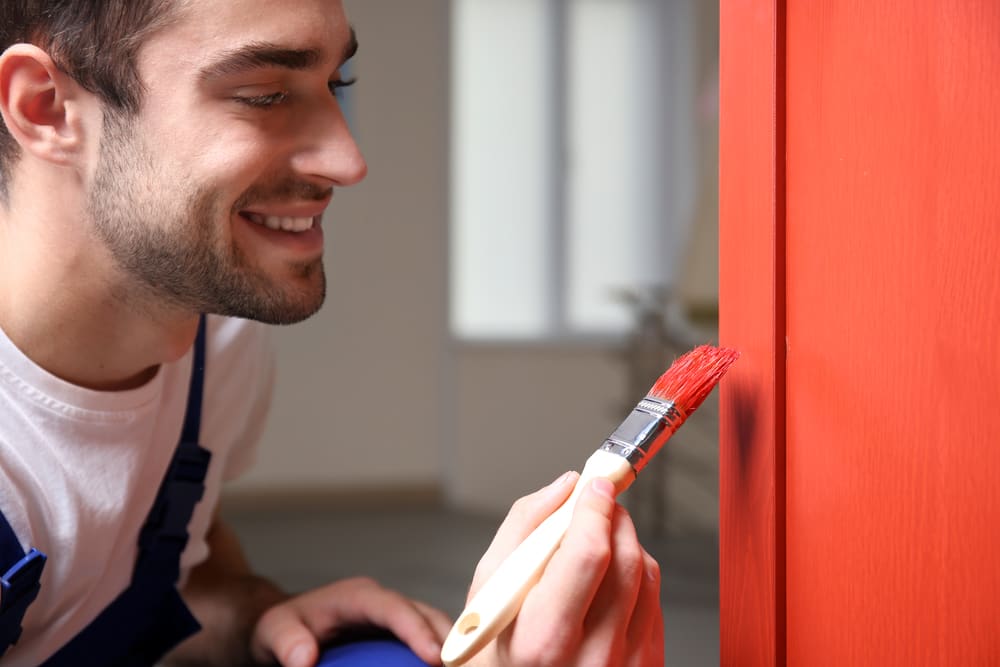 3 Best Spray Paint for Laminate Furniture
1. Krylon Fusion All-In-One Spray Paint
The Krylon Fusion is an all-in-one spray paint that comes with primer and sealant built-in. This means there's no need to apply a separate coat of primer or sealant. It is designed to bond to different materials, including laminate, PVC, tile, plastic, and even metal.
It goes on smoothly and delivers a modern, sleek finish while providing protection from moisture and rust.
The spray can is outfitted with an easy push, big button spray tip that sprays comfortably in all directions without any runs or clogs.
The paint dries to the touch in under 20 minutes. If you're using multiple coats, apply the next coat within the first two hours; otherwise, wait for 48 hours. We recommend 2-3 coats for laminate pieces.
The paint is oil-based, so it comes with a strong smell, so it's best you work outside or somewhere with a lot of ventilation. Temperature should be 55-75 degrees, while humidity should be below 60 degrees.
For cleanup, use lacquer thinner or a similar solvent.
Each aerosol can is 12 ounces and can cover up to 25 square feet.
What We Liked 👍
No dripping or running
Available in a wide range of colors and finishes
Comfort spray tip to reduce finger fatigue
Suitable for a wide range of materials
What Could Improve 👎
2. Rust-Oleum Painter's Touch
The Rust-Oleum Painter's Touch is an excellent choice for restoring or recoloring laminate furniture without leaving a paint line. It offers excellent hide and adhesion and can be used on a wide range of surfaces, including wood, plastic, masonry, plaster, and metal.
The paint is available in many popular colors and sheens, ranging from flat to gloss. Choose flat or matte if you want to hide any flaws on the surface; otherwise, a glossy finish will make your laminate stand out.
The oil base ensures the paint job is permanent once dry and doesn't wash off easily. This makes it suitable for both interior and exterior surfaces.
The coverage isn't that great, but it makes up for this with its fast application speed. This is possible because of the Double Cover Technology, which allows you to cover more areas in less time without compromising on quality. Each 12-ounce can cover up to 12 square feet.
Even though the paint is oil-based, the odor is not too strong, and it dries to the touch in 20 minutes. We still recommend wearing a mask to protect your lungs.
Always shake the can at the beginning of each project and often while spraying. This will keep the content perfectly mixed and ensure you get an even finish. Keep the can 10 to 16 inches from the surface.
After the final coat, wait at least 48 hours for the paint to fully cure before using the laminate piece.
What We Liked 👍
Provides long-lasting protection
Comfortable spray tip and any angle spray
Fast drying formula
Suitable for interior and exterior surfaces
Low-odor and resistant to chipping

Easy to use
What Could Improve 👎
Can break when dropped (handle carefully)

A bit pricey
Krylon COLORmaxx delivers a crystal-clear gloss finish on laminate. It's an acrylic-based formula, so it's safer to use compared to the previous options. It works for a wide variety of surfaces and can be used both indoors and outdoors.
Besides the crystal-clear finish, you can choose from other color options and styles. Like the Rust-Oleum products, the paint comes with primer built-in, so you can skip that step.
The gloss finish is particularly useful when you want to increase the shine of your laminate furniture. There are other options, like matte and flat, which are perfect for hiding imperfections.
Drying takes only 20 minutes, but you should wait up to an hour or more before handling the piece. It's best to spray outside when the temperature is moderate (55-75 degrees), and there's very little wind.
To reduce drying time and prevent spray paint drips, use multiple light coats instead of one heavy coat. Recoat should be done within 4 hours or after 24 hours.
We found the product very thin, especially for a paint/primer. So it typically takes multiple coats to get good coverage. Also, the more coats you apply, the more longevity you get. So, you want to apply several coats, especially for items that will be used outside.
The paint also has an easy push, big button spray tip to reduce finger fatigue and enable you to spray in any direction. Each aerosol can is 11 ounces and can cover up to 15-20 square feet.
What We Liked 👍
Easy to use
Doesn't require a primer
Can be used on different materials
Fast drying
Available in different colors and finishes

Provides decent coverage
What Could Improve 👎
Very thin (dripping can occur)

Smelly
How Many Coats of Spray Paint on Laminate Furniture?
We recommend 2-3 light coats of paint. You can apply more, depending on the color and consistency, but it's better to use multiple light coats than a single heavy one.
Applying the paint too thickly causes it to drip, and it will take a longer time to dry. In worse cases, it will crack as it dries.
On the other hand, if you use light coats, the solvent will evaporate quickly, causing the paint to dry faster. In some cases, you will be able to apply another coat in a few minutes, say 5-30 minutes depending on the paint type and climate. This means that, overall, you will spend less time on the project with no drips or cracks.
Make sure you allow each coat to dry completely before applying another. For the best results, wait overnight or one day in between coats.
How to Choose the Best Spray Paint for Laminate Furniture
There are three main things to look at when choosing spray paint for your laminate furniture – coverage, color, and durability.
You want to get something with a high coverage rate and durability. This will ensure you save money and time in the long run.
In addition, you want to choose a color that will meet your needs. You may have something specific in mind or want to change the color of the furniture. Either way, you will find something that matches your description, whether it's a light or dark shade.
All the products reviewed are available in a wide range of colors, so you won't run out of options.
It may also help you check the company's return policy. It is not uncommon to get products with broken parts or a different color from what you choose. This is more common when you're making purchases online.
FAQs – Can You Spray Paint Laminate Furniture?
Will Spray Paint Stick to Laminated Wood?
Laminate wood has a somewhat glossy look, so it's difficult to paint without sanding down the surface. So, if you want spray paint to stick to it, you have to sand it down or/and apply primer.
Can You Use Rustoleum Spray Paint on Laminate?
Yes, you can. Rust-Oleum is great for laminate furniture and offers excellent coverage and durability. For the best results, prime the surface before using the paint and apply multiple light coats instead of one heavy coat.
Do I Need to Seal Laminate Furniture?
You don't need to seal laminate furniture as long as you use primer and thin layers of paint. However, sealing it will provide an extra layer of protection and extend the lifespan of your paint job. It's best to use a clear sealant whenever possible. Colored sealants, especially white, may turn yellow over time.
Can You Spray Paint IKEA Laminate Furniture?
Yes, you can. Spray painting IKEA furniture is a great way to upgrade the look and ensure it last for many years without flaking, peeling, or chipping. Be sure to follow the proper steps and use the right paint, like the ones we mentioned above.
Can You Spray Paint Laminate Countertops?
Yes, laminate countertops are a type of laminate furniture, so you can spray paint them. You don't need to remove the top layer; all you need is the right paint and proper preparation. Ideally, the surface should be clean and primed before painting. Acrylic paint is often preferred for this kind of project.
Content Summary – Spray Painting Laminate Furniture
Finally, spray painting laminate furniture is a nice way to give it a new life. It is quick and easy to do and will save you a ton of money instead of purchasing new furniture.
Follow our guide above to achieve professional results you will be proud of.
You can choose from any of the recommended paints above. They all offer great coverage and are cost-effective and easy to use. So, expect to get the best value for your money.
Let us know if you have any more questions about spray painting laminate furniture, and we will do our best to reply.