It is totally acceptable for parents/guardians to be skeptical on whether spray paint is safe for their little ones. During the oral growth and teething stages, infants put all kinds of objects in their mouths, and it's your responsibility to ensure they don't ingest harmful contents.
The toxins can be in the paint on toys, baby cribs, baby room walls, or baby furniture. For future parents awaiting their bundle of joy and those already nurturing theirs, it is important to use the safest possible spray paint on anything the babies will come into contact with in the nursery.
In this article, I will discuss the best spray paints safe for babies, how to choose baby-safe spray paint, and the potential effects of spray paint on babies. Keep reading to learn more.
Is Spray Paint Safe For Babies? 
Yes. However, you should know that not all spray paints are manufactured equally. Baby safe spray paints are non-toxic and contain low or zero volatile organic compounds (VOCs). As the spray paint dries at room temperature, it evaporates and releases VOCs into the air. When harmful chemicals are inhaled, they can cause headaches, nausea, respiratory disorders, and other health issues, especially in babies.
Is Krylon Spray Paint Safe For Babies? 
Krylon is a popular brand of spray paint available in various color schemes and finishes. Krylon water based paints are not safe for babies. Water-based Krylon spray paints contain fewer VOCs and are considered less toxic. That doesn't necessarily mean the spray paints are baby safe. The spray paint fumes harm everyone, and exposure can lead to respiratory issues.
You can use Krylon spray paint on metallic, wood, plastic, or concrete surfaces. However, the crib paint manufacturer recommends avoiding using the paint on surfaces that are in direct contact with food. That includes baby toys, cribs, furniture, or anything the baby will ingest.
Is Rust-oleum Spray Paint Safe For Baby Furniture?
Rust-oleum spray paint is an excellent choice for the baby nursery, furniture, and walls. Apart from being non-toxic, Rust-oleum has good adhesion on wood, metal, canvas, and ceramic surfaces. The spray paint emits minimal odor and cleans easily with soap and water. Because Rust-oleum contains latex, it dries in a couple of hours.  
Proper spray paint application ensures durability and won't peel or chip. Here is the correct application process:
First, prepare the surface by cleaning it to remove any stains, dirt, and dust.
Lightly sand the surface and remove the sand dust with a tack rag or vacuum.
Then, apply thin coats of Rust-oleum spray paint. Keep a consistent distance and pressure for an even smooth finish.
Let the first coat dry before applying the second layer. You can add a clear coat finish to make the surface glossier.
Finally, let the paint dry completely until no fumes are left before it's ready for use.
What are the Effects of Spray Paint To Babies?
The additives and ingredients in spray paint affect young children and result in symptoms like respiratory irritation, headaches, dizziness, respiratory irritation, coughing, and irritation or soreness to the eyes, nose, and throat.
According to The United States Environmental Protection Agency, long-term exposure to some VOCs causes damage to major organs like the liver, central nervous system, and kidney.
You should seek immediate medical attention if your child presents with any of the above-mentioned symptoms.
To avoid predisposing babies to the harmful effects of harsh chemicals of spray paint, here is what you'll need to do:
Buy baby safe spray paints that contain zero or less VOCs.
Don't allow the children into newly painted rooms until the paint has dried and cured.
Keep the windows or small vents open to allow the free flow of air and escape of toxic fumes.
How Do You Choose Baby Safe Spray Paint?
When selecting the ideal spray paint to apply on the baby crib, nursery walls, or baby furniture, here are factors you ought to consider:
1. Safety 
When purchasing supplies for your project, you must confirm the safety of the spray paint. You gauge its safety by checking the levels of the VOCs. Water-based spray paints contain low volumes of VOCs, while baby safe spray paints contain zero volatile organic compounds.
You can use less toxic spray paint on areas with low interaction, like the nursery walls. Give the paint enough time to dry, cure, and off gas. Off gassing voc paint is the process whereby the VOCs are released into the indoor air pollution, which can result in serious health issues. To be certain, use the baby safe spray paint that is non-toxic and contains ultra-low VOC content.
2. Durability 
In addition to the spray paint being safe for babies, it should be durable. Baby cribs, toys, and high chairs are subjected to constant wear and tear, resulting in the paint flaking, chipping, or peeling. Your spray paint of choice needs to withstand abrasion and significant traffic without requiring constant repainting.
3. Aesthetic Value 
Pick the paint that blends with the baby's nursery décor. You don't have to use pink paint for baby furniture for the baby's room for the girl or blue for the boy, as a wide range of colors creates a soothing and warm feeling in the baby's nursery. The aim is to achieve a relaxed ambiance and welcoming vibe in the baby's environment.
4. Spray Paint Ingredients 
The ingredients used to create paint differ depending on the manufacturer. However, most spray paint formulas contain pigments, binders, additives, or solvents; some compounds are highly hazardous.
For instance, research has detected chemicals like alkylphenol ethoxylates (APEs) used in acrylic paints to be present in human breast milk. Also, some additives added to prevent rot, mildew, and pest damage can cause allergic reactions in children, pets, and expectant women.
5. Certification 
The American Society for Testing and Materials (ASTM) F963-17 or organizations like EN71-3 subject spray paints to a series of tests and certify that they are safe for babies. Checking for the certification mark on the paint can ease your mind.
6. Natural Stains, Waxes and Oils
Most stains and waxes in the market are considered hazardous. Natural baby safe options include beeswax, carnauba wax, and oils like pure Tung, linseed oil, hemp, walnut, and coconut. These chemical-free natural alternatives protect furniture surfaces from water, insect, and sunlight damage. The only downside to them is their low durability.
You can paint baby furniture with natural paints derived from minerals, milk protein, clay, or plants. Mustard seed milk paint, clay paint, or other natural paint options give surfaces a natural depth you cannot achieve with synthetic options. Natural paints are costly, have limited color options, and are difficult to find in stores.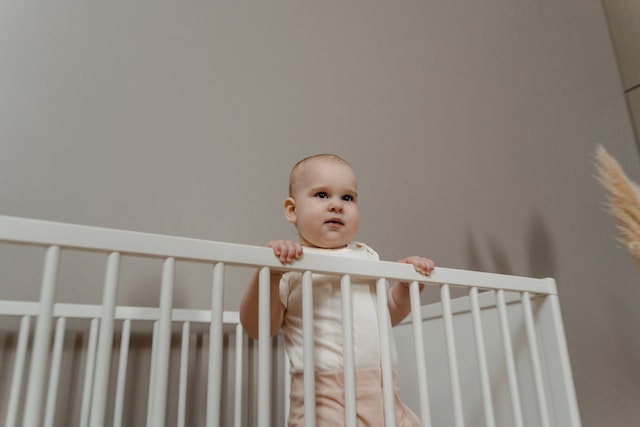 Best Spray Paint For Babies
I did some digging and came up with the best choices of non-toxic spray paint options for babies available in the market:
Best Overall: Rust-Oleum Ultra Matte Paint
PAINT TYPE: Rust-Oleum aerosol paint comes in oil and latex base formulations that are easy to apply and clean. These enamel spray paints come in various hues and finish like glossy, matte, hammered paint, distressed look, or clear.  
APPLICATION: A spray paint can offer coverage of 150 sq. ft. The paint is easy to apply and comes off easily with soap and water. The spray paint adheres properly on metal, wood, canvas, and ceramic surfaces. Apply multiple thin coats and give each enough drying time.
DURABILITY: Rust-Oleum is durable, and it protects surfaces against UV light, moisture, and insect damage. It can also withstand heavy usage without cracking or peeling.
BABY SAFETY: Rust-Oleum spray paint is baby safe as it contains no VOCs or toxins like lead and chromium. After application, make sure the painted surface is completely dry and cured and has no fumes left before taking it to the baby's nursery.
Pros
It is durable.
It is toxins-free with no VOCs, making it baby safe for the baby's crib, furniture, and nursery.
Rust-Oleum has a variety of colors and finishes to choose from.
It is fast-drying and easy to clean with soap and water. 
Cons
Rust-oleum spray paint is more durable with a coat of sealants like polyurethane or polycrylic.
Baby Safe Spray Paint for Cribs: General Finishes Water-Based Milk Paint
PAINT TYPE: The label reads "milk paint," but that doesn't mean the spray paint contains natural milk proteins. General Finishes Water-Based Milk Paint is a highly adhesive and low-luster coat. The paint offers 30 colors to choose from to match the nursery theme.
APPLICATION: The paint is eco-friendly, with over 50% renewable resources to reduce the carbon footprint. Buy the paint and load it into an HVLP sprayer for application.
The paint coat is self-sealing; hence, it doesn't require a top coat. Apply 2-3 coats of paint for maximum protection.
DURABILITY: The paint is extremely durable with excellent adhesion and works well for indoor and outdoor baby items. It protects the surface from water, sunlight, and abrasion damage.
BABY SAFETY: General Finishes Water-Based Milk Paint is ideal for painting baby furniture because of its high quality and low levels of VOCs.
Pros
It is environmentally friendly.
It is available in 30 colors to match the baby's nursery.
It is self-sealing.
Cons
The paint comes in pints, quarts, and gallons; you'll need an HVLP sprayer to spray paint.
Baby Safe Spray Paint for Furniture: Chalk Mountain Furniture Paint
PAINT TYPE: Chalk Mountain Furniture Paint gives you 54 beachy and earthy colors, depending on your preference.
APPLICATION: Chalk Mountain is easy to apply, and the paint dries within 30 minutes. The painted surface acquires a fresh, smooth, and glossy finish.
DURABILITY: The paint is exceptionally durable, but it isn't self-sealing. You'll need to sand the dry-painted surface before applying the coat of sealant.
BABY SAFETY: Chalk Mountain is environmentally friendly, contains zero VOCs, and is an excellent pick for nursery furniture. The paint contains no solvents, metals, formaldehyde, or phthalates, making it non-toxic and odor free.
Pros
It is eco-friendly and contains zero VOCs
The paint offers various colors to work with on the baby's nursery.
It dries quickly
Cons
It isn't self-sealing.
You'll need to use an HVLP sprayer to paint surfaces.
How Long After Application Is Spray Paint Safe For Babies?
After you have finished spray painting, give the paint at least 2 weeks to dry and cure. Keep the room well-ventilated for the non toxic paint fumes emitted to evaporate. Children, pets, or sick adults shouldn't have access to the painted item during this period. Most baby safe spray paints are water-based and dry quickly, but that doesn't mean they are free from toxins.
Can Spray Paint Fumes Affect My Unborn Baby?
Exposure to spray paint fumes while pregnant doesn't affect your unborn child. However, prolonged exposure to solvent-based or oil paints with traces of lead can harm you and your unborn baby.
It would be best to stay away from paint while pregnant to minimize risks. However, if you still have to be actively involved in painting and decorating the baby's nursery while expecting, here is how to reduce potential risks:
Use water-based spray paints instead of oil-based formulas as they contain less VOCs and emit less-toxic odors.
Wear protective gear like a respirator, rubber gloves, and goggles to reduce direct exposure to the paint.
Work in a well-ventilated space, as the free flow of fresh air reduces the pungent smell of the paint.
Don't consume any food and beverages around the painted items or room.
Clean up thoroughly after you are done painting to avoid ingesting any toxins from the paint.
FAQs: Is Spray Paint Safe For Babies?
Below are answers to the commonly asked questions on whether spray paint is safe for babies:
Is Acrylic Spray Paint Safe for Baby Cribs?
Some acrylic spray paints have zero VOCs and low chemical content, making them safe for baby cribs. You must read the recommendations and ingredients used on the paint can to confirm whether the acrylic paint is certified as a baby safe paint.
Is Lullaby Paint Safe for Cribs?
Absolutely, lullaby paint is specifically designed with no toxic compounds and zero VOC fit for baby cribs, baby furniture, nursery, and play spaces. Lullaby paints are extremely durable and are available as brush-on, spray-on, and roll-on with a warm appearance.
Is Spray Paint Toxic for Babies?
Inhaling or ingesting spray paint can be hazardous to babies as some paints contain high levels of volatile organic compounds, lead, or chromium. To protect them from harm, use baby safe spray paints and wait till the paint has fully dried and cured with zero emissions.
Is Spray Paint Harmful to Kids?
The magnitude of the effects of spray paint on your children depends on the type of paint they are exposed to and the duration of exposure. Normally paint harms adults, and babies are more prone to acquiring respiratory disorders and developmental issues if they inhale the toxic fumes for a significant amount of time.
What Paint is Safe for a Baby?
Several brands of baby-safe paints are available in the market, and the top of the list is Milk Paint. Fashioned milk paints like Old Fashioned Milk Paint are chemical-free and a safe option for the baby. The non toxic spray paint should also contain zero or low levels of volatile organic compounds and low odor.
Is Chalk Paint Safe for Baby Cribs?
Yes, water-based chalk paint is often baby safe as you can find them in natural or zero VOCs options. You have to give the paint 4-6 weeks drying time for it to dry and cure before it is ready for use.
Bottom Line: Is Spray Paint Safe For Babies?
Sometimes you might get caught up in the excitement of painting or decorating the baby's nursery and forget their safety comes first. That doesn't make you a bad parent, and babies don't come with a manual; you learn these things on the job.
As a guardian, you create a calm and comforting environment for the baby while spicing the space with vibrant colors to trigger their developing brain. Remember, the paint of choice needs to be baby safe in terms of low or zero VOCs, low odor, eco-friendly, and less toxic. The health of your little ones is a priority, and it's better to be safe than sorry.